In the Kitchen with Sigona's Featuring: The Biggest Game In Town Featured Recipes
Breadless BLTs with Basil Mayonnaise
Crisp, flavorful, healthy. These breadless BLTs are perfect for entertaining or for a light lunch. The guys in "The Biggest Game In Town" might think BLTs are just bread, lettuce and tomato, we're sure to use bacon as the star and leave out the bread. Serves about 6.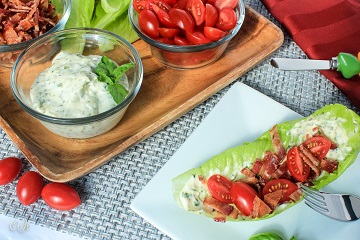 What  you need:
1/2 cup mayonnaise
1/2 cup loosely packed basil, minced
1 clove garlic, minced
About 12 leaves baby romaine hearts, ends trimmed.
1 1/2 cup grape tomatoes, halved
About 8 to 10 strips bacon, cooked and diced
Directions: Stir together the mayo, basil and garlic in a small bowl. Allow the combo to sit while you prepare the rest of the ingredients.
To serve, spread about 2 teaspoons of the basil mayo mix on the inside of a baby romaine leaf. Sprinkle in bacon and a few tomatoes. Serve immediately.
Classic Lasagna with Local Saporito Pasta, Fresh Mozzarella and Sigona's Old World Marinara
The fellas in "The Biggest Game In Town" might have tried their best to come up with a fancy lasagna, but there are no unusual or unexpected ingredients in this recipe! We've used simple, traditional ingredients, such as freshly made pasta, mozzarella and Sigona's marinara sauce. Serves 6 to 8.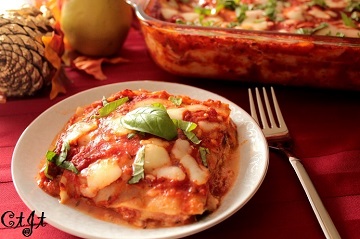 Ingredients:
1 1/2 jars Sigona's Old World marinara sauce
16 oz. part skim ricotta cheese
1 egg
Salt and pepper, to taste
1 package of fresh, locally made lasagna noodles from Saporito Fine Pasta, trimmed as noted below **
Salt
16 oz. fresh mozzarella cheese, coarsely grated on a large hole grater (also known as a potato grater) Tip: this is best done when cheese is partially frozen
1 cup freshly grated Parmigiano Reggiano cheese
1/2 cup loosely packed basil leaves, julienned
Directions: Warm the marinara in a small pot over medium low heat while preparing the noodles and ricotta mixture.
Prepare the fresh lasagna sheets to fit 13 x 9 (or similar size) baking pan. **Note: Sheets will expand lengthwise when cooked, so we recommend you trim the noodles at least one inch shy of the length of your pan (one Sigona's crew member trims her noodles to 11 ½ inches in length when using her 13 x 9 pan).
Bring a large pot of salted water to a boil and add 2 tsp. olive oil. Separately, prepare and set aside a large bowl of cold water. Place 4 trimmed sheets into the boiling water. Boil about 5 minutes uncovered. Remove with a large slotted spoon and immediately dip in a bowl of cold water. Remove from the cold water and drain on kitchen towels or paper towels. Pat dry.
Meanwhile, combine the ricotta, egg, salt and pepper in a bowl. Preheat oven to 375F degrees and grease a 13 x 9 (or other size) lasagna pan well.
To assemble the lasagna, spread about 1 cup marinara mixture on the bottom of the pan. Lay down a layer of noodles, then spread one third of the ricotta mixture on top of the noodles. Top with about one fourth of the mozzarella, followed by about one fourth of the marinara and one third of the parmigiano reggiano. Add a layer of noodles and repeat twice with the ricotta, mozzarella, marinara and parmigiano reggiano. End with a layer of noodles topped with a final layer of marinara and the last bit of mozzarella.
Cover with foil and bake for 20 to 25 minutes until it is bubbling and melted all the way through. Remove foil and bake 10 minutes more or until the cheese on top is lightly golden brown and bubbly. Remove from oven and allow to sit at least 10 minutes. Sprinkle with julienned basil, slice and serve.