In the Kitchen with Sigona's Featuring: Brie
Warmed Brie Drizzled with Honey
Serve this simple appetizer with sliced apples, crackers or toasted crostini. It's simple and delicious.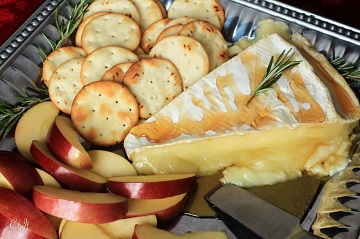 What you need:
1 wedge Marin French Triple Crème Brie
Parchment paper
At least 3 Tbsp. honey from Honey Hole Honey Co., (available at Sigona's); we recommend the wildflower, wild sage or eucalyptus
Apples, pears, crackers, crostini or other serving accompaniments
Directions: Preheat oven to 350°F. Place Brie wedge on a parchment-lined baking sheet. Bake Brie for 7 to 10 minutes until it has started to ooze, but not melt.
Place warmed Brie on a serving dish, drizzle with honey and garnish tray with apple slices, crackers and or other items. Serve warm.
An elegant, festive and delicious appetizer fit for any holiday celebration.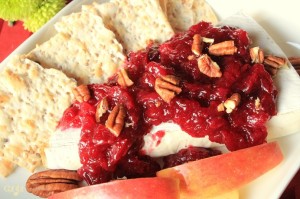 What you need:
A wedge of Champs Elysées Brie
1/3 cup water
1/3 to 1/2 cup sugar, to taste
Pinch of salt
2 tsp grated fresh ginger
Pinch of cinnamon
6 oz. fresh cranberries
1 pear, peeled, cored and diced
For serving: assorted crackers, apple slices, pear slices, baguette slices, gingersnaps
For garnishing: Chopped raw pecans or pistachios
Directions: Bring water sugar, salt, ginger and cinnamon to a boil over high heat; stir frequently to dissolve sugar.  Stir in cranberries and pears; return to boil.  Reduce heat to medium; simmer, stirring occasionally, until everything has cooked down, cranberries have burst and pears are very soft (it will take some time, 30 minutes or more). Mash the mixture a few times with a potato masher if desired. Remove from heat and set aside.
Prepare a baking sheet with a piece of parchment paper. Add the Brie and bake 500°F for 3 to 5 minutes (you just want it warmed, not melted). Transfer to a serving platter and top with half or more of the cranberry sauce; serve the rest of the sauce on the side. Offer Brie with assorted crackers, apple slices, pear slices and baguette slices. It's also delightfully festive with gingersnaps.
Brie Without Boundaries
Bake, wrap, slice, cook? Are you thinking, "I don't have time for all that!" Well, you're in luck. Simply arrange the Brie wedge on a platter and top/decorate with some of these suggestions:
Top with sun-dried tomato puree and serve with wedges of red bell peppers, kalamata olives and sliced baguettes
Pour a jar of Sigona's jam over the Brie and serve with crackers
Feel free to experiment with chutneys, jellies or marmalades and serve with crackers. Use holiday colors (jalapeño jelly, Sigona's sweet red pepper relish, blueberry chutney, etc.) to wow the crowd on the big day
Serve warmed or chilled with assorted dried fruits and nuts
Slice the Brie in half horizontally, spread on a layer of pesto on the top of the bottom half and replace the top; serve pesto'd Brie with crackers or sliced baguette
Top baguette slices with a slice of Brie and top with fruit salsa, jam or other for a quick crostini
Oven-baked French Brie with Dried Fruits & Nuts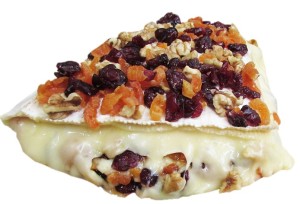 Ingredients:
1 wedge of 8 oz wheel of French Brie
1 handful dried fruits & nuts (use your favorites such as pecans, walnuts, cranberries, raisins, Blenheim apricots, diced)
Blackberry or Orange Honey Hole honey
Directions: Split Brie wedge or wheel in half as to make a sandwich. Place Brie on an oven-proof plate and transfer to the oven. At a temperature of 300F, gently heat the cheese for about 10-15 minutes, or until soft in the center.
Remove from oven, top bottom half of Brie with the fruits and nuts and drizzle with honey, them place other brie half on top and top that other half with more dried fruit and nuts. Lastly, drizzle with honey.
Serve with crusty bread or crackers on the side.
Brie Quesadilla
Slice Brie and lay in an even layer atop a tortilla. Sprinkle in any combination of ingredients listed below to suit your palate. Top with another tortilla and cook in a sauté pan, flipping once, until tortilla is browned, heated through and cheese is melted.
Brie Quesadilla Suggestions:
Shredded chicken, chopped dried apricots and green onions
Mango and strawberries
Fruit salsa
Peaches and apples
Turkey and dried cranberries