Toni's Top 10 Tips
We're excited to introduce you to Toni Julian! She is an accomplished health advocate, nutrition advisor, fitness expert, blogger and author, and she will be connecting with you over the course of this next year, right here! You can look to her for valuable tips to help you bring vitality and wellness to you and your family with her new series, Toni's Top 10 Tips.
Good morning! I appreciate the warm welcome and appreciate connecting with you. If you're like me, it's a challenge balancing all the things we know we should be doing to be healthy, not just for ourselves, but for our family. Think about your life and all that entails—from raising children, caring for ailing or aging parents,  making a mark in the world at work, to altruistic efforts in the community–we have a lot on our proverbial plate!
My philosophy for wellness is unique in that it must be incremental and sustainable. Set yourself up for success by making simple changes, which add up to good habits, and a rich, healthy, vibrant and very importantly, "sustainable" lifestyle will follow. You deserve to feel and look your best, to be truly content with your life. Investing in yourself starts with you. It's not selfish, it's necessary.
One of the most important ways to make a significant impact on your health is to nourish yourself with wholesome foods that literally give your life, and as you know, Sigona's is a longstanding, valuable resource, as it was for our family over 40 years ago.
When I was a young girl, our family lived in Morgan Hill on a one-acre ranch that was like Noah's ark. We had two of every type of pet imaginable, including a calf my mom named "Edible" just to remind us that he would someday be dinner (think grass-fed, no hormones). Every week, she would herd us three kids into the white family station wagon for the weekly grocery shopping. We'd always stop by Sigona's fruit stand, treating ourselves to abundant seasonal offerings from the local growers. My favorite was the stone fruits; crisp and juicy nectarines and fresh cherries on hot summer days.
Over the years, this healthy family lifestyle became engrained and set the foundation for my mission today. So here we are, 40 years later, our paths crossing again to bring you healthy meal solutions together!
We've planned an exciting line-up of topics that you can apply to your everyday lives, from how to boost your metabolism, balancing blood sugar to avoid disease, healthy snacking for kids, to keeping your hormones in balance.
Join me on this simple journey, we can do this together! I have been told by many friends that I "walk the talk". Being a 50+, entrepreneurial working mom, having a blended family with four kids, three dogs, two businesses, and one husband, I feel uniquely qualified to share my proven techniques because they work.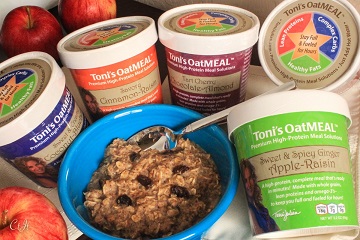 And here's some good news: Sigona's is generously offering a complimentary meal solution I designed for people looking for quick and easy ways to get nutrition.
It's for situations when you're really pushed and need to grab and go. It's easy to nab a carb; an apple, a bagel; a banana. It's really hard to get the 18 grams of protein you need every morning, quickly. So I've designed a healthy meal, high in protein with balanced macronutrients, and you simply add hot water.
It metabolizes slowly, stabilizing blood sugar and providing hours of satiety for sustained energy. Just one meal is equivalent in nutrition to the protein of six egg whites, the fiber of two pieces of whole grain toast, a full serving of Omega-3's (the healthy fats that lower your LDL) and antioxidants from one serving of fruit.
I appreciate our time to connect and commit to having your good health, at heart. Be sure to look out for our next newsletter topic designed to get you through the holidays without gaining weight!
From my table to yours,