Recipe Roundup: Cranberry Pear Balsamic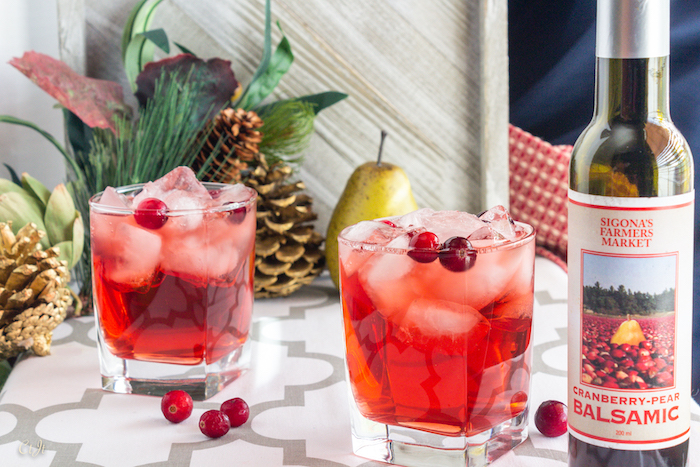 Cranberry Pear Balsamic & Seltzer Cocktail
Holiday time calls for a signature drink, don't you think? Spiked seltzer is all the rage, so we came up with our own featuring our Cranberry Pear Balsamic. Cranberries and pears are festive foods for the holidays, so we thought it would make the perfect drink. You'll love the pretty red color! For more cocktails featuring balsamics, check out our gift pack called The Bartender. Serves 1.
Ingredients:
6 oz seltzer, club soda or tonic water
1.5 oz Sigona's Cranberry Pear Balsamic
Optional: 1 oz vodka
1 to 2 oz cranberry juice, to taste, DIY or store bought (Start with 1 then taste. Keep in mind that tonic water is sweeter than seltzer, for example, so adjust to suit your taste depending on the mixer used.)
Ice
Directions: In a glass, add the seltzer, balsamic, spirits and cranberry juice. Taste and add more juice or spirits as desired (see note on cranberry juice above). Top with ice and garnish with fresh cranberries.
---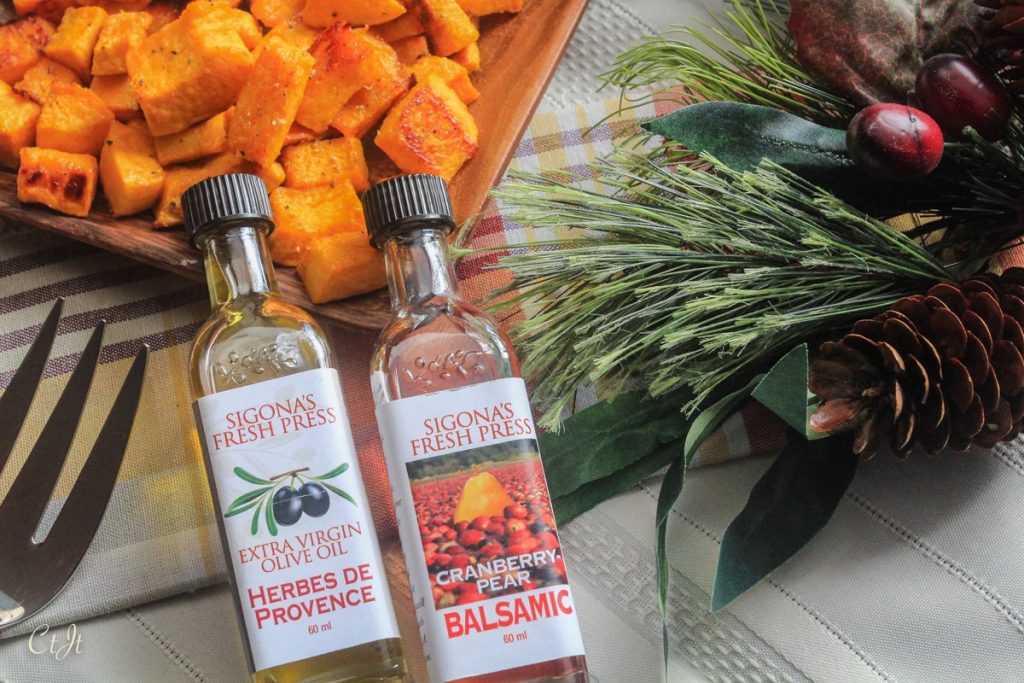 Butternut Squash Roasted with Cranberry-Pear Balsamic and Herbes de Provence Olive Oil
This is a simple, delicious side for the holidays. Serves about 4 to 6.
Ingredients:
Directions: Preheat oven to 375°F. Line a rimmed baking sheet with foil; set aside.
In a large bowl, whisk together the balsamic and olive oil. Add the squash and toss until all pieces are coated evenly.
Use hands or a spoon to scoop the squash out onto the baking sheet, spreading it out in a single layer. Drizzle any remaining balsamic and oil on the squash. Season generously with salt and pepper.
Roast for 35 to 40 minutes; stir squash around or shake the pan at least twice while roasting so the pieces don't stick or get too crispy on the bottom. Roast until the squash is tender and has a nice caramelized color.
Taste for seasoning, transfer to a serving dish and enjoy warm. Drizzle lightly with more olive oil or balsamic, if desired.
---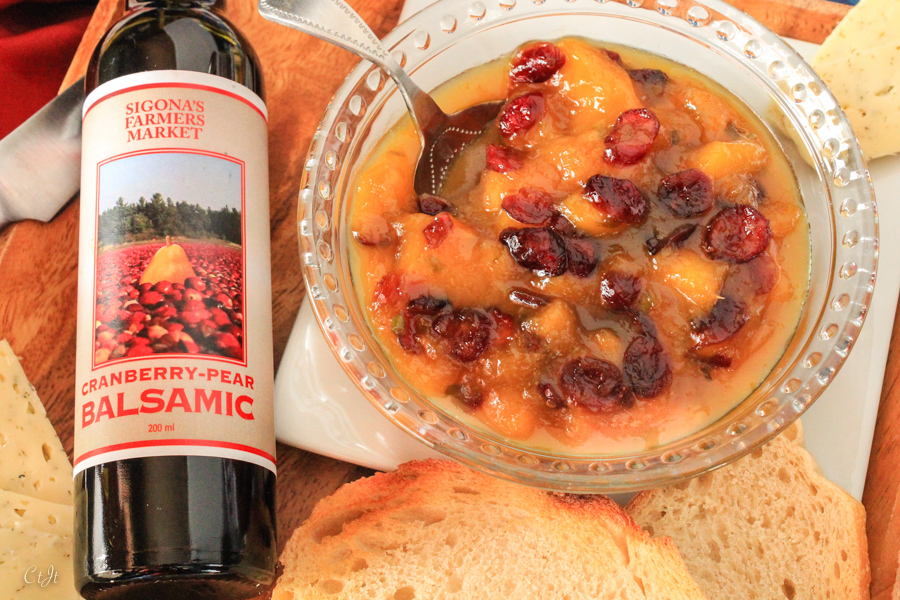 Mango Chutney with Cranberry-Pear Balsamic
Sometimes all your turkey, sandwich, toast or cheeseboard needs is a good chutney. This is a simple, delicious chutney that takes little time to create. The combination of flavors is savory-sweet, and can be enhanced by a pinch of ground cinnamon or ginger, if desired. Adapted from The Olive Oil & Vinegar Lover's Cookbook. Makes about 1 1/2 cups, depending on mango size.
Ingredients:
Directions: Heat the olive oil in a medium skillet or frying pan over medium heat. Add the green onions and cook, stirring occasionally, until tender and soft, about 3 minutes.
Add the mango, cranberries, honey and balsamic. Bring the mixture to a gentle boil, stirring occasionally, then reduce heat to a simmer and cook until the mixture has thickened and the cranberries have plumped a bit, about 7 to 10 minutes.
Allow to cool a bit before serving. May be used warm, chilled or at room temperature. Will keep, sealed and refrigerated, for up to a week.
---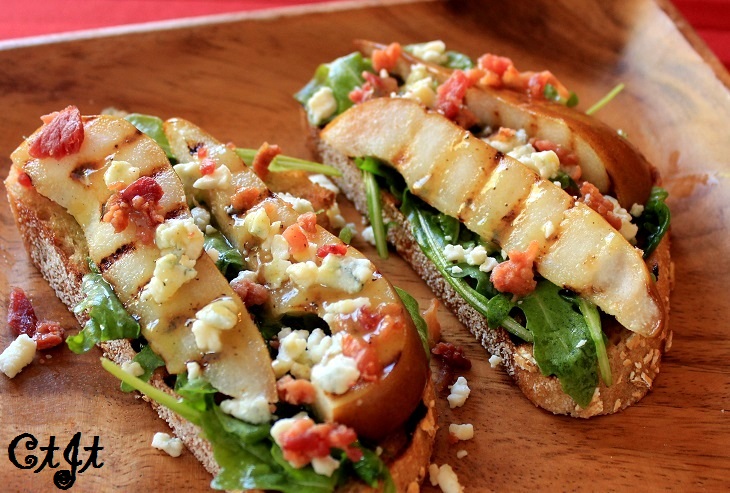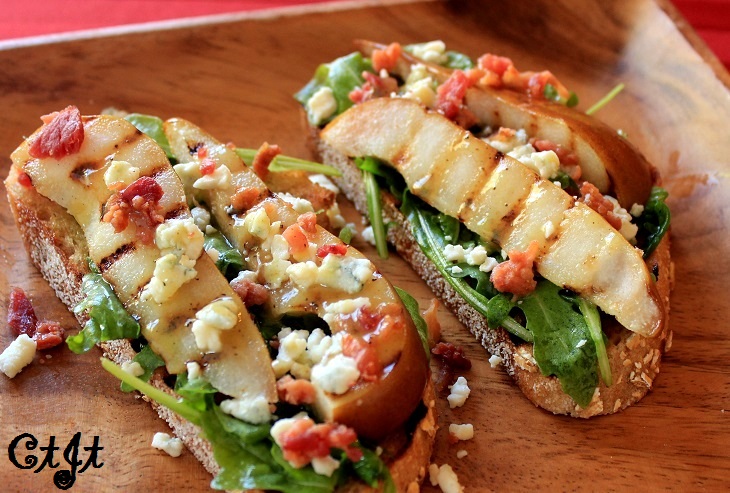 Grilled Pear & Blue Cheese Crostini with Bacon and Sigona's Cranberry-Pear Vinaigrette
Cranberry and pear are two great flavors of fall, and both pair beautifully with blue cheese. We've adapted this recipe from Food & Travel Magazine to give you a unique way to enjoy some of our favorites of the season. Enjoy with a chilled Rosé or Riesling. Serves 4.
Ingredients:
3 ripe, firm Bosc pears
2 TBL Sigona's Fresh Press Leccino extra virgin olive oil, divided
1/2 head frisée lettuce, torn, or 1 1/2 cups arugula, torn
Salt and pepper, to taste
2 tsp. Sigona's Cranberry-Pear Balsamic vinaigrette (recipe follows)
4 slices (1/2-inch thick) crusty bread, such as Acme Pain Au Levain
4 TBL crumbled gorgonzola, such as Stella, or blue cheese, such as Nauvoo
2-3 TBL cooked, crumbled bacon/pancetta OR chopped walnuts (we won't judge if you use both!), optional
For the vinaigrette:
2 tsp. Dijon mustard
2 TBL Sigona's Cranberry-Pear Balsamic
1/2 tsp. kosher salt
1/4 tsp. black pepper
4 TBL Sigona's Fresh Press Organic Arbequina extra virgin olive oil
Start with the vinaigrette: In a small bowl, mix together the Dijon, balsamic, salt and pepper. While whisking, drizzle in the olive oil and mix well to emulsify the mixture. Set aside.
For the pear-topped toasts: Halve each pear and scoop out the core. Cut each half lengthwise into slices about 1/2 inch thick (about 5-6 slices). Using 1 TBL olive oil, brush the pears with oil.Place a cut side of the pear down on a grill or grill pan over medium-high heat and grill until the pear has grill marks and the sugar has started to caramelize, about 2 ½ – 3 minutes. Flip pears and grill another 2 minutes more. Remove from heat and allow to cool slightly.
Meanwhile, using 1 TBL olive oil, lightly brush the slices of bread. You can put these in the oven to broil, but I recommend using a stovetop grill. Using a stovetop grill or large pan, grill both sides just slightly on a medium-high heat, just about 1 min per side. This makes the bread crispy on the outside and chewy on the inside. Once toasted, set aside.
Toss the frisée or arugula with 1 ½ tsp. of the cranberry pear vinaigrette and season to taste with salt and pepper.
Brush one side of the toasted bread with some of vinaigrette, then top with the frisee/arugula and grilled pears. Sprinkle with crumbled cheese and top with bacon and/or walnuts. Drizzle any remaining vinaigrette on top of the assembled toasts. Serve immediately.
---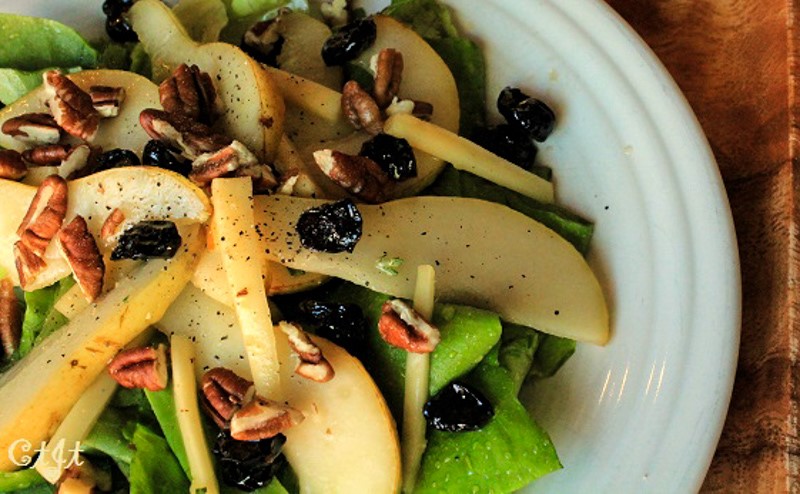 Bartlett Pear and Dried Cranberry Salad Moo-Na Lisa Cheese and a Honey-Rosemary Vinaigrette
The flavors in this salad screams fall. You'll love the honey-rosemary vinaigrette made with Sigona's Cranberry Pear Balsamic, and the Gouda-Gruyère style Moo-na Lisa cheese brings all the flavors together beautifully. Serves 4 to 6.
For the vinaigrette:
3 Tbsp. Sigona's Cranberry-Pear Balsamic
1 to 2 tsp. minced fresh rosemary, more or less to taste
1/4 cup honey, such as local Honey Hole Honey Co. honey, available at Sigona's
6 Tbsp. Sigona's Fresh Press Extra Virgin Olive Oil
Salt and pepper, to taste
For the salad:
8 cups fresh greens (such as spring mix, butter or red leaf lettuce)
2 fresh Bartlett pears, halved, cored and thinly sliced lengthwise
4 to 6 oz. Moo-na Lisa cheese cut into julienned strips about 2 inches long by 1/4 inch wide (Moo-na Lisa is a Gouda-Gruyère style cheese made exclusively for Sigona's)
1/3 to 1/2 cup Sigona's dried cranberries or golden raisins
1/4 cup chopped nuts, such as walnuts, pistachios or pecans (try Sigona's candied nuts for more flavor)
Directions: Prepare the vinaigrette by whisking together the balsamic, rosemary and honey. While whisking, drizzle in the olive oil. Season with salt and pepper. Taste the vinaigrette; season if necessary with more rosemary, salt or pepper.
In a large bowl, toss the greens with about half the vinaigrette. Divide the greens evenly among 4 to 6 salad plates.
Toss the pears, cheese and cranberries or raisins with about 2 tablespoons of the remaining vinaigrette; top each salad with some of the pear mixture. Drizzle on any remaining vinaigrette or serve on the side. Enjoy immediately.
---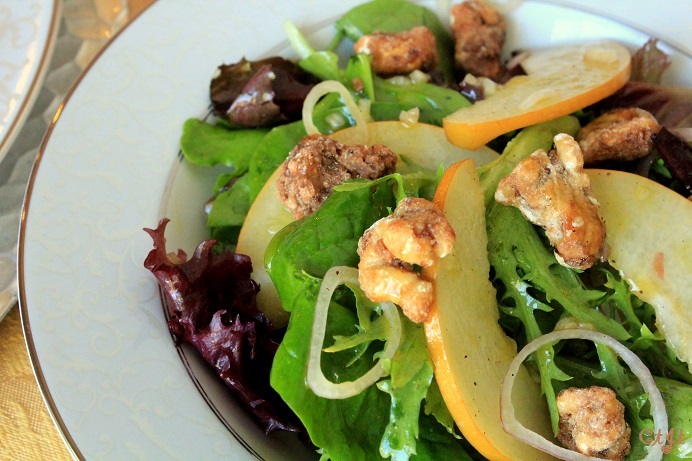 Mixed Greens Salad with Asian Pears, Glazed Walnuts and a Cranberry-Pear Vinaigrette
Simple fall flavors in this dish make for a great salad. Asian pears are refreshing and crisp, and hold up well when tossed with the other ingredients. Plus they're a little more exotic than apples or regular pears; perfect for a holiday dish! Serves 4 to 6.
For the vinaigrette:
For the salad
About 8 cups mixed greens
1 to 2 Asian pears, quartered, cored and sliced into very thin wedges
1 small shallot, thinly sliced
About 1/2 cup Sigona's glazed walnuts
For the vinaigrette: In a small bowl, whisk together the balsamic, honey, Dijon and shallot. While whisking, drizzle in the olive oil. Season with salt and pepper to taste.
For the salad: Toss the greens, pear and shallot with a little less than half of the vinaigrette. Add more vinaigrette if needed to lightly coat all ingredients well.
Divide salad among salad plates and top with the walnuts. Serve remaining vinaigrette on the side.