Sautéed Wild Chanterelle Mushrooms
Don't be intimidated by cooking mushrooms — all you need is a little patience and a nice, large sauté pan or skillet. Serve this as part of a light meal with vegetables or over a fresh baguette that's lightly grilled and topped with an aged cheese, such as parmesan, pecorino or manchego. It goes well with a nice, light Pinot Noir or Chardonnay. Adapted from Epicurious.com. Serves 2.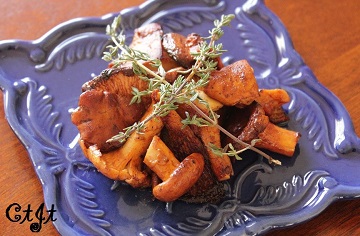 Ingredients:
1 Tbsp. butter
Salt and pepper, to taste
About 1/3 lbs. fresh chanterelle mushrooms
2 to 3 Tbsp. dry white wine
For garnish: fresh herbs
Directions: Use a pastry brush or paper towel to wipe and brush off any soil. You may also use a sponge that's slightly wet, however you don't want to get them too wet. Trim off the very tip of the stem. Slice the large mushrooms in halves or thirds, smaller ones may be left whole.
Melt butter with the olive oil in a large skillet or sauté pan over medium-high heat. Add mushrooms, season well with salt and pepper; sauté, stirring constantly, until just tender, about 3 to 4 minutes. Add wine and cook, stirring, until liquid has evaporated and mushrooms are tender, about 1 minute or so.
Transfer to a serving dish. Serve warm, garnished with fresh herbs, if desired.
Broiled Matsutake
This is a simple way to both flavor and cook this solid variety of mushroom. Allow about one quarter pound of matsutake per person. Adapted from Vegetables from Amaranth to Zucchini. Serves 4 as a side.
Note: For another option using this recipe for broiled matsutake, see below.
1 lb. Matsutake mushrooms
2 Tbsp. mirin
1 Tbsp. tamari or soy sauce
1 Tbsp. mild oil, such as grapeseed
Freshly chopped parsley, for garnish
Directions: Carefully remove stems from mushrooms, being careful not to break caps. Trim the bases and brush dirt from stems, peeling stems if they are tough or caked in dirt. Slice stems in half lengthwise. Brush caps with a soft towel to remove dirt, using a soft brush to clean the gills. Avoid rinsing with water unless necessary to remove dirt.
Preheat broiler to 400°F.
In a small bowl, combine the mirin, tamari and oil. Brush the marinade over all parts of the mushrooms, repeating until the liquid is used and mostly absorbed. Allow mushrooms to marinate about 15 minutes.
Place the mushrooms gill-side down on a broiler pan or a cooling rack set over a rimmed baking sheet. Place under the broiler for about 7 to 10 minutes, or until slightly browned and slitty crisped along the edge, but ensuring they don't char. Flip the mushrooms over and broil another 5 minutes.
To serve, either plate the mushrooms whole or slice the larger pieces into strips. Sprinkle the mushrooms with chopped parsley and serve warm.
VARIATION:
Broiled Matsutake with Green Beans and an Orange-Ginger Dipping Sauce
Serving simple broiled matsutake with par-boiled green beans and a flavorful dipping sauce makes for a more filling side dish. Adapted from Vegetables from Amaranth to Zucchini. Serves 4 as a side.
1/4 cup orange juice, from about a half an orange
2 Tbsp. mirin
2 Tbsp. tamari or soy sauce
1/2 tsp. honey, such as raw orange blossom honey from Honey Hole Honey Co., available at Sigona's
1/2 to 1 tsp. freshly fine-grated ginger
1/4 to 1/2 tsp. freshly fine-grated orange zest, plus a little more for garnish, if desired
3/4 to 1 lb. fresh green beans
Directions: Together in a small bowl mix together the orange juice, mirin, Tamari, honey, 1/2 teaspoon ginger and 1/4 teaspoon orange zest. Taste; add more ginger and orange zest if desired.
Prepare broiled matsutake as directed in the recipe above. While mushrooms marinate, prepare the green beans by trimming off the stem ends.
While matsutake are broiling, bring salted water to a boil and add the beans, cooking for about 2 minutes. Drain and set aside.
Slice cooked the mushrooms into strips about 1 inch wide. To serve, divide the mushrooms and green beans between 4 individual serving plates. Serve each with an individual bowl of dipping sauce. If desired, sprinkle the dishes with a little more orange zest.