If you like the flavor and aroma of white truffles, then you'll love this oil. Made in Italy in an artisan fashion without the use of extracts, this olive oil is smooth with an unmistakably intense white-truffle flavor. It makes for a great finishing oil for many Mediterranean dishes, goes great in mashed potatoes and you can even drizzle it on popcorn! It also makes an amazing aioli. A little goes a long way so use sparingly!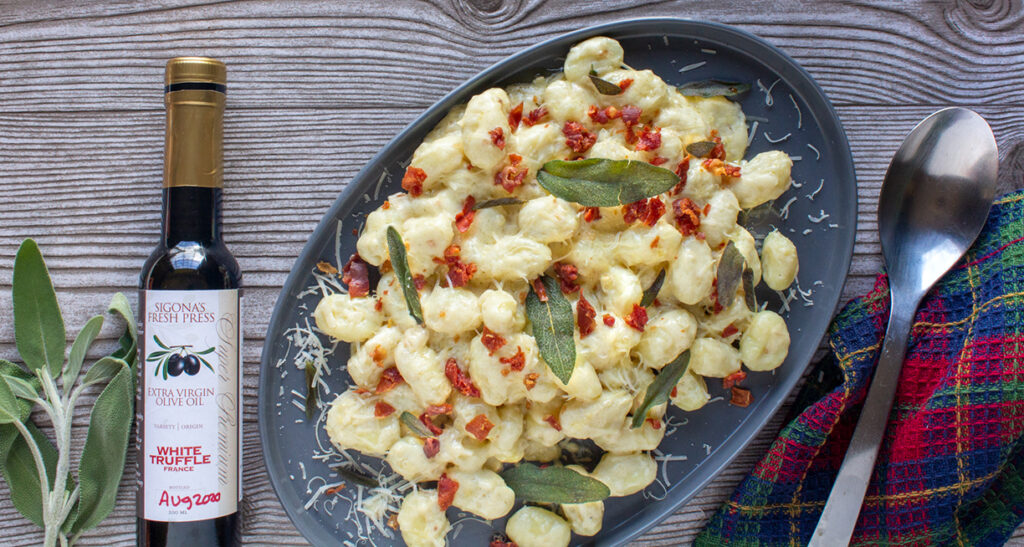 Creamy Truffled Gnocchi with Parmigiano Reggiano, Crisped Prosciutto and Sage
This is a dish made in heaven! Soft, pillowy gnocchi are tossed in a creamy cheese sauce, finished with a little white truffle oil and then topped with crisped prosciutto and sage. It's quick and absolutely delicious. Inspired by Eating Well. Serves 2 to 4.
Ingredients:
3 ½ Tbsp Sigona's Garlic Oil, divided
16 to 20 fresh sage leaves
2 slices prosciutto, diced
1 shallot shallot, minced
3/4 cup heavy cream
1/4 freshly grated Parmigiano Reggiano, plus more for serving
Salt and pepper to taste
1 pound gnocchi (store-bought or make your own)
Directions: Prepare a large pot of salted water to boil.
Heat 2 tablespoons garlic oil in a medium skillet over medium heat. Add sage leaves in a single layer and sauté, for about 30 to 60 seconds a side until crisp. Leaving the oil in the skillet, transfer the leaves to a paper towel-lined plate. Add the prosciutto and cook, stirring occasionally, until crisp, about 1 to 2 minutes. Leaving the oil in the skillet, transfer the prosciutto to the same plate with the sage. Set aside.
Add remaining oil to the skillet. Stir in the shallot and cook until soft and translucent, about 1 minute. Add the cream and bring to a boil. Reduce heat to low and allow cream to simmer for about 5 minutes or until reduced by half. Whisk in the cheese and season with salt and pepper. Remove from heat and cover loosely to keep warm.
---
Butternut Squash Lasagna With Truffle Oil
"My friend Dawn, who lives in Wisconsin, made this gorgeous lasagna for her family's Thanksgiving, adding some of the white truffle oil I had mailed her. Popping it in the mail reminded me that I had made this exact lasagna before and that it is absolutely delicious." – Luisa Ormonde.
Time 1 hr 25 mins. Serves 8.
Ingredients:
1 TBL olive oil
1 (1 1/2 to 2-pound) butternut squash, peeled, seeded, and cut into 1-inch cubes
sea salt and freshly ground black pepper
Sigona's White Truffle Oil
1/2 cup water
3 Amaretti cookies, crumbled
1/4 cup unsalted butter
1/4 cup all-purpose flour
3 1/2 cups whole milk
Pinch of freshly grated nutmeg
3/4 cup (lightly packed) fresh basil leaves
12 no-boil lasagna noodles (or fresh lasagna noodles)
2 1/2 cups shredded whole-milk mozzarella cheese
1/3 cup grated Parmesan
minced parsley, for garnish
Directions:
Heat the oil in a heavy large skillet over medium-high heat. Add the squash and toss to coat. Sprinkle with salt and pepper. Pour the water into the skillet and then cover and simmer over medium heat until the squash is tender, stirring occasionally, about 20 minutes. Cool slightly and then transfer the squash to a food processor. Add the Amaretti cookies and blend until smooth. Season the squash puree, to taste, with more salt and pepper and white truffle oil.
Melt the butter in a heavy medium-size saucepan over medium heat. Add the flour and whisk for 1 minute. Gradually whisk in the milk. Bring to a boil over medium-high heat. Reduce the heat to medium and simmer until the sauce thickens slightly, whisking often, about 5 minutes. Whisk in the nutmeg. Cool slightly. Transfer half of the sauce to a blender*. Add the basil and blend until smooth. Return the basil sauce to the sauce in the pan and stir to blend. Season the sauce with salt and pepper, to taste.
Position the rack in the center of the oven and preheat to 375 degrees F. Lightly butter a 13 by 9 by 2-inch glass baking dish. Spread 3/4 cup of the sauce over the prepared baking dish. Arrange 3 lasagna noodles on the bottom of the pan. Spread 1/3 of the squash puree over the noodles. Sprinkle with 1/2 cup of mozzarella cheese. Drizzle 1/2 cup of sauce over the noodles. Repeat layering 3 more times.
Tightly cover the baking dish with foil and bake the lasagna for 40 minutes. Sprinkle the remaining mozzarella and Parmesan cheeses over the lasagna. Continue baking uncovered until the sauce bubbles and the top is golden, 15 minutes longer. Let the lasagna stand for 15 minutes before serving. Sprinkle with parsley.
---
Wild Mushroom and Coach Farm Goat Cheese Pizza with a Truffle Oil Drizzle
This fantastic pizza recipe features our wild Porchini mushrooms and white truffle oil. Adapted from Coach Farm.
Ingredients:
24 oz. pizza dough ball
6 oz. fresh tomato pizza sauce
2 medium seasoned and grilled Portabella mushroom caps
6 oz. Porchini mushrooms, seasoned and sautèed in garlic
6 oz. Crimini mushrooms, seasoned and sautèed in garlic
6 oz. oyster mushrooms, seasoned and sautèed in garlic
10 oz. Coach Farm goat cheese, crumbled
Drizzle white truffle oil
Directions:
Stretch dough to 18 to 20 in.
Spread pizza sauce evenly.
Drain all mushrooms well and distribute evenly.
Top with crumbled goat cheese.
Cook in oven at 575°F until desired crispness is obtained.
Drizzle truffle oil to finish.
Yields 1 pizza (8 slices)