Toni's Tips: TIP 1 | How to get through the holidays without gaining weight
We're excited to introduce Toni Julian's first post of her Top Tips series! Toni is an accomplished health advocate, nutrition adviser, fitness expert, blogger and author, and she will be connecting with you over the course of this next year, right here!
 TIP 1 | How to get through the holidays without gaining weight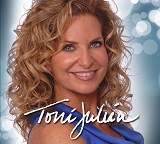 The holidays are a time of great connectedness and nothing brings more joy than having those simple moments with our friends, neighbors and loved ones; the passing of warmed maple syrup around the Christmas breakfast table, the toddler on a chilly Halloween night reaching for a fistful of candy bigger than his dimpled little hands can grasp, thinking deeply with gratitude for all our abundant blessings in November, the clank of fine crystal (or solo cups, depending on the way you roll) to kick off the new year! These are the treasured slice-of-life moments that make for long lasting connections and loving memories.
There is also a real life flip-side as we enter the holidays–and if you are like me, a split sense of joy and trepidation as I am acutely aware of the challenges for getting through these next eight weeks without gaining weight.  And the reason is EVERY event revolves around delectable indulgences! Did you know the typical American gains about three pounds between Thanksgiving and New Year's? The problem is those pounds tend to be permanent, accumulating over the years and contributes to major health risks over time.
Let's practice these three simple things to stay on track, starting today.
MINDSET | get grounded! The most common issue people share with me is that they are afraid to offend their hosts by turning down offered food and feel obligated to partake. It's important to be confident in your choice of what you want and what to politely turn down, and not to feel guilty about it. Remember to be kind to yourself; this is your body, and you will be living in it for some time so practice saying "no thank you" or defer with a "maybe later". You do not need to go with the flow of what everyone else is doing to fit in. You are loved, so you already do.
FITNESS | get moving!  Add at least a 30 minute walk to your day to help alleviate stress, clear your mind, and lift your spirits and keeps you grounded, as your brain releases feel-good endorphins. If you walk an extra 30 minutes daily, you will help offset a potential gain of around 4 pounds over the next eight weeks. Make it a habit, starting today. Even better; schedule a daily walk with a friend.
FOOD | get prepared! Holidays can be hectic so make sure you have your go-to, healthy options quickly available at home and when attending parties. Make and freeze a double-batch of my healthy protein Pumpkin Muffins to get you through days when you may be running errands and need to refuel; and when visiting friends bring a healthy side-dish so you will be certain to have nutritious food you know you can eat, guilt free. Some great options to share are kale salads, grilled seasonal vegetables, roasted root veggies or my healthy pumpkin muffins.
If you missed last week's special coupon offer for my grab-and-go healthy Toni's OatMEAL, it's available in the stores and is especially helpful for keeping you fuller, longer, with fewer calories to help you through those busy holidays without gaining weight.
Following these tips will keep you grounded, moving and prepared to continue making incremental changes for a sustainably healthy lifestyle, and a fulfilling holiday season!
Be sure to check back in next time, where I will share my healthy and easy Pumpkin Protein Muffin recipe with you!
From my table to yours,

Toni Julian is a Northern California-based health advocate, nutrition adviser, fitness expert, blogger and author of BITE ME! Change Your Life One Bite at a Time. She is also the creator of Toni's OatMEAL, a complete and healthy hot protein meal that's ready in minutes Visit  www.ToniJulian.com