Toni's Top Ten Tips Featuring Tip #2: Never get caught without healthy snacks on-demand
Tip #2:
Never get caught without healthy snacks on-demand
From the book BITE ME! Change Your Life One Bite at a Time
Toni Julian, Health Advocate & Author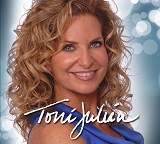 Good morning!  One of my highest priorities through the holidays, and frankly any time of the year, is to make sure I am never left stranded without healthy food options. You know those days when you think you'll just run a quick errand, then hours later you feel your blood sugar drop, start to nurse a nagging headache and feel yourself begin to unravel?
Imagine the feeling of being pregnant (guys, you can do this too) and stranded on an island without food. It's almost a panicky feeling, as anyone with blood sugar issues will attest. This actually happened to me and I learned a valuable lesson; always have healthy snacks available, even when you think you won't need it.
When I was eight months along with our first child, Valerie, my husband and I were captive for a week on-board a low-budget cruise ship, bound for the Caribbean Islands.  I'm sure you've seen those beautiful brochures with the crystal ice sculpture surrounded by enough food to give you muffin tops (aka love handles) simply by looking at it. This particular cruise line managed to cut corners wherever possible, so the buffet was offered for one evening at midnight, way past my bedtime.
The next day, when disembarking at port in Martinique, we discovered the ship had hit the dock and put a Humvee-size hole in the hull. We were left to roam the island all day during repairs and after hours of walking I was famished. There were no restaurants anywhere to be found. Finally, I came upon a hot dog cart and I recall not thinking twice about paying $8, for ONE. I'm not a fan of hot dogs, but the point is, I was willing to pay a ridiculous amount of money nearly 30 years ago for a substandard food-like substance, all because my options were limited. The lesson is this: make sure you have healthy go-to snacks on hand, and when you are caught last minute in a low-blood sugar stupor, you will not be forced to make poor decisions.
I'll share one of my favorite, aromatic recipes with you here. It's been a great go-to consistently; to make sure I have healthy snacks on hand. I designed the most deliciously healthy pumpkin muffins that are easy to make and the clean-up is equally simple. It's one of my favorites from my immediately downloadable e-book, BITE ME! Change Your Life One Bite at a Time.
My healthy muffins are packed with protein, balanced macronutrients and no added sugar (just a little bit of honey); designed to keep you full for longer than a conventional muffin which is typically the perfect storm of sugar, fat and flour stripped of any semblance of vital nutrients. Conventional muffins should really be referred to as "cake"!
I make a double-batch, and freeze most for future snacking. I typically put two muffins in a baggie (after they've cooled) and place several baggies in a larger freezer bag to avoid freezer burn. When you are heading out of the house to work or on a mission to get all your errands done, throw a couple in your pack and they will thaw by the time you're ready to enjoy. It is also helpful to eat a couple of these healthy muffins when heading to a party. It helps cut the hunger so you are less likely to overindulge while standing around the holiday buffet!
Please share this with your friends who get caught without healthy options!
From my table to yours,

Toni Julian is a Northern California-based health advocate, nutrition adviser, fitness expert, blogger and author of BITE ME! Change Your Life One Bite at a Time. She is also the creator of Toni's OatMEAL, a complete and healthy hot protein meal that's ready in minutes Visit  www.ToniJulian.com