In the Kitchen with Sigona's Featuring: Basil Pesto Cashews Reserve From The Cultured Kitchen
Basil Pesto Cashew Reserve Spread from The Cultured Kitchen
Rejoice! This cashew "cheese" contains no dairy, soy or gluten! What's more is it's processed at a low temperature to preserve minerals, enzymes and nutrients, making this an even better choice for your body. The Cultured Kitchen makes many flavors from which to choose, such as herbs & chive and pepper jack, in addition to the basil pesto, which is made from raw cashews, water, coconut aminos, apple cider vinegar, fresh basil garlic, Himalayan sea salt and cultures. That's it! Check out their site for more info: www.cashewreserve.com.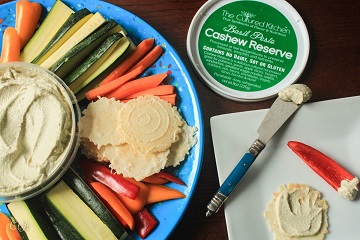 Cashew Reserve is great for:
Potatoes
Pasta
Baguette slices
Apple slices
Burgers
Sandwiches
Veggie trays
Spiraled veggie noodles
Salads
Crackers
Rice
Beans
Enchiladas
Bagels
Tacos
Burritos
…And more!