In the Kitchen with Sigona's Featuring: Pears
 Comice Pears and Brie Drizzled with Raw Honey
Simple and elegant, pears and brie are a lovely combination. Comice pears hold up when sliced as the variety tends to be more crisp than others, so they work well for dipping or spreading with a warmed brie. Honey adds another sweet layer of flavor to this appetizer or after-dinner dish that will put a smile on the faces of your guests.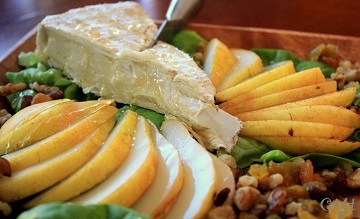 What you need:
A wedge of brie, such as Champs Elysées double cream French brie
Greens, such as butter lettuce, for garnish
2 Comice pears, halved, cored and cut into slices about 3/4" thick
Raw wildflower honey from Honey Hole Honey Co., available at Sigona's
Golden raisins
Walnuts or pecans
Directions: Preheat the oven to 350° F. Place the brie on a parchment-lined baking sheet and bake for 5 to 7 minutes, or until it starts to ooze but not melt.
Place the warmed brie on top of some butter lettuce on a serving dish. Fan out the pear slices on the sides of the brie. Fill in empty areas with raisins and nuts. Drizzle the brie with honey. Serve warm.
Pear, Sweet Pepper and Ginger Chutney over Pan Fried Pork Chops
The pear, sweet pepper and ginger give this chutney a sweet heat with a little southern twist. This chutney can be used on a cheese plate, on top of pork chops or steak or even spread inside a panini. Serves 2 to 4.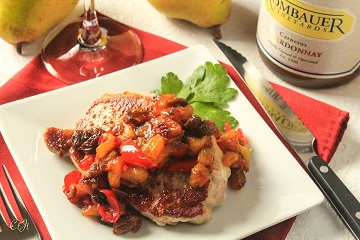 Ingredients:
1 Tbsp. butter
1 Tbsp. Sigona's Fresh Press Extra Virgin Olive Oil
2 Comice pears, peeled, cored and diced
1/3 cup apple cider vinegar
2 to 3 Tbsp. brown sugar, to taste
1/2 cup diced mini sweet peppers (red are recommended for color)
1/4 cup golden raisins
1/4 cup dried cranberries or cherries
1" fresh ginger, peeled and minced
1 teaspoon curry powder
Pinch red pepper flakes
Pork Chops:
2 to 4 pork chops of choice, such as pork loin chops or bone-in
Salt and pepper, to taste
Garlic powder, to taste
Sigona's Fresh Press Extra Virgin Olive Oil
Directions: In a medium sauce pan, melt the butter and oil over medium-high heat. Add the pear and cook about 3 minutes, stirring occasionally. Add the remaining ingredients and stir occasionally as the mixture comes to a boil. Reduce heat to medium to medium-low and cook, stirring occasionally, until the mixture has thickened and ingredients have softened, about 30 to 40 minutes.
Meanwhile, season the pork with salt, pepper and garlic powder. Allow to sit on the counter for at least 15 minutes to take the chill off before cooking.
Add about a tablespoon of oil to a large skillet over medium-high heat. Add the pork, placing them in the pan so they don't touch (cook in batches if necessary), and cook until golden brown on one side before flipping, about 4 to 7 minutes, depending on the thickness of the chop chosen. Flip and cook the other side until golden brown and cooked through, about another 4 to 7 minutes. The National Pork Board recommends cooking pork chops, roasts and tenderloin to an internal temperature between 145° F (medium rare) and 160° F (medium), followed by a 3-minute rest.
To serve, plate the pork and spoon some of the chutney over the top. Enjoy.
Comice Pear and Sweet Potato Puree for Baby
Sweet potatoes and pears are great foods to introduce to babies as they enter the world of solids, and mixing the two together makes for a new taste sensation. Adding pear to a sweet potato puree adds a little more sweetness, helps thin the consistency and bumps up baby's intake of fiber, potassium and Vitamin C, nutritional benefits also found in sweet potatoes.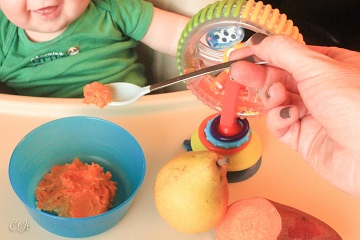 What you need:
Comice pears
Sweet Potatoes or Garnet yams
Pear Puree: Peel, core and dice a pear. Place it in a steamer basket situated over a little water in a pot fitted with a lid. Steam over medium-high heat for about 8 to 10 minutes or until tender. Allow to cool a couple minutes.
Place the pear and a teaspoon or two of the steaming water in a food processor or blender; process until smooth.
Sweet Potato Puree: Prick sweet potatoes all over with a fork and place on a foil-lined baking sheet. Roast in the oven for 45 to 60 minutes until they are tender throughout. Remove from the oven and allow to rest until cool enough to handle.
Slice sweet potatoes in half lengthwise and scoop out the flesh into a food processor. Process until smooth. If necessary, add a teaspoon or two of water. Remove any long, tough fibers.
When it's time to eat: Begin by mixing a tablespoon of the pear puree with a tablespoon of the sweet potato puree. Add a little of baby's usual milk to thin out the consistency, if desired.
To store the remaining puree, scoop 1 tablespoon into each cube of an ice-cube tray, then freeze to make for easy access and portioning.