Fig-Balsamic Roasted Cauliflower with Black Mission Figs
It is not uncommon to see cauliflower paired with golden raisins, especially served as a side dish in the home of a Sicilian (like the Sigona family!). Dried figs have that same sticky sweetness as raisins, but their flavor is a little more layered and their texture is more toothsome. Pairing these ingredients with our fig balsamic makes for an incredible dish. Dairy-free, gluten-free, paleo and vegan friendly! Serves 6 to 8.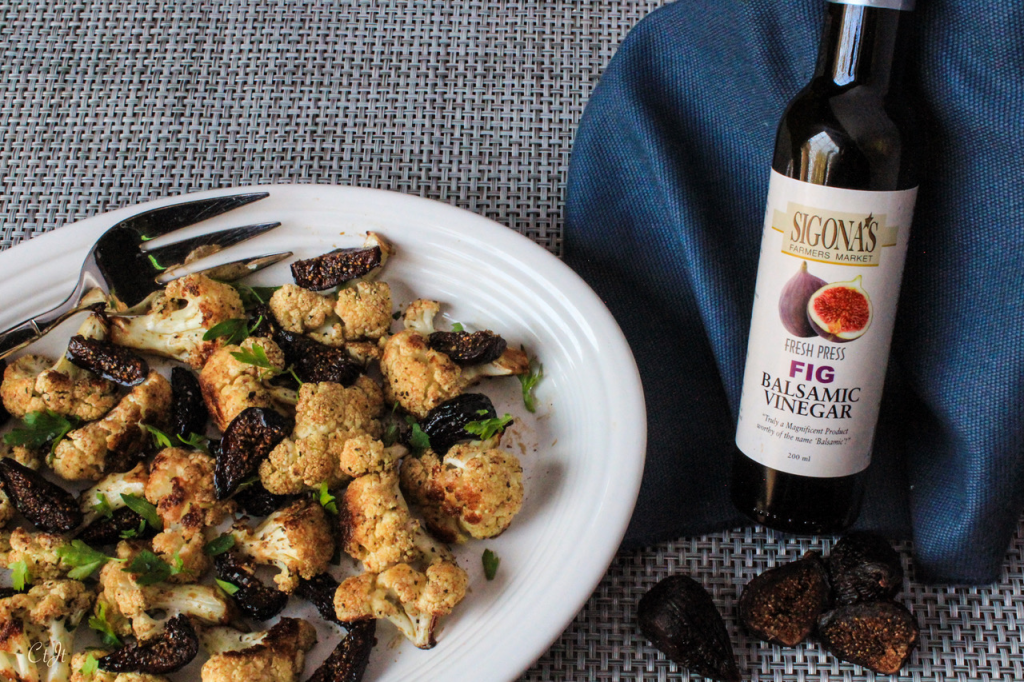 Ingredients:
1 head cauliflower, cut or torn into florets
3 to 4 Tbsp Sigona's Fresh Press Extra Virgin Olive Oil, depending on size of cauliflower, plus a tsp or more for finishing, if desired
1 tsp. dried marjoram
10 to 12 dried figs, stems removed, quartered lengthwise
2 Tbsp Sigona's Fig Balsamic
Salt and pepper, to taste
Chopped parsley for garnish, optional
Directions: Preheat oven to 400°F.
In a large bowl, toss the florets with olive oil and marjoram to coat evenly. Spread the cauliflower out on a rimmed baking sheet. In the same bowl add the figs and balsamic; set aside and to allow figs to reconstitute while cauliflower roasts.
Roast cauliflower about 15 minutes, shaking pan once, until the florets have begun to soften and brown a little. Remove from oven and scrape into the bowl with the figs and balsamic. Toss everything together to coat evenly. Return the mixture to the baking sheet, spreading it out in a single layer. Roast another 6 to 8 minutes.
Season cauliflower with salt and pepper, tossing gently. Transfer the cauliflower to a serving dish, top with chopped parsley, finish with a drizzle of olive oil and serve.
Blood Orange, Cinnamon & Rosemary Roasted Sweet Potatoes
You'll love the flavors in this keto, paleo & whole30 friendly sweet potato dish. It's also dairy- and gluten-free! The thin slices get deliciously crispy under the broiler, but also stay tender, creating a nice mouthfeel in every bite. Inspired by Thyme & Joy. Serves 2. Easily doubled.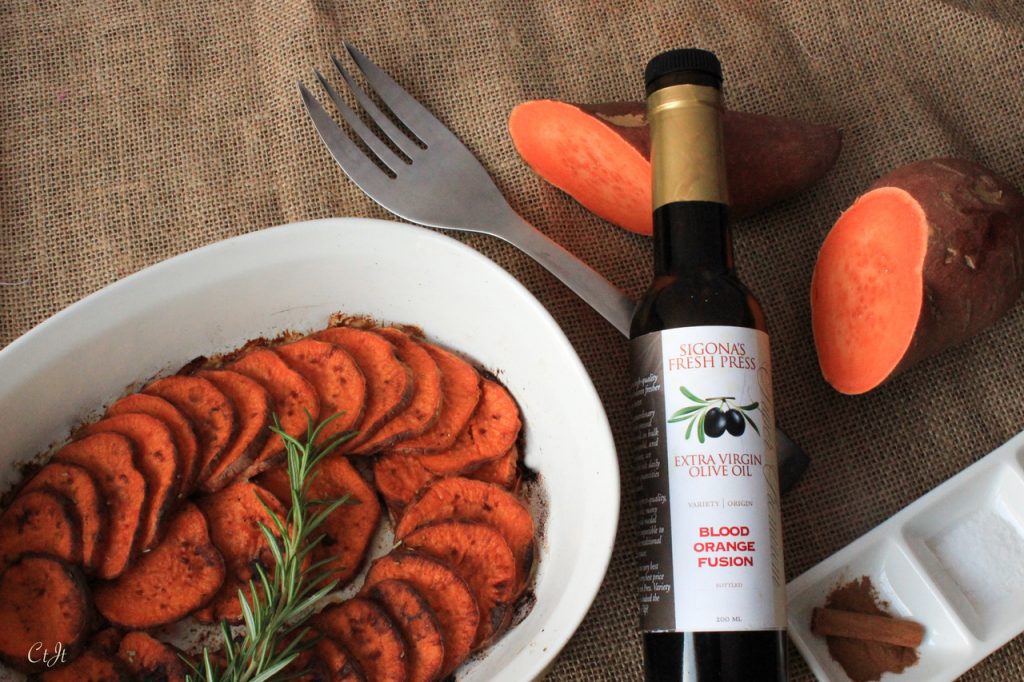 Ingredients:
1 large sweet potato, about 8 inches long and without much variance in width
1 Tbsp Sigona's Blood Orange Oil, plus more for greasing baking dish
1/4 tsp ground cinnamon
1 tsp minced fresh rosemary or 1/2 tsp dried rosemary or
Kosher salt and freshly ground black pepper, to taste
Directions: Preheat oven to 400°F. Using a little blood orange oil, lightly grease a rimmed baking dish, such as an approx. 9"x7" or 1.5 qt oval casserole dish.
Using a mandoline or sharp knife, carefully slice the sweet potato into rounds about 1/8-inch thick. Arrange the slices in the dish, overlapping one another in a semi-circle design.
In a small bowl, whisk together 1 tablespoon blood orange oil, cinnamon, rosemary, salt and pepper. Drizzle the mixture over the sweet potatoes and use a pastry brush to coat the slices. Cover with foil and bake for 30 to 35 minute or until tender.
Uncover and place the dish under the broiler for about 5 to 7 minutes or until the top is crisp and slightly brown, just be careful they don't begin to char and burn.
Remove from oven; allow to cool slightly before serving.
Blue Cheese Puffs with Pistachios and Balsamic-Spiked Cherry Jam
Sweet and savory work well together in these appetizer bites! The cherry adds another layer of rich sweetness yet maintains a tart zing which pairs well with the cheese. Blue cheese can be a little strong, so keep in mind you can swap it for goat or even feta. Adapted from The Olive Oil & Vinegar Lover's Cookbook. Makes 16 puffs; serves about 8.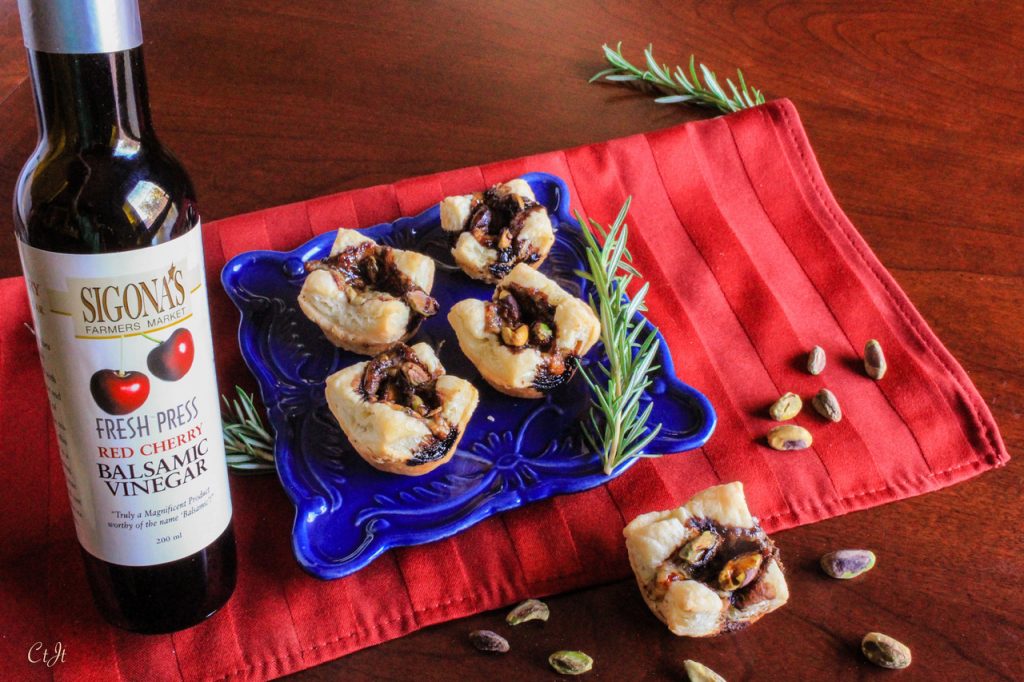 Ingredients:
1 sheet puff pastry
SIgona's Fresh Press Extra Virgin Olive Oil, for brushing
About 3 oz. crumbled blue cheese (swap for goat or feta if desired)
3 Tbsp cherry jam (such as Stonewall Kitchen's sour cherry jam)
2 Tbsp Sigona's Red Cherry Balsamic
1 Tbsp chopped fresh rosemary
At least 32 individual shelled pistachios, roasted & salted or raw, about 1/8 cup (Look for them in Sigona's Dried Fruit & Nut section)
Freshly ground black pepper
Directions: Follow package directions for thawing pastry. Preheat oven to 350°F.
Use a pizza cutter to slice the pastry into 16 equal square-like pieces, roughly 2.25" x 2.25". Lightly grease a mini-muffin tin using olive oil or other cooking oil. Press a piece of pastry into a muffin tin, gently shaping it so the corners are up and the bottom is pressed down, creating a cup.
To each pastry cup add 1 teaspoon of cheese and a 1/2 teaspoon of jam and a pinch of rosemary. Drizzle a little cherry balsamic, about 1/4 teaspoon, over each cup and top. Finish with 2 to 3 pistachios and a pinch of black pepper.
Bake for 12 to 15 minutes or until pastry has puffed and turned a light golden brown around the corners. Serve immediately.