Toni's Guilt Free, Gluten Free Orange-Polenta Stuffing
Toni's Guilt Free, Gluten Free Orange-Polenta Stuffing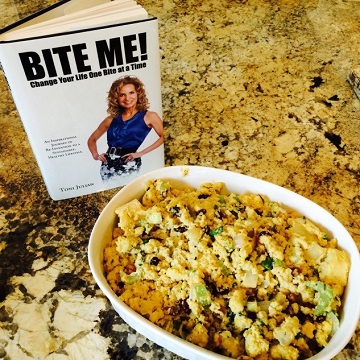 Makes 12 Servings
From the book BITE ME!
NUTRITION PROFILE
CAL-226 | PRO-6 |CARB-40 | FAT-5 | SAT-0 | CHO-30 | SOD-198 | FIB-3
PERCENT CALORIES FROM PRO-10 | CARB-71% | FAT-19%
For holidays, or anytime, this is a truly satisfying dish. If you make the corn bread a day or ahead, it actually works well because it displaces the traditional crunchy crouton. Get a jump on your entertaining by making the corn bread and freezing it for later use! The nutritional profile contains the macronutrients for the corn bread and stuffing mixture combined.
 
Polenta Corn Bread (see additional ingredients below)
3 Egg Whites
1 1/3 c Nonfat Milk, Rice Dream or Organic Almond Milk
2 c Golden Pheasant Polenta
1 c Fresh or Frozen Corn Kernels (defrosted)
1 T Olive Oil
1½ c Oat Flour or Bob's GF Flour
1 T Baking Powder
½ t Salt
2 T Local Honey
Mix flours, baking powder and salt in bowl. Add egg whites, milk, olive oil and honey. Mix until blended. Add polenta (corn meal) and mix thoroughly. Bake at 325 until cooked about 20-30 minutes. Test with toothpick and allow to cool.
1/3 c Walnuts                                      1 c Dried Cranberries
1 Yellow Onion                                    2 Stalks Celery, chopped
2 t Chopped Fresh Thyme                 2 T Chopped Fresh Parsley
1 t Salt                                                    1/3 c Triple Sec
1 Grated Orange Rind                         2 c Organic Low Sodium Chicken Broth
What to do:
Once corn bread is cooled, break into small chunks. Spray frying pan with nonstick cooking spray, and fry yellow onion and celery. Place in casserole dish and add remaining dry ingredients, and gently fold in corn bread chunks. Sprinkle chicken broth, then triple sec over mixture and bake at 350 for 20 minutes in covered dish.