Fresh Porcini Mushroom Fettuccine in a White Wine Sauce

"This dish is simple to put together and using the pasta-cooking water with the mushroom and shallot mixture makes for a creamy, simple sauce that brings the whole dish together. Be sure to set aside a cup or more before draining the pasta. Enjoy!" – Carmelo Sigona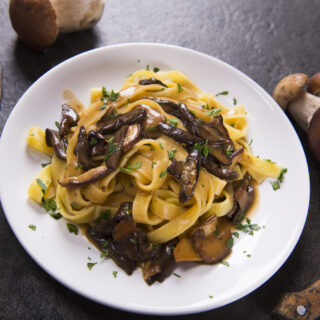 Fresh Porcini Mushroom Fettuccine in a White Wine Sauce
"This dish is simple to put together and using the pasta-cooking water with the mushroom and shallot mixture makes for a creamy, simple sauce that brings the whole dish together. Be sure to set aside a cup or more before draining the pasta. Enjoy!" – Carmelo Sigona. Serves 2 to 4.
Ingredients
Ingredients:
1

pkg fresh pasta

a tagliatelle or fettuccine would work best

2 to 3

large shallots

about 3/4 cup chopped

12 to 14

oz.

fresh porcini mushrooms

Salt and pepper

to taste

3/4

cup

of white wine

such as a Pinot Grigio

2

Tbsp

heavy cream

Freshly grated Parmigiano Reggiano

Optional: Chopped fresh parsley

plus more for garnish
Instructions
Set a large pot of salted water on the stove to bring to a boil. FYI, fresh pasta cooks quickly so be sure to read the package directions and be prepared to set aside 1 cup of the pasta-cooking water when the time comes.

Meanwhile, clean and prepare the porcinis: Trim the tough or woody bases of the mushrooms then use a kitchen towel to brush or gently rub off any remaining dirt from the stalks and caps. Thinly slice them lengthwise across the grain into strips.

Heat olive oil in a large skillet over medium-high heat. Add shallot and cook, stirring, until they've begun to caramelize, about 5 minutes. Add the mushrooms, season well with salt and pepper; cook about 7 to 10 minutes, gently stirring occasionally, until the mushrooms have released and reabsorbed their liquid. Remove the mushrooms and shallots from the skillet, leaving the nice brown bits on the bottom of the skillet.

To the same skillet, over medium heat, add the wine to deglaze the pan, scraping the bottom with a flat-edged wooden spoon. Allow wine to reduce by half, then add the cream and the mushrooms. Allow the mixture to cook and reduce a couple minutes more.

Meanwhile, prepare the pasta according to package directions. Just before it's done cooking, scoop out at least 1 cup of the pasta cooking water and set aside. (Chef's tip: reserve extra pasta-cooking water in the fridge for reheating pasta dishes).

Use tongs to transfer the cooked pasta from the water directly into the skillet with the mushrooms. Adding the pasta this way will allow for the pasta water that's on the noodles to make a sauce in the skillet. Toss to incorporate. If you feel it should have more sauce, add a couple tablespoons of the pasta cooking water and stir to incorporate.

Transfer to individual serving plates and finish with some freshly grated Parmigiano Reggiano. Garnish with fresh parsley, if desired. Serve immediately.