In the Kitchen with Sigona's Featuring: Grapefruit
Maple and Brown Sugar Glazed Grapefruit with Yogurt and Granola
Slicing grapefruit makes for a nice, simple breakfast, but add just about 15 more minutes to the process to introduce a few more flavors to give yourself a sweet treat. Baking grapefruit caramelizes the natural sugars in the citrus, which are enhanced by the maple and brown sugar. Serves 2.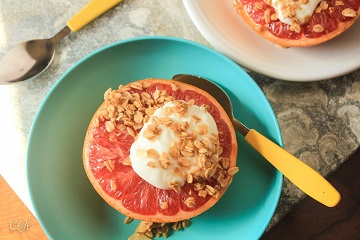 Ingredients:
1 Rio Star grapefruit, sliced in half horizontally
2 tsp. real maple syrup (or use honey), divided
2 tsp. brown sugar, divided
1/4 cup plain yogurt (regular, Greek or other)
At least 1/4 cup granola, your choice
Directions: Preheat oven to 400°F.
Place the grapefruit halves cut-side-up in an 8×8 or 9×9 baking dish. Spread 1 teaspoon of syrup over each half of the grapefruit, followed by one teaspoon brown sugar.
Bake the grapefruit for 15 minutes. Remove from oven and allow to cool about 5 minutes.
Place each half in an individual serving dish; top each with 2 tablespoons yogurt and sprinkle with granola. Serve.
Steak and Citrus Salad with Creamy Avocado and a Simple Honey Ginger Vinaigrette
I just love the combination of citrus and avocado, and when it's served together with steak — either in taco or salad form — it's simply excellent. The sweetly aromatic honey-ginger vinaigrette gives the salad another delicious layer of flavor that ties everything together. Serves 2.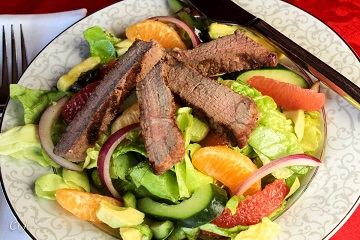 Ingredients:
1 large petite sirloin steak
Salt and pepper, to taste
2 Tbsp. Sigona's Persian Lime Olive Oil
1 1/2 Tbsp. Sigona's Honey Ginger Balsamic
2 Satsuma mandarins, peeled and broken into pieces (remove as much of the white pith as possible)
1 Rio Star grapefruit, supremed*
Half a cucumber, halved lengthwise, seeds removed, sliced
1/4 a red onion, thinly sliced**
Half a large avocado, cubed
About 3 to 4 oz. salad greens, your choice (red leaf lettuce is nice)
Cook's Notes
*Supreming citrus: Cut the top and bottom off of your grapefruit. Slice the peel from the fruit, top to bottom, getting as close to the flesh as possible. Once the peel is removed slice any remaining pieces of pith from the fruit so no white remains. Then, slice closely along the sides of each membrane to neatly remove the sections in between (these are the supremes). Set the supremes aside, discard the rest.
**For the red onions: To take the heat out of the off-season red onion, slice ahead of time and set in cold water for about 10 minutes. Drain and pat dry.
Directions: Season the steak with salt and pepper. Grill over high heat for about 3 to 4 minutes a side or until cooked to your liking. Remove from heat and allow the steak to rest while you prepare the salad.
In a small bowl, whisk together the olive oil and balsamic; season with salt and pepper. Set aside.
Prepare the citrus, cucumber, onion and avocado, placing them in a large bowl. Add the salad greens and a tablespoon or two of the vinaigrette. Toss well to coat then divide among two individual serving plates.
Slice the steak into strips and arrange on top of the salad. Serve with remaining vinaigrette on the side.
Rio Star Grapefruit Salty Dog with a Celery-Cucumber Infusion
A traditional salty dog is simply grapefruit juice with vodka, on the rocks, but we've eased the tart bite of the grapefruit with a slightly sweet celery- and cucumber-infused simple syrup. It's a fantastically refreshing and light citrus cocktail that is perfect for brunch or warm afternoon.  Inspired by Cooking Light. Serves two.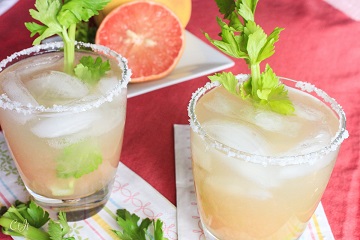 Ingredients:
3 stalks organic celery (with nice leafy tops)
Half a cucumber, peeled, halved, seeded and thinly sliced
3/4 cup water
3 Tbsp. sugar
Kosher salt, for rimming the glasses
Ice cubes
At least 1 1/4 cup freshly squeezed pink grapefruit juice
1/2 cup vodka, more or less as preferred
Directions: Thinly slice one stalk of celery into half moons, setting the remaining two stalks aside — preferably the two with more attractive tops — to be used as garnish.
In a small saucepan, stir together the sliced celery, cucumber, water and sugar. Bring to a boil over medium-high heat then reduce heat and simmer for 15 minutes, stirring occasionally. Strain the infusion using a fine mesh sieve, discarding the solids. Place the infusion in the fridge to chill until cooled completely.
Meanwhile, wet the rim of two short cocktail glasses by either dipping them in the grapefruit juice or rubbing the edge with a segment of grapefruit. Sprinkle some kosher salt on a plate then evenly dip the rim in the salt to coat.
To each glass, add equal amounts of the cooled infusion (about 3 tablespoons each), ice cubes, about 1/4 cup vodka and about 1/2 cup grapefruit juice. Add more ice or whichever ingredient you wish to fill the glass. Garnish with a trimmed stalk of celery and serve.