In the Kitchen with Sigona's Featuring: Sweet Grass Dairy's Pimento Cheese Spread
Heirloom Tomato & Pimento Cheese Topped Crostini
Savory, summery and finishing with a slight, sweet-pepper kick, these simple crostini are perfect for a backyard get together, especially paired with a chilled white wine, such as a sauvignon blanc. Sweet Grass Dairy pimento cheese spread is made with shredded Thomasville Tomme, Duke's mayonnaise, Spanish piquillo peppers and other spices. It's fantastic! Serves 4 to 8.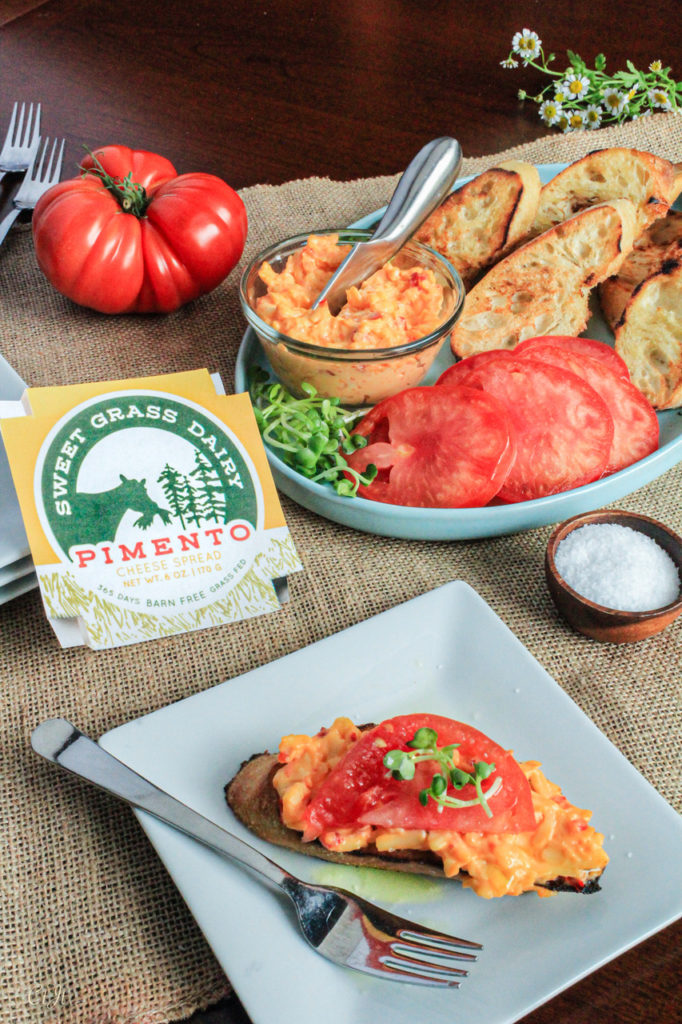 Ingredients:
8 slices of a baguette, cut on the diagonal, such as a demi baguette
Sigona's Fresh Press Extra Virgin Olive Oil, for brushing and drizzling
1 tub (6 oz) pimento cheese spread from Sweet Grass Dairy (available at Sigona's)
1 to 2 medium heirloom tomatoes, sliced (large slices halved)
Micro greens of choice, for garnish
Flaky sea salt, for sprinkling
Directions: Preheat a large skillet or griddle over high heat. Lightly brush both sides of the baguette slices with olive oil. To create a crostini with a crisp, toasted outside and a soft, chewy inside, add the slices to the hot griddle and cook for just 1 minute a side, flipping once, or until lightly toasty. Transfer to a serving tray.
We suggest providing the ingredients and allowing guests to create their own crostini just before eating, to keep the toasts from becoming soggy.
To serve: Spread some of the pimento cheese onto a toasted crostini. Top with a slice or two of tomato and garnish with greens. Drizzle the crostini with olive oil and finish with a sprinkling of salt. Serve immediately.