Robbie Sigona's Produce Tips: Local Bibb Lettuce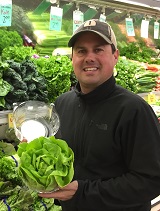 These make wonderful salads and they're great for wraps as the leaves are nice and big.
To choose:
Choose Bibb lettuce that has nice green leaves there should be no yellow on them.
Since these don't have roots, there should be a nice white stem. Older lettuce will have a brown stem.
Store in the refrigerator in the crisper drawer for extended shelf-life. You can wrap lettuce in a damp paper towel in the refrigerator.
– Robbie Sigona is our produce buyer. He works with local farmers and scours the market for the very best in fresh fruits and vegetables — some you won't find anywhere else.