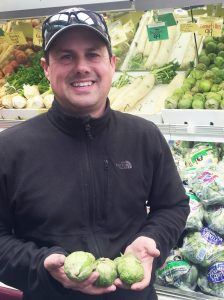 Many people are unsure what exactly to look for when it comes to tomatillos.  Here are some tips to help you pick:
Choose firm tomatillos with bright green skin. Open the husk just slightly to peek.
If you prefer your tomatillos sweeter, look for the smaller, lighter green or yellow ones.
As a general rule of thumb, your tomatillo should fill its husk completely—the husk shouldn't be large or loose.
Open up the husk just slightly to peek at the flesh of the fruit beneath it. The tomatillo should be firm and bright green. Toss the fruit back if it looks dried out, shriveled up or blemished.
Don't peel them if you're not planning on using them right away. Store in the refrigerator.
Tomatillos will last up-to two months. For longer storage, peel them, wash them and store them in a freezer bag.
Robbie Sigona is produce buyer for both the Redwood City and Palo Alto Sigona's Farmers Market locations. He works with local farmers and scours the market for the very best in fresh fruits and vegetables — some you won't find anywhere else.