Robbie's Produce Tips: Fresh Green Almonds
It's  peak of season for green almonds!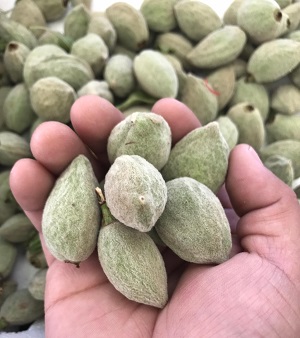 Green almonds are a rare spring delicacy. They're young almonds that have not developed the hard shell. In fact, they're all edible including the soft shell, and the nut is softer than a mature nut, but tart.
Here's some tips: 
Choose almonds that are a soft green color and are free of any brown spots.
Almonds that are old will have a bitter and inedible husk.
When ready to eat, wash thoroughly, remove the stem end and chill in ice or ice water.
Robbie Sigona is produce buyer for both the Redwood City and Palo Alto Sigona's Farmers Market locations. He works with local farmers and scours the market for the very best in fresh fruits and vegetables — some you won't find anywhere else.