In The Store with Sigona's Featuring: Zucchini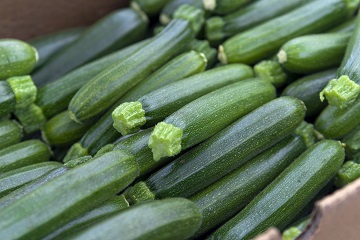 Zucchini: Versatile. And Sneaky.
Diane Rezendes, food writer
We are heading into summer, with its longer days, beach-and-biking weather, and all the savory, sun-drenched tastes of summer that somehow manage to be light and rich at the same time.  Like all those luscious, grill-ready vegetables. Such as zucchini.
When we think of zucchini, we tend to think of a typical green, sort of banana-shaped vegetable. In fact, there are more than 100 varieties under cultivation. Not every one is green; not every zucchini is column-shaped. Some are yellow or even white; others are round. We have lots of yummy zucchini to share with you, including the very special white zucchini and much-coveted zucchini blossoms.
Heritage
Despite the Italian name that means "little squash," zucchini originated in Mexico several thousand years ago, say archeologists. It was part of the traditional 'three sisters' food staples of beans, maize, and squash. The zucchini we know today, along with its name, was developed by Italians near Milan in the 1800s. Later, Italian immigrants brought it to the United States, where it's been cultivated in California – though home gardeners know it will thrive just about anywhere.
Choosing and using
Our zucchini from Fresno, like all our produce, is picked at its peak and ready for you to eat, whether as is or in your favorite recipes. Look for a deep, rich green color, without any nicks or cuts to mar its beautiful sheen. The stem cut should look fresh and them should show no wilting or withering, a sign of moisture loss.
Choose smallish zucchini – ideally, no longer than 6-8 inches. There's a good reason for that: the larger they get, the less flavor they have, thanks to increased water content that dilutes its natural sugars.
You can store zucchini in the crisper drawer of your refrigerator for a few days. It's helpful to put it in a plastic bag, with a few holes to allow for air. It should keep about a week. Don't wash it until you are about to use it.
More than Bread or Boats: Zucchini Is Versatile. And Sneaky.
Zucchini can be part of a main dish, as in a frittata – or a pasta dish like this classic recipe from our archives for Fresh Pappardelle Pasta with Zucchini and a Spinach Pesto.
From ratatouille to Asian stir-fry, zucchini is a very friendly side dish that can complement the flavor profile of just about any entrée. One of our favorite ways to prepare it is the simplest: brushed with Sigona's Fresh Press Extra Virgin Olive Oil and grilled.
With its high water content, zucchini keeps desserts moist even as it adds a subtle sweetness. A lovingly baked zucchini bread, slathered with softened cream cheese, is just the thing with a cup of tea, good company, and gentle conversation.
Then there's the zucchini sneak. To be clear, we're not talking about the National Sneak Some Zucchini Onto Your Neighbor's Porch day (it's August 8, and yes, it's a thing. Apparently.) The zucchini sneak, in this case, is grated zucchini added to spaghetti sauce, lasagna, or even mashed potatoes, a variation of the traditional Irish dish, colcannon.
Zucchini Miscellanea
Botanically, zucchini is a fruit, though from a culinary standpoint, we use it as a vegetable.
With 95% water content, zucchini is very low in calories and has a low glycemic index.
Zucchini contains folate, potassium, vitamin A and vitamin C. Most of the goodness is in the skin, so don't peel it.