In the Kitchen with Sigona's Featuring: Bartlett Pears
Bartlett Pear & Caramelized Onion Flatbread with Crumbled Bacon and Arugula
These flavors pair so well together it's almost insanely delicious. If you want to make a vegetarian-style flatbread, simply leave off the bacon. Serves 2.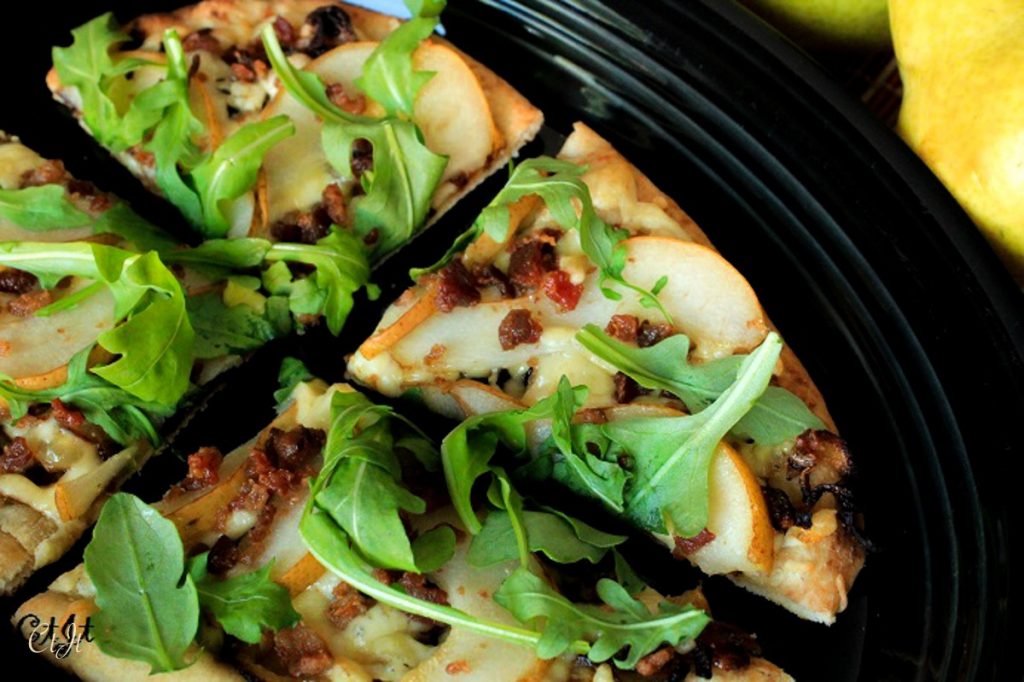 Ingredients:
About 1 Tbsp. butter
About 1 Tbsp. Sigona's Fresh Press Extra Virgin Olive Oil, plus more, for brushing
1 small onion, sliced into rings about 1/8-inch thick
1 piece Tandoori Naan flatbread
Salt and pepper, to taste
Half a fresh pear, Bartlett, D'Anjou or Comice, cored and thinly sliced lengthwise
4 to 6 oz. Sigona's Moo-na Lisa cheese (a Gouda-Gruyère style cheese made exclusively for Sigona's)
2 to 3 pieces cooked bacon, crumbled
A small handful arugula, for topping
Directions: Begin by caramelizing the onions in butter and olive oil over medium-low heat (see tips for caramelizing onions).
Brush the flatbread with olive oil then sprinkle with salt and pepper. Top with caramelized onions, followed by the shredded cheese. Arrange the sliced pear atop the cheese then sprinkle on the crumbled bacon. Bake at 400°F for 10 to 12 minutes or until the cheese is melted.
After baking, evenly spread out a bit of arugula on top of the flatbread. Slice and serve.
White Cheddar Turkey Burgers with Poached Bartlett Pears and Sigona's Sweet Red Pepper Relish
Don't make us twist your arm; the poached pear on this burger, topped with melted cheese, will keep you coming back for more. Try it with either our Sweet Red Pepper Relish or jalapeño jelly and you won't regret it! Inspired by Rachael Ray. Serves 6.
Ingredients:
2 lbs. ground turkey breast
4 green onions, white parts only, finely chopped
2 Tbsp. Dijon mustard
Grated peel and juice of 1 lemon
1 Tbsp. fresh thyme, chopped (fresh makes a difference)
Salt and pepper, to taste
1 large Bartlett pear, firm but ripe, cut lengthwise into six 1/4-inch thick slices (core carefully cut out if necessary)
1/2 cup dry white wine
1 Tbsp. Sigona's Fresh Press Extra Virgin Olive Oil
2 cups shredded white cheddar, such as Sigona's Moo-Net, a California white cheddar
Sigona's Sweet Red Pepper Relish OR jalapeño jelly (at least 6 Tbsp.)
6 extra-large English muffins, split and toasted (Sourdough is nice)
Directions: In a medium-sized bowl, combine the turkey, green onions, mustard, lemon peel and thyme; season with salt and pepper. Shape into six 3/4 inch-thick patties.
In a small nonstick skillet, add the pear slices, wine, lemon juice and enough water to just cover the pear. Bring to a boil, then lower the heat and simmer until the pear is softened, about 10 minutes. Using a slotted spoon, transfer the pear slices to a plate.
Meanwhile, in a large nonstick skillet, heat the olive oil over medium heat. Add the turkey patties and cook, turning once, for 12 minutes. Top with the cheese and pear slices, tent the pan with foil and cook until the cheese is melted, about 2 minutes.
Spread about 1 tablespoon pepper relish on each English muffin bottom; top with a patty and an English muffin top. Serve immediately.
Bartlett Pear and Dried Cranberry Salad Moo-Na Lisa Cheese and a Honey-Rosemary Vinaigrette
The flavors in this salad screams fall. You'll love the honey-rosemary vinaigrette made with Sigona's Cranberry Pear Balsamic, and the Gouda-Gruyère style Moo-na Lisa cheese brings all the flavors together beautifully. Serves 4 to 6.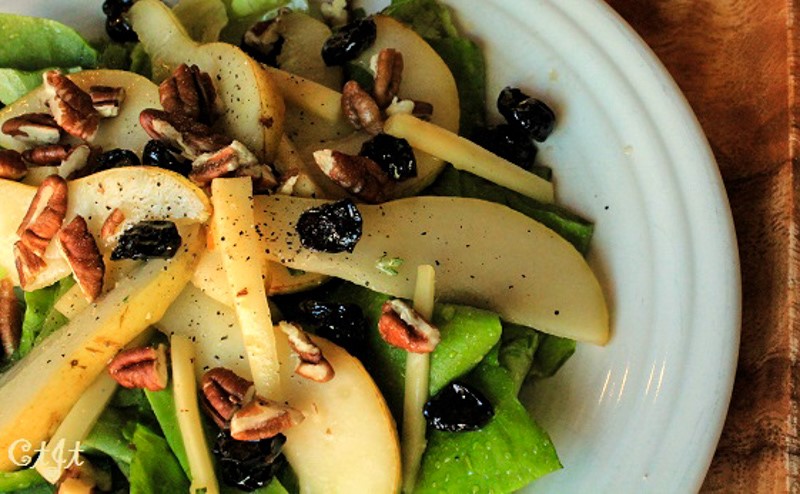 For the vinaigrette:
3 Tbsp. Sigona's Cranberry Pear Balsamic
1 to 2 tsp. minced fresh rosemary, more or less to taste
1/4 cup honey, such as local Honey Hole Honey Co. honey, available at Sigona's
Salt and pepper, to taste
For the salad:
8 cups fresh greens (such as spring mix, butter or red leaf lettuce)
2 fresh Bartlett pears, halved, cored and thinly sliced lengthwise
4 to 6 oz. Moo-na Lisa cheese cut into julienned strips about 2 inches long by 1/4 inch wide (Moo-na Lisa is a Gouda-Gruyère style cheese made exclusively for Sigona's)
1/3 to 1/2 cup Sigona's dried cranberries or golden raisins
1/4 cup chopped nuts, such as walnuts, pistachios or pecans (try Sigona's candied nuts for more flavor)
Directions: Prepare the vinaigrette by whisking together the balsamic, rosemary and honey. While whisking, drizzle in the olive oil. Season with salt and pepper. Taste the vinaigrette; season if necessary with more rosemary, salt or pepper.
In a large bowl, toss the greens with about half the vinaigrette. Divide the greens evenly among 4 to 6 salad plates.
Toss the pears, cheese and cranberries or raisins with about 2 tablespoons of the remaining vinaigrette; top each salad with some of the pear mixture. Drizzle on any remaining vinaigrette or serve on the side. Enjoy immediately.