Recipe Roundup: Sigona's Lavender Balsamic
Sigona's balsamic vinegar, combined with beautiful culinary lavender, gives a unique flavor note to any dish. Lavender balsamic provides a sweet, fruity and herbaceous flavor with a woody undertone. Use in vinaigrettes or marinades for chicken or fish.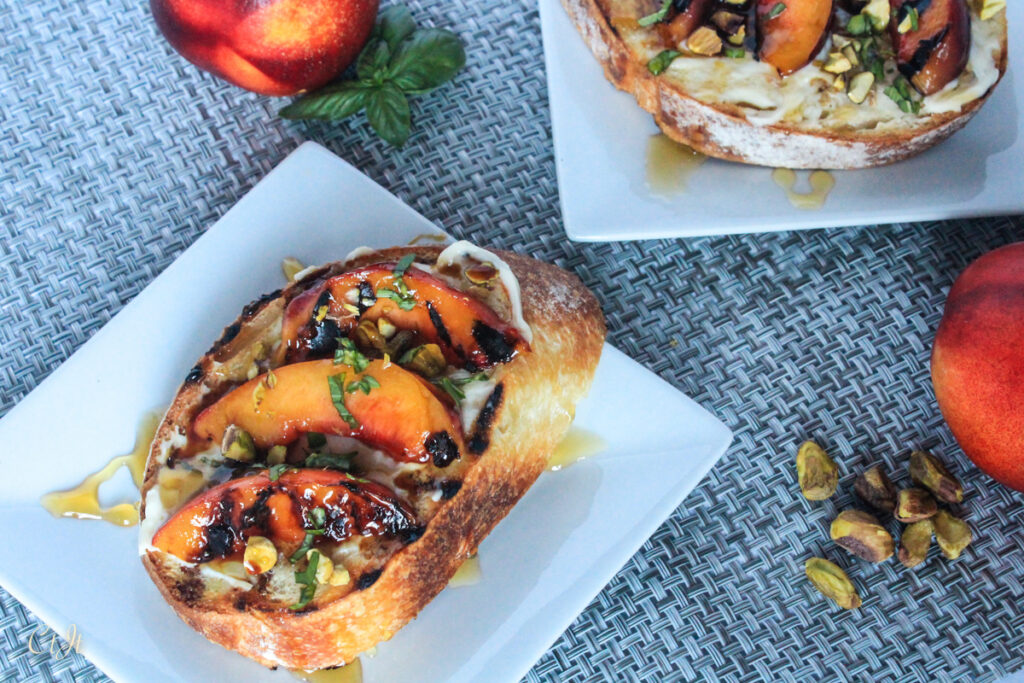 Grilled Nectarine Bruschetta with Honey Mascarpone, Pistachios and Basil Oil
Grilling fruit caramelizes its natural sugars, presenting a greater depth of flavor. The light charring of both the fruit and the bread pairs deliciously with the sweetness of the honey and the tang of the balsamic. You can, of course, easily leave the fruit in a raw state if you wish. Using a fat loaf of bread makes for generous slices of bruschetta. Inspired by Cooking Light. Serves 8 (or 16 if you halve the slices).
Ingredients:
2 nectarines, quartered, pits removed
4 Tbsp. honey from Honey Hole Honey Co., such as wildflower, available at Sigona's, divided
Sigona's Basil Oil, for brushing
1 loaf crusty French or Italian bread, cut on the diagonal into 8 slices about 1-inch thick
2/3 cup mascarpone
Optional: chopped pistachios
About 3 Tbsp. to 1/4 cup Sigona's Lavender Balsamic
8 medium leaves fresh basil, chiffonade or chopped
Directions: Heat a grill pan over medium-high heat.
In a small bowl, combine 1 teaspoon honey and 1 teaspoon water. Add the quartered nectarines and gently toss to coat.
Brush the grill with a little olive oil. Add the nectarines, cut sides down, in a single layer. Grill for about 2 minutes a side or until grill marks are present and fruit has softened a bit. Remove from the grill, allow to cool to the touch, then slice each quarter into 3 or 4 wedges.
In a small bowl, mix together the mascarpone with about 2 tablespoons honey. Set aside.
Increase grill pan heat to high. Brush both sides of the bread slices with olive oil and place on the grill to toast for 1 minute each side. Remove to a plate.
Spread a generous amount of the honey-mascarpone mixture (about 1 heaping tablespoon) on each slice of toasted bread. Top each slice with 3 or 4 nectarine wedges, then add some chopped pistachios, if using.
Plate the bruschetta on a serving platter. Drizzle the entire dish with remaining honey and balsamic. Top with chiffonade basil and serve.
---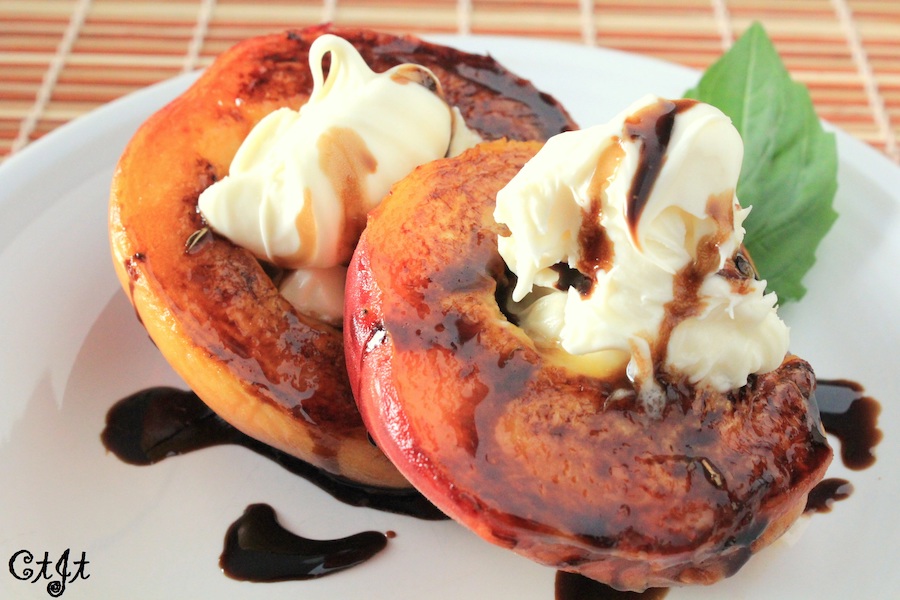 Mascarpone- Topped Summer Stone Fruit with a Lavender Balsamic Reduction
Simple yet elegant, this is a beautiful and delicious dish to serve after a busy day. The creamy, honey-infused mascarpone is killer. Serves 2 to 4.
Ingredients:
1/3 cup Sigona's Lavender Balsamic
A generous pinch of dried savory or thyme
2 locally grown peaches or nectarines, halved and pitted
1 to 2 Tbsp honey, divided, such as Orange honey from Honey Hole Honey Co., available at Sigona's
1/3 cup mascarpone, such as Belfiore
Mint or basil leaves, as garnish
Directions: Add balsamic and a pinch of herbs to a small sauce pan. Bring to a light boil then reduce heat to a simmer and cook, stirring occasionally, until reduced to about 2 tablespoons (about 6 to 10 minutes). Cool slightly.
Divide fruit halves among serving plates (one or two per plate).
In a small bowl, mix together the mascarpone and honey. Spoon about 2 teaspoons mascarpone into the center of each peach half then and drizzle about 1 tsp. or so of the balsamic reduction over each serving.