An elegant, festive and delicious appetizer fit for any holiday celebration.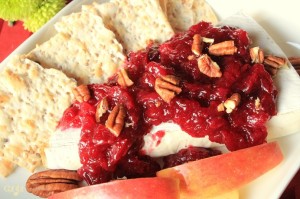 What you need:
A wedge of Fromage D'Affinois
1/3 cup water
1/3 to 1/2 cup sugar, to taste
Pinch of salt
2 tsp grated fresh ginger
Pinch of cinnamon
6 oz. fresh cranberries
1 pear, peeled, cored and diced
For serving: assorted crackers, apple slices, pear slices, baguette slices, gingersnaps
For garnishing: Chopped raw pecans or pistachios
Directions: Bring water sugar, salt, ginger and cinnamon to a boil over high heat; stir frequently to dissolve sugar.  Stir in cranberries and pears; return to boil.  Reduce heat to medium; simmer, stirring occasionally, until everything has cooked down, cranberries have burst and pears are very soft (it will take some time, 30 minutes or more). Mash the mixture a few times with a potato masher if desired. Remove from heat and set aside.
Prepare a baking sheet with a piece of parchment paper. Add the Brie and bake 500°F for 3 to 5 minutes (you just want it warmed, not melted). Transfer to a serving platter and top with half or more of the cranberry sauce; serve the rest of the sauce on the side. Offer Brie with assorted crackers, apple slices, pear slices and baguette slices. It's also delightfully festive with gingersnaps.