Rockit™ Apple & Oat Waffles
There are only five ingredients in these waffles! No refined flour, no sugar, and they come together in minutes. Delicious and satisfying! Recipe and photo courtesy of Chelan Fresh. Serving size: Serving size: 1 large Belgian waffle
Waffles: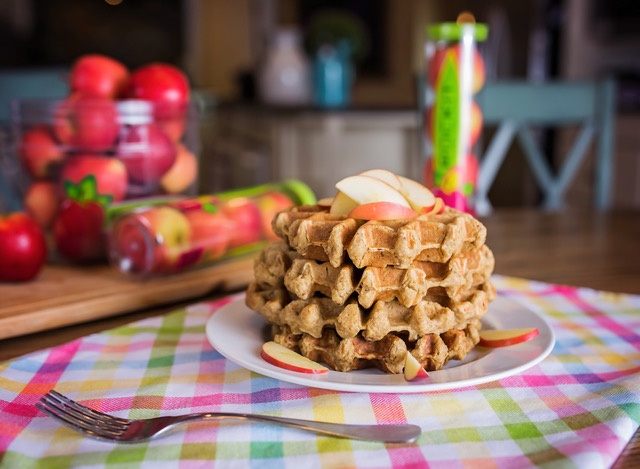 1 egg
1 apple, such as Rockit™, cored and coarsely chopped with skin on
1/2 tsp ground cinnamon
1/4 tsp kosher salt
1 cup unsweetened milk, such as almond, regular, hemp or other
2 cups whole oats
Suggested Toppings:
Sliced Rockit™ apples
Ground cinnamon
Pure maple syrup
Directions: In a blender, add the egg, apples, cinnamon, salt, milk and oats.  ingredients in order beginning with egg, apple, cinnamon, salt, almond milk, and oats. Blend until well combined, pausing to stir ingredients if needed.
Coat a waffle maker with oil or nonstick spray. For a Belgian waffle maker, use 1 cup batter and cook about 4 minutes or until golden brown. For a regular waffle maker, use 1/3 to 1/2 cup batter per waffle. Cook until golden brown, about 3 minutes. Top as desired and enjoy.
Protein-Packed Roasted Winter Salad with Lentils, Sweet Potato and Rockit™ Apples
Firm and sweet Rockit™ apples are perfect for roasting. They add a wonderful sweetness to this warm roasted winter salad with sweet potatoes, kale and black lentils. This healthy protein-strong salad makes a hearty main for two or a colorful starter for four. Recipe and photo courtesy of Chelan Fresh. Serves 2 to 4.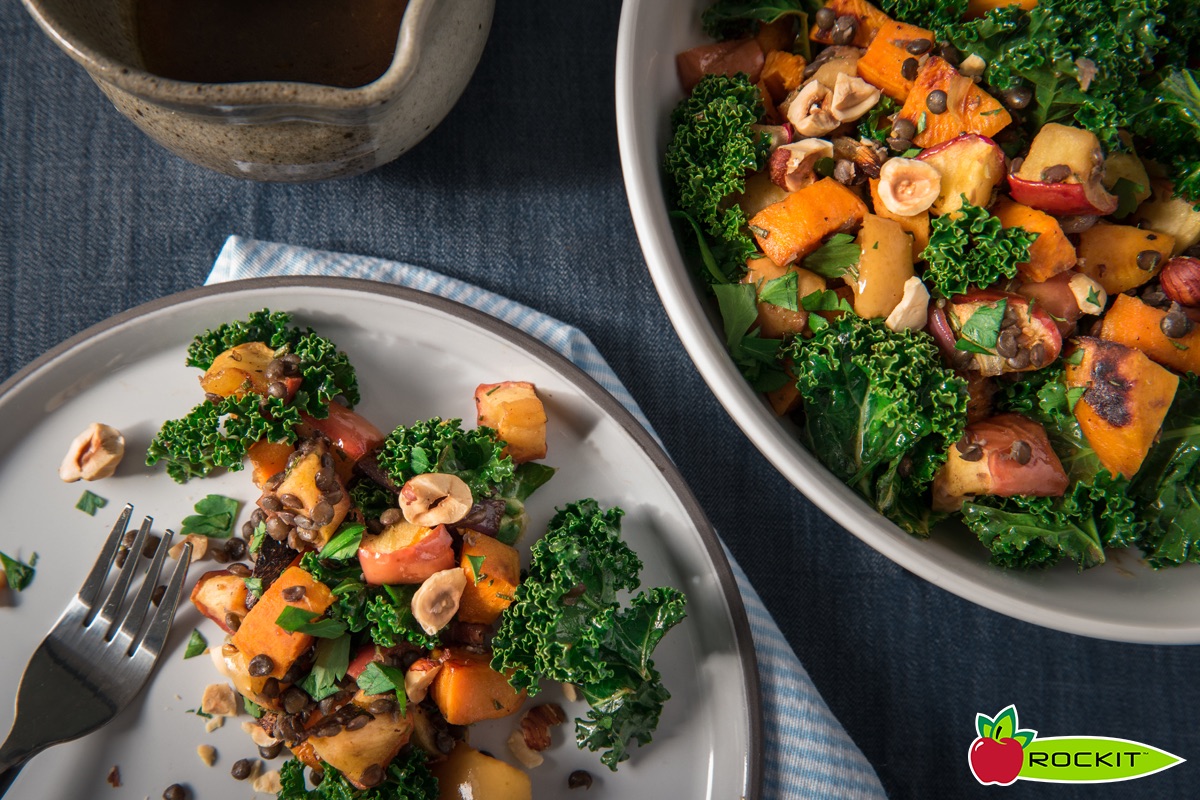 Salad
1/2 cup black lentils (also called "caviar" or "beluga" lentils)
3 Rockit™ apples, cored and cut into 1 inch cubes
1 medium sweet potato, peeled and cut into 1 inch cubes
1/2 large red onion, peeled and roughly cubed
2 tsp Sigona's Fresh Press Extra Virgin Olive Oil
1 Tbsp fresh rosemary, minced
1/4 tsp sea salt
1/4 tsp fresh ground pepper
4 cups kale, torn into small bite sized pieces and massaged for 2 minutes (this softens the kale a bit to it's easier to chew)
1/4 cup hazelnuts, toasted and peeled
Handful fresh parsley, chopped, for garnish
Vinaigrette
Directions: Preheat oven to 425°F.
Place lentils in a small sauce pan and cover with three inches of water. Bring to a boil and cook until soft but not mushy, about 15 to 20 minutes.
Meanwhile, toss the apples, sweet potato and red onion in olive oil. Spread onto baking sheet and sprinkle with salt, pepper and rosemary. Bake in oven for 25 to 30 minutes, until fruit and vegetables are cooked through but still firm.
To prepare the vinaigrette, add the olive oil and pomegranate balsamic in a small bowl and whisk until completely combined. Add the rest of the vinaigrette ingredients and whisk until emulsified.
Drain and rinse the cooked lentils thoroughly, then place in a large bowl. Add the kale and half of the vinaigrette and mix carefully. Set aside.
Add the roasted fruit and vegetables to the lentil and kale mix along with the toasted hazelnuts and parsley. Stir to combine.
When ready to serve, add some more vinaigrette, one tablespoon at a time, stirring well after each addition, being careful not to over dress — you want the ingredients coated but not soaked. Serve remaining vinaigrette, if any, on the side.
Plate and serve immediately.
Baked Rockit™ Apple Chips
Baked apple chips are a wholesome, healthy snack that please kids and adults alike. Easily packed in a lunchbox or munched on during movie night, apple chips are convenient and tasty. These oil-free chips are baked to perfection, making them good for you without compromising on deliciousness. They're easy to make, too! What's not to love? Recipe and photo courtesy of Chelan Fresh. Yield: 3 to 4 servings.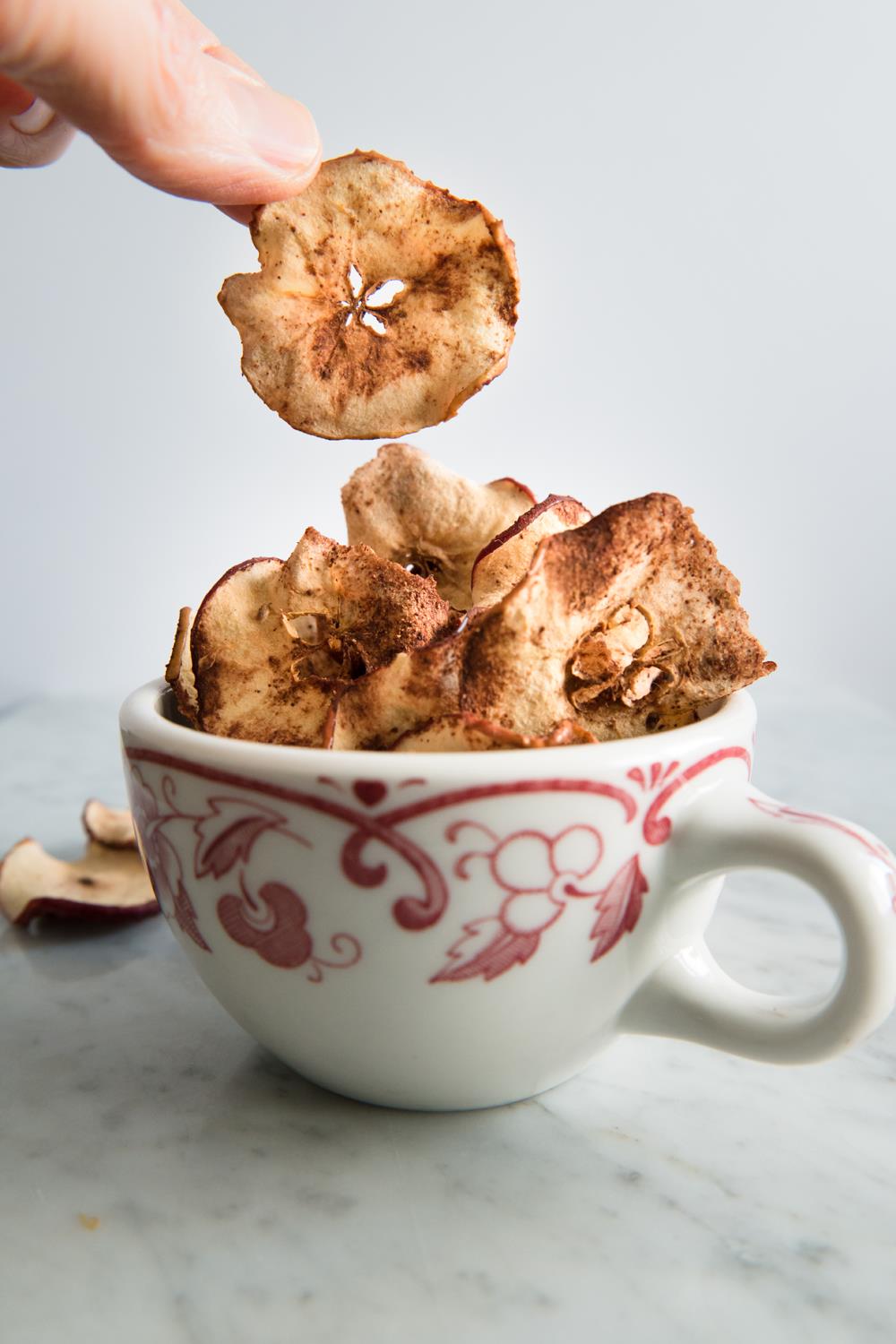 Ingredients:
4 Rockit™apples
1 Tbsp cocoa powder
1 1/2 tsp ground cinnamon
1 pinch of cayenne pepper (optional)
Directions: Preheat the oven to 225°F. Line 2 rimmed baking sheets with parchment paper and set aside.
In a small bowl, mix the cocoa, cinnamon and cayenne pepper (if using).
Using a mandoline or sharp knife, carefully slice the apples horizontally into very thin slices. No need to core the apples, just remove any seeds before baking.
On a clean work surface, lay the apple slices flat. Dust one side with the spice mixture and transfer to the lined sheet pans. Lay them out in a single layer; the slices can be close together but should not overlap.
Bake in the oven for 1 hour, rotating pans from top to bottom after 30 minutes to ensure even baking. Apples should be fairly crisp but, if they're still soft, bake for an addition 15 to 30 minutes until they crisp up.
Remove pans from the oven and use tongs to flip the apple slices over. Turn the oven off before placing the pans back inside. Allow chips to continue drying out in the cooling oven for an hour or overnight if you can.
Store cool apple chips in an airtight container for up to a week.