Roasted Delicata Squash Rings with Honey, Pomegranate and Pepitas
Roasted Delicata Squash Rings with Honey, Pomegranate and Pepitas
This adorably delicious dish is a unique way to serve seasonal squash at Thanksgiving. The sweetness of roasted squash is highlighted by the honey, and is complemented by the sweet-tart burst of fresh pomegranate seeds. Inspired by Sunset. Serves about 4.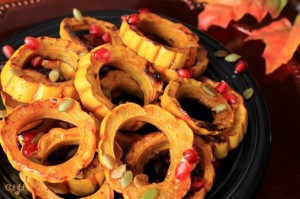 Ingredients:
2 Delicata squash
About 2 Tbsp, plus 1 tsp., divided, Sigona's Fresh Press Extra Virgin Olive Oil
1/2 tsp garlic powder
1/2 tsp chili powder
Honey, such as Orange from Honey Hole Honey Co., available at Sigona's
About 1/3 to 1/2 cup fresh pomegranate arils (seeds)
About 1/3 cup Sigona's pepitas (pumpkin seeds), roasting optional
Salt and pepper, to taste
Directions: Preheat oven to 425°F.
Wash the squash then slice into 1-inch thick rounds. Use a spoon to scrape away the seeds, leaving the round whole (it'll look like a donut).
Line a rimmed baking sheet with parchment paper. Brush both sides of the squash rounds with about 2 tablespoons olive oil and place them on the baking sheet. Sprinkle on the chili and garlic powders, season with salt and pepper.
Roast squash for 20-25 minutes or until soft and lightly browned.
Meanwhile, if desired, spread pepitas on a rimmed baking sheet. Drizzle with remaining 1 tsp. oil and season with a little salt. Stir to coat. Spread out in a single layer and bake until toasted, about 5 minutes.
Arrange roasted squash in an aesthetically pleasing pile, a couple layers high, on a serving dish, drizzling a bit of honey on each layer. Sprinkle the stack with pomegranate arils and pepitas. Season with salt and pepper, to taste. Serve warm.