Egg-topped Breakfast Hash with Kale, Sweet Potato and Turkey Sausage
Egg-topped Breakfast Hash with Kale, Sweet Potato and Turkey Sausage
This breakfast dish is packed with proteins and good-for-you greens, making it perfect for any meal. Substitute butternut squash for the sweet potato, if desired. Recipe inspired by Kitchen Instruction Manual. Serves 4 to 6.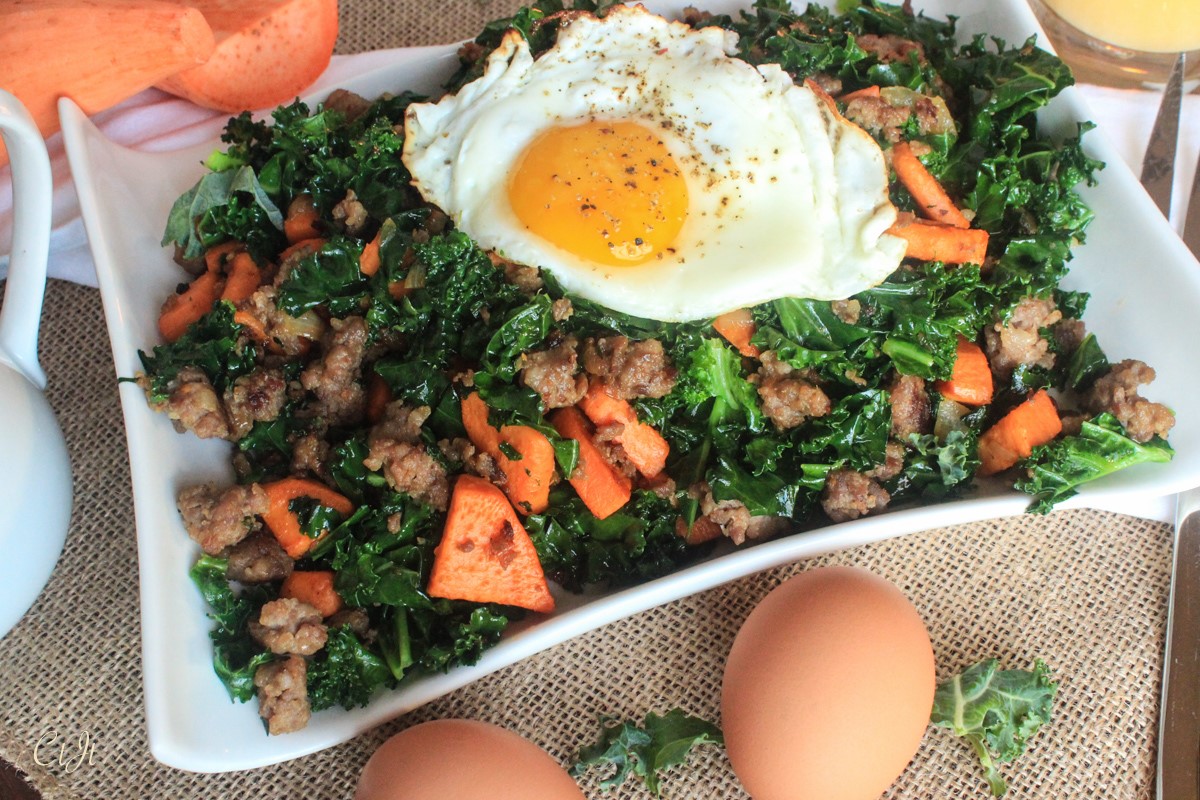 Ingredients:
1 large orange sweet potato (a red garnet yam), peeled and diced to wedges or cubes about 1" in size (about two cups)
1 lb. ground sausage, such as breakfast sausage or Diestel Ranch Italian Turkey Sausage
1/2 a medium-small onion, diced
1/2 to 1 bunch kale, stems removed, leaves chopped
1 to 2 Tbsp. butter
4 medium cage-free brown eggs, or at least one per person
Sea salt and pepper, to taste
For serving: Tabasco or other hot sauce
Directions: Place diced sweet potatoes in a medium saucepan; cover with water and bring to a boil. Allow to boil for about 5 to 8 minutes or fork-tender. Don't allow them to get too soft. Drain and set aside.
Heat a large skillet over medium-high heat and add the sausage. Break it apart as it browns; cook, stirring occasionally, until it is cooked through. Use a slotted spoon to remove sausage to a plate, leaving fat in the skillet. Reduce heat to medium.
To the same skillet add the olive oil and onion, season with salt and pepper. Cook for about 1 to 2 minutes or until the onions begin to soften and take on some color from the pan. Add the sweet potatoes to the pan, season with salt and pepper and cook, gently stirring occasionally, for about 4 to 5 minutes or until they've taken on some color from the pan.
Fold in the cooked sausage and cook for 3 minutes. Add the kale to the pan and gently fold it into the mixture as it cooks down, about 2 to 3 minutes total. Transfer to a platter or individual serving dishes; keep warm.
Melt butter in a large skillet over medium-low heat. Gently crack eggs into skillet; season with salt and pepper and cook without flipping until the whites have set and yolk is cooked to your liking. Use a spatula to remove the eggs and gently lay them on top of the kale and sausage mixture. Serve immediately with your favorite hot sauce on the side.