Robbie's Produce Tips: Bok Choy
Bok Choy
Look for bok choy with white stalks and dark green leaves.
Avoid pieces that have brown spots or leaves that are slightly wilted.
Use in recipes that call for spinach or chard.
Use the stalks and leaves separately.
To store, place unwashed Bok choy in a perforated plastic bag in the refrigerator. Unwashed Bok choy will keep fresh for 2 to 3 days.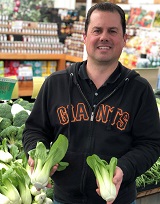 Robbie Sigona is our produce buyer. He works with local farmers and scours the market for the very best in fresh fruits and vegetables – some of you won't find anywhere else.