In the Kitchen with Sigona's Featuring: Avocado Toast a la Caprese with a Balsamic Reduction
It may seem basic, but it remains best. Creamy avocado, fresh mozzarella, bright tomatoes and herbaceous basil drizzled with a sticky-sweet balsamic reduction. Heaven on toast. Serves 1.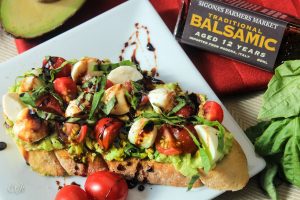 What you need per serving:
1 slice of bread, your choice
Sigona's Garlic Oil, for brushing (Mix it up! Try Sigona's Basil Oil or Sigona's Tuscan Herb Oil.)
1/2 to 1 Pee Wee avocado
About 1 tsp. fresh lemon juice
Salt and black pepper, to taste
2 to 3 balls of cherry-sized fresh mozzarella, such as Galbani Ciliegine, quartered
2 to 3 cherry or grape tomatoes, quartered
2 large basil leaves, thinly sliced or torn
Variations: Add crumbled bacon, use slices of large tomatoes and fresh mozzarella, incorporate slices of roasted beets, top with microgreens, use heirloom tomatoes
Directions: Add the balsamic to a small saucepan and bring to a boil over medium-high heat. Once boiling, reduce heat to a simmer and cook, stirring occasionally, for about 5 to 10 minutes or until the balsamic has reduced by about half. Remove from heat and allow to cool for about 7 to 10 minutes.
Depending on the bread you use, either toast the slice in a toaster or on the stove top using a grill pan. If using a grill pan, preheat the pan over high heat. Lightly brush both sides of your bread with olive oil; toast the bread for one minute per side. Set aside.
Slice open an avocado and scoop out the fruit into a bowl, discarding the pit and skin. Add lemon juice and a pinch of salt and pepper. Mash the mixture with a fork, leaving it as chunky or as smooth as desired. Set aside.
When ready to serve, spread the avocado mix on one side of the slice of toast. Top the avocado toast with the quartered mozzarella and tomatoes, season with salt and pepper and then top with the sliced basil.
Drizzle the entire toast with the balsamic reduction. Serve immediately.