Grilled Cantaloupe with Prosciutto, Tarragon and Torn Mozzarella
We usually prefer to keep our fruit raw, but sometimes you just can't go through a summer without tossing some fruit on the grill! Grilling cantaloupe brings out a warm, brown-sugary sweetness that pairs even more deliciously with salty prosciutto. Our Herbes de Provence oil and fresh tarragon give this dish a perfect finish. Inspired by Food & Wine. Makes 8 to 10 pieces.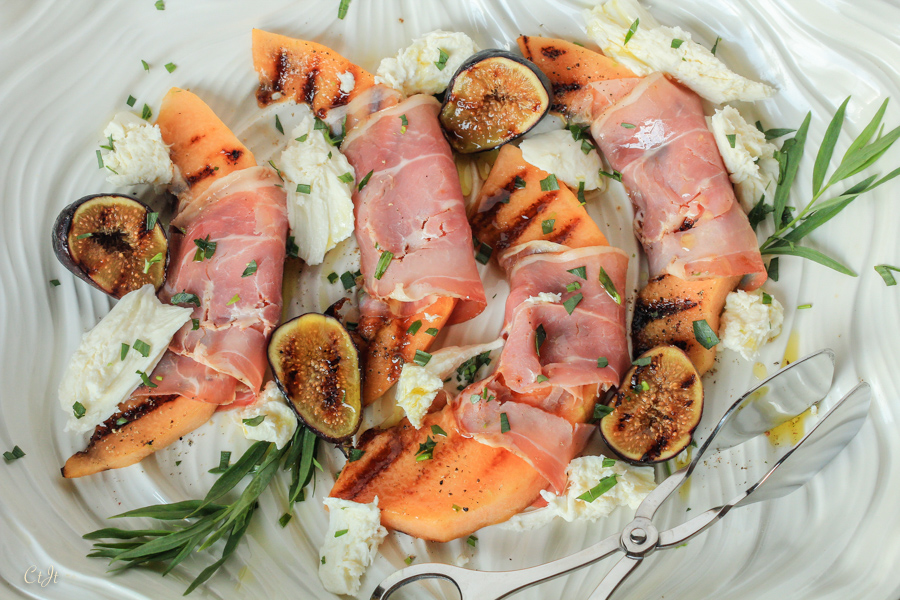 Ingredients:
Half a local cantaloupe, seeded
4 fresh figs, halved lengthwise (optional)
Sigona's Herbes de Provence Olive Oil, for brushing and finishing
Sea salt and freshly ground black pepper, to taste
8 to 10 slices prosciutto (one per wedge of cantaloupe)
1 (8 oz) ball fresh mozzarella
2 Tbsp chopped fresh Tarragon, plus more for garnish
Directions: Heat an indoor grill pan or outdoor grill over high heat. Brush the grates with oil.
Slice the melon into about 8 wedges that are at least 1-inch thick in the middle. Slice off and discard the rind, staying close to the fruit. Brush the cantaloupe with oil; season with salt and pepper. Grill the wedges about 2 minutes a side or until grill marks appear. If cooked much longer, the fruit will become too soft. Remove cantaloupe to a plate and allow to cool to the touch. If including figs, brush the cut side with oil and place them on the grill, cut-side down, for about 45 seconds or until grill marks appear. Remove and set aside.
When cantaloupe has cooled, wrap a slice of prosciutto around the middle of each wedge; arrange the wrapped wedges on a serving tray. Add the grilled figs around the tray, if using.
Instead of slicing the mozzarella, try tearing it. Grab hold of a corner of the cheese and pull; it will tear along it's natural fault lines, not only giving the cheese a more rustic look, but also allowing it to soak up more flavor. Dot the mozzarella around the dish.
Sprinkle the chopped tarragon on top of the fruit and cheese, season with salt and pepper and finish with a drizzling of oil. Garnish with additional sprigs of fresh tarragon. Serve at room temperature.
Cantaloupe Carpaccio with a Kick
An Italian dish with a Mexican twist! Carpaccio is traditionally a dish of thinly sliced raw meat served as an appetizer, but the term can also be used for dishes featuring any thinly sliced ingredient, such as fruit. Some of the most popular Mexican street food vendors offer sweet, juicy fruits sprinkled with chili and lime juice, so we took a page from their book and merged two cuisines together to create this deliciousness. Serves 4 to 8.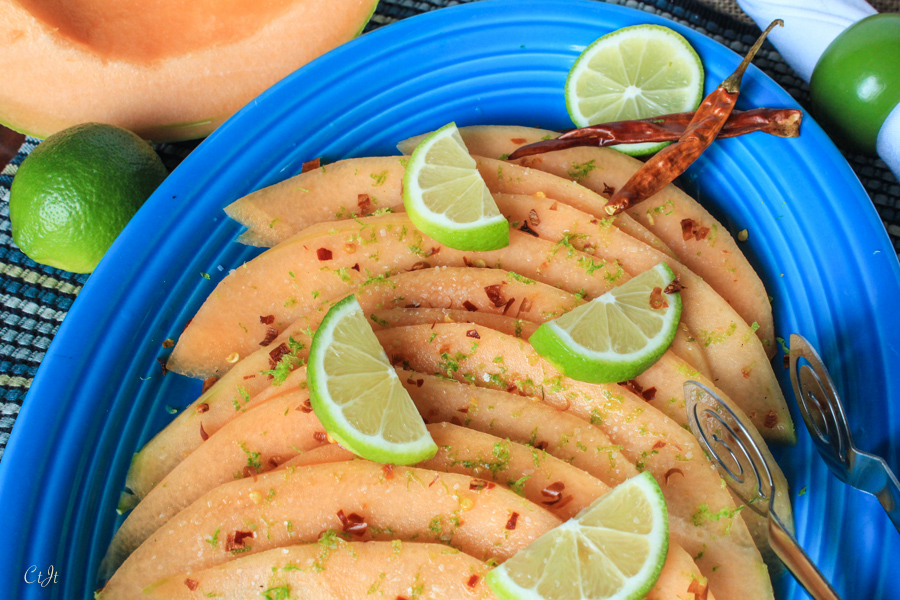 Ingredients:
Half a local cantaloupe, seeded
2 or more dried chiles de árbol, to taste
2 limes, divided
Flaky or coarse salt, for sprinkling, to taste
Directions: Slice the rind from the cantaloupe and discard. Using a mandoline or a sharp knife, slice the melon horizontally into slices no more than 1/8-inch thick. Arrange the slices, overlapping, on a platter in either a circular pattern or in an arrangement that best suits the platter.
Remove the stems of the dried chiles and then crush the chilies with the side of a knife; remove the seeds (or leave them for more spice). Use a knife to crush and mince the chiles, or pulse in a food processor until they are chopped or nearly minced. For a finer-sprinkling chile, continue to pulse until ground.
Sprinkle the prepared chile on top of the cantaloupe. Zest one of the limes over the top of the dish, then squeeze on the juice from the zested lime.
Sprinkle salt, to taste, over the dish. Cut the remaining lime into slices to garnish the dish. Serve immediately.