In the Kitchen with Sigona's Featuring: Local Cantaloupe
Grilled Cantaloupe with Prosciutto, Tarragon and Torn Mozzarella
We usually prefer to keep our fruit raw, but sometimes you just can't go through a summer without tossing some fruit on the grill! Grilling cantaloupe brings out a warm, brown-sugary sweetness that pairs even more deliciously with salty prosciutto. Our Herbes de Provence oil and fresh tarragon give this dish a perfect finish. Inspired by Food & Wine. Makes 8 to 10 pieces.
Ingredients:
Half a local cantaloupe, seeded
4 fresh figs, halved lengthwise (optional)
Sigona's Herbes de Provence Olive Oil, for brushing and finishing
Sea salt and freshly ground black pepper, to taste
8 to 10 slices prosciutto (one per wedge of cantaloupe)
1 (8 oz) ball fresh mozzarella
2 Tbsp chopped fresh Tarragon, plus more for garnish
Directions: Heat an indoor grill pan or outdoor grill over high heat. Brush the grates with oil.
Slice the melon into about 8 wedges that are at least 1-inch thick in the middle. Slice off and discard the rind, staying close to the fruit. Brush the cantaloupe with oil; season with salt and pepper. Grill the wedges about 2 minutes a side or until grill marks appear. If cooked much longer, the fruit will become too soft. Remove cantaloupe to a plate and allow to cool to the touch. If including figs, brush the cut side with oil and place them on the grill, cut-side down, for about 45 seconds or until grill marks appear. Remove and set aside.
When cantaloupe has cooled, wrap a slice of prosciutto around the middle of each wedge; arrange the wrapped wedges on a serving tray. Add the grilled figs around the tray, if using.
Instead of slicing the mozzarella, try tearing it. Grab hold of a corner of the cheese and pull; it will tear along it's natural fault lines, not only giving the cheese a more rustic look, but also allowing it to soak up more flavor. Dot the mozzarella around the dish.
Sprinkle the chopped tarragon on top of the fruit and cheese, season with salt and pepper and finish with a drizzling of oil. Garnish with additional sprigs of fresh tarragon. Serve at room temperature.
---
Cantaloupe Agua Fresca with Lime & Mint
Agua Fresca is a light, refreshing fruit juice which originated in Mexico. This thirst-quencher is made by simply blending fruit with water and adding in a bit of lime. We like mint in ours, too. Add vodka or don't; we'll leave it up to you. Makes about 4 to 5 cups.
Ingredients:
5 cups cubed cantaloupe or orange-flesh honeydew (about 1 melon), rind and seeds discarded
1 1/2 to 2 cups water
3 limes; 2 juiced, 1 sliced
1 to 2 Tbsp chopped fresh mint leaves
1 to 2 Tbsp Agave nectar, honey or sugar, more, less or none, to taste
Ice, for serving
Directions: Working in batches if necessary, blend the melon, water and lime juice (about 3 tablespoons to 1/4 cup) until smooth. Pour the mixture through a fine sieve, preferably mesh) pressing down on the pulp to extract as much juice as possible.
Note: Some like pulp, others don't. Strain the mixture as much or as little as you wish.
To a pitcher add the chopped mint and lime slices. Pour the mixture into the pitcher and stir to combine. Test the agua fresca for sweetness; add agave, honey or sugar if desired. Add ice to the pitcher. Allow mixture to chill and sit for about 30 minutes to allow flavors to blend.
To serve: Add ice to individual glasses and pour the agua fresca over the top.
---
Cantaloupe Carpaccio with a Kick
An Italian dish with a Mexican twist! Carpaccio is traditionally a dish of thinly sliced raw meat served as an appetizer, but the term can also be used for dishes featuring any thinly sliced ingredient, such as fruit. Some of the most popular Mexican street food vendors offer sweet, juicy fruits sprinkled with chili and lime juice, so we took a page from their book and merged two cuisines together to create this deliciousness. Serves 4 to 8.
Ingredients:
Half a local cantaloupe, seeded
2 or more dried chiles de árbol, to taste
2 limes, divided
Flaky or coarse salt, for sprinkling, to taste
Directions: Slice the rind from the cantaloupe and discard. Using a mandoline or a sharp knife, slice the melon horizontally into slices no more than 1/8-inch thick. Arrange the slices, overlapping, on a platter in either a circular pattern or in an arrangement that best suits the platter.
Remove the stems of the dried chiles and then crush the chilies with the side of a knife; remove the seeds (or leave them for more spice). Use a knife to crush and mince the chiles, or pulse in a food processor until they are chopped or nearly minced. For a finer-sprinkling chile, continue to pulse until ground.
Sprinkle the prepared chile on top of the cantaloupe. Zest one of the limes over the top of the dish, then squeeze on the juice from the zested lime.
Sprinkle salt, to taste, over the dish. Cut the remaining lime into slices to garnish the dish. Serve immediately.
---
Chicken Salad Cantaloupe Boats
Serving the salad in the cantaloupe is a fun way to present this dish (it's great for brunch) and, maybe most importantly, it saves you from extra clean up. Feel free to tweak the recipe to make it more your own; we took one of our favorite salad recipes and replaced the grapes with melon. Serves 4.
Ingredients
4 local cantaloupes, halved and seeded
At least 3 packed cups shredded or cubed cooked chicken (poached or rotisserie is nice)
About 3/4 cup plain Greek yogurt (or use half yogurt, half mayonnaise), more or less for desired creaminess
2 to 3 green onions, sliced on the bias
1 stalk celery, diced
1/2 an apple, cored and diced
2 to 3 Tbsp. fresh chopped tarragon, to taste
A couple dashes garlic powder
Salt and pepper, to taste
Optional: 4 Tbsp. chopped cashews
Directions: Use a melon baller to remove one layer of melon from each seeded half, creating a deeper well for the salad. Place the melon balls in a bowl and set aside.
Turn the melon halves upside down on paper towels to allow some of the juices to escape while you make the chicken salad.
Place about half the melon balls in a large bowl; save the remainder for another recipe or for a simple snack. Add in the chicken, yogurt, green onions, celery, apple, tarragon, garlic, salt and pepper. Stir gently to combine.
Scoop a fourth of the salad mixture into each melon half. Top with cashews, if desired. Serve.
---
Cantaloupe, Fig & Prosciutto with Fennel and Sigona's Basil Oil
Prosciutto and cantaloupe is most definitely a classic combination — the saltiness of the prosciutto is countered by its sweet cantaloupe companion, creating a delicious flavor you might not usually expect from two simple ingredients. We've taken these two ingredients and added in a few other flavors and textures — the fennel adds fantastic crunch — to create a salad rather than a typical melon-prosciutto appetizer. Serves 4 to 6.
Ingredients:
1 cup mixed greens
1/2 a local cantaloupe, seeded
4 to 6 figs, cut into 1/4-inch slices
2 to 4 oz. prosciutto, thinly sliced
1/4 cup thinly sliced fennel, plus 1 to 2 Tbsp. fennel fronds, for garnish
1 Tbsp. thinly sliced shallot
1 Tbsp. Sigona's Basil Oil
1 to 2 tsp. Sigona's Fig Balsamic
Salt and pepper, to taste
Directions: Cut the half cantaloupe in half and then cut the halves across the middle to create quarters. Cut the quarters into slices about 1/4-inch thick; remove the rind and discard.
Spread the greens out on a large platter. Top the greens evenly with a single layer of cantaloupe slices and then fig slices. Add on the prosciutto, the fennel and shallot in layers.
Drizzle the dish with the basil oil and then the balsamic. Season with salt and pepper. Finish with a garnish of fennel fronds.

---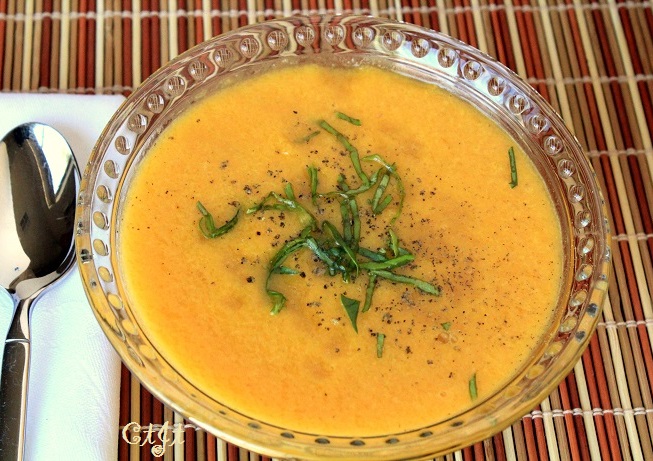 Local Heirloom Cantaloupe Gazpacho
Gazpacho is a simple, often fruit-based soup that's served chilled. It's refreshing, light and great for summer parties, either in soup bowls or in smaller cups as an appetizer. Makes 4 to 6 larger servings.
Ingredients:
1 medium local heirloom cantaloupe, about 3 ½ lbs
1 small cucumber
1/3 cup water
2 Tbsp diced shallot
2 tsp salt, or to taste
1/2 cup Sigona's Fresh Press Olive Oil (Mix it up! Use an infused oil for more flavor, such as Persian Lime, Blood-Orange Fusion or Meyer-Lemon Fusion.
About 3 Tbsp Sigona's white balsamic, divided, such as Golden Pineapple White Balsamic, Honey Ginger White Balsamic, or Summertime Peach White Balsamic
Black pepper, to taste
Fresh mint or basil leaves, thinly sliced, for garnish
Directions: Halve the melon, scoop out and discard the seeds. Slice the melon from the rind, and then cut the fruit into chunks.
Peel the cucumber, slice in half lengthwise and scoop out the seeds. Chop the cucumber into chunks.
To a blender or food processor, add the melon, cucumber, water, shallot and salt. With the blender running, pour in the olive oil. Blend until the mixture is smooth or until you reach your desired consistency.
Pour gazpacho into 4 to 6 soup bowls. Season each dish with salt and pepper, drizzle on a bit of balsamic and garnish with ribbons of mint or basil. Enjoy chilled.