In the Kitchen with Sigona's Featuring: Local Watermelon
Watermelon, Avocado & Cucumber Salad with Chili-Lime Walnut Oil
The crisp and sweet watermelon paired with refreshing cucumber and creamy avocado makes for a lovely lunch on late summer's day. The lime and chili powder add extra layers of enjoyment for the palate, and the walnut oil adds depth of flavor. Serves 1 or 2.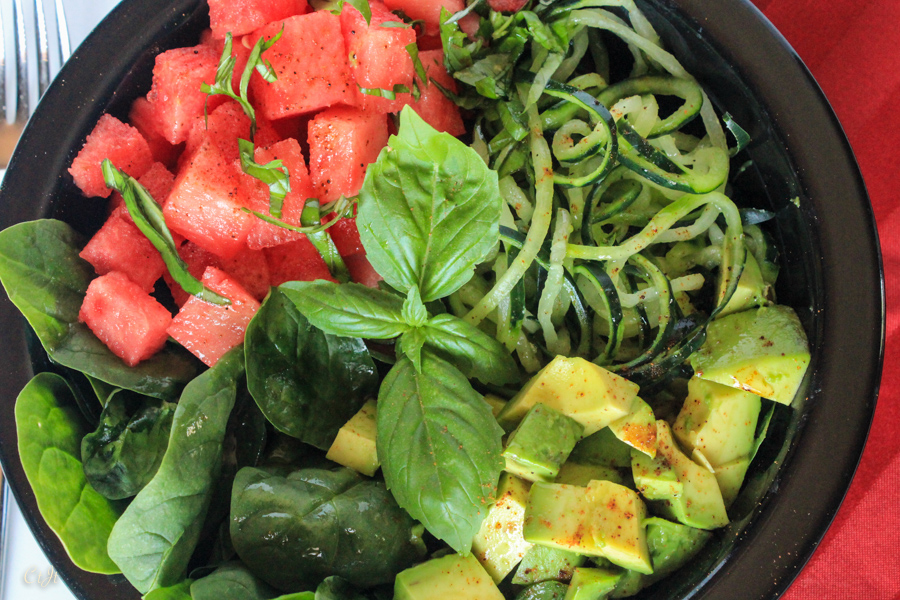 Ingredients:
2 to 3 cups 1-inch cubed watermelon (about half a personal-sized watermelon)
1 large or 2 medium avocados, peeled, seeded and cubed
1 cucumber, run through a spiralizer (or diced)
2 large handfuls baby spinach
1/4 cup basil, sliced into thin strips
Juice of at least half a lime, more or less to taste
1/2 to 1 tsp. chili powder, more or less to taste
Salt and pepper, to taste
Directions: To a large serving bowl, add individual piles of the watermelon, cucumber, avocado* and spinach. In between two of the piles, add the basil.
Drizzle the lime juice and the walnut oil over the entire dish and finish with chili powder to taste.
When ready to eat, use two forks to toss all the ingredients together. Season with salt and pepper, to taste.
*Avocado browns quickly, so add less than 10 minutes before serving.
Grilled Watermelon pizza with Stone Fruit, Quick-picked Shallots, Walnuts and Blue Cheese
While we usually like to keep our fruits raw, sometimes summertime calls for throwing fruit on the grill! Grilling fruit brings out its natural sugars, giving the fruit more of a caramelized flavor. Pairing grilled watermelon with savory, quick-pickled shallots and salty, creamy and flavorful cream cheese makes for a salty-sweet treat that's perfect for the dog days of summer. One personal-sized watermelon makes about 12-16 wedges, depending on size.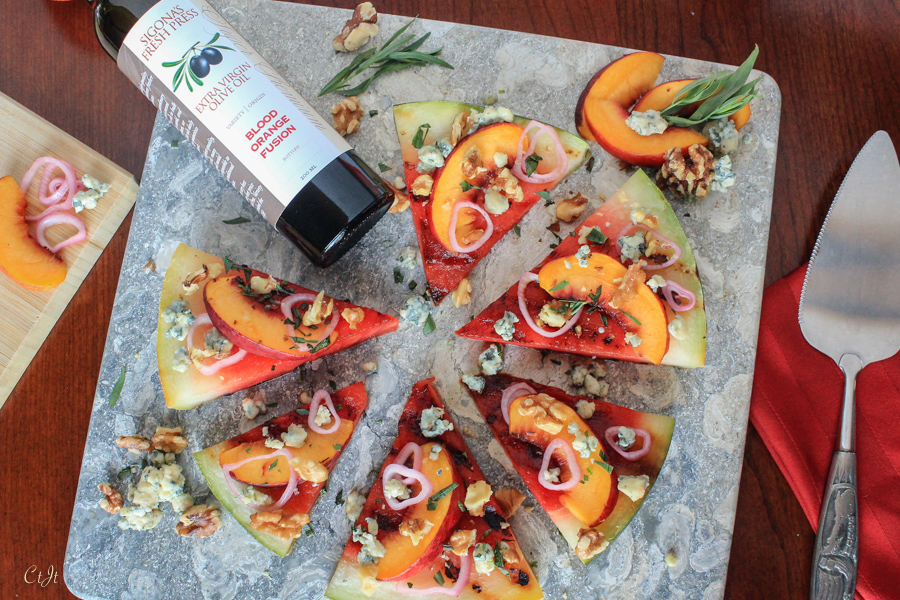 Ingredients:
1 shallot, sliced into rings
3 Tbsp red wine vinegar
2 tsp. sugar
2 tsp. Sigona's Blood Orange Fusion Oil, plus more for drizzling
Salt and pepper, to taste
1 or 2 nectarines or peaches, halved, pitted and sliced into about 16 wedges (or at least 1 per pizza wedge)
1/3 cup roughly chopped walnuts
About 1/2 to 3/4 cup crumbled blue cheese or gorgonzola
3 Tbsp fresh tarragon, chopped
Directions: Preheat an indoor or outdoor grill over high heat.
Mix together the vinegar and sugar in a small bowl. Add the shallots, mix together and set aside for about 15 minutes, stirring occasionally. After marinating, discard liquid and set aside.
Slice the ends off the watermelon so a good portion of the red fruit is exposed on both ends. Slice the melon into disks about 1- to 1.5-inches thick.
Brush the watermelon slices with oil and sprinkle salt and pepper. Grill the melon for about 4 minutes per side or until nice grill marks appear. Do not cook much longer as melon will become too soft. Use a high heat in order to sear the melon. Remove grilled melon and set aside to cool slightly.
Cut the watermelon into wedges, as if a pie or pizza, at least 4 per slice, and arrange the watermelon wedges on a serving tray. Top each wedge with a slice of stone fruit and a couple rings of pickled shallot. Sprinkle the dish with crumbled cheese, walnuts and chopped tarragon. Drizzle the entire dish with blood orange oil and serve immediately.