Recipe Roundup: Cilantro & Roasted Onion Infused Olive Oil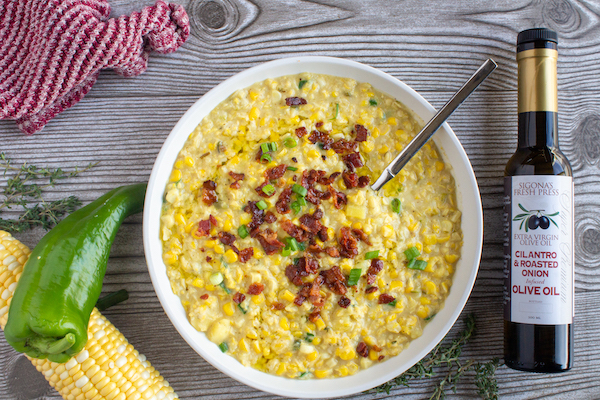 Corn Chowder with Hatch Chiles, Bacon and Cilantro & Roasted Onion Infused Olive Oil
This is a hearty, dairy-free chowder that's great any time of the year. Including the cobs infuses even more corn flavor into the chowder. The drizzle of our roasted onion & cilantro infused olive oil adds a nice savory flavor to the dish. Serves about 4.
Ingredients:
4 ears fresh corn
1 bunch green onions
4 slices bacon, cut into 1/2-inch pieces
1 Tbsp, plus more for drizzling, Sigona's Cilantro & Roasted Onion Infused Olive Oil
1/2 cup finely diced Hatch or Anaheim chile (seeded)
1 tsp. kosher salt; more to taste
Freshly ground black pepper, to taste
3-1/2 cups low-salt chicken broth
2 Yukon Gold potatoes (10 to 12 oz.), peeled and cut into 1/2-inch dice (about 2 cups)
1 sprig of fresh thyme
Optional: 2 Tbsp heavy cream
Directions: Husk corn and cut off kernels into a bowl. Use the back side of a knife to scrape the cobs, catching the liquid in the bowl. Discard all but two of the cobs. Trim and thinly slice the green onions, separating the white and light-green from the dark parts; set aside.
Cook bacon in a large soup pot over medium-high heat until browned and crisp. Use a slotted spoon to transfer the bacon to a plate lined with a paper towel. Discard all but 1 tablespoon of the bacon fat. Return pan to medium heat; add 1 tablespoon olive oil, the white and light-green green onions, chile, salt and pepper. Sauté, stirring, until the onions are very soft, about 3 min.
Add broth, corn, corn cobs, potatoes and thyme. Bring to a boil over medium-high heat then reduce to medium low; simmer until potatoes are completely tender, about 15 to 20 min. Discard the corn cobs and thyme twig.
Transfer 2 cups of the mixture to a bowl or blender. Use an immersion blender or standard blender to puree the mixture; return it to the pot. Stir in half of the reserved dark-green onions. If using, stir in the cream. Simmer, stirring occasionally, for a couple of minutes to wilt the onions and blend the flavors. Season to taste with salt and pepper.
Ladle chowder into individual soup bowls. Sprinkled with bacon, reserved green onions and drizzle about 2 teaspoons olive oil over each serving.
---
Ricotta & Parmesan Dip with Sigona's Cilantro & Roasted Onion Oil
This is a deliciously herbaceous and addictive dip for crudites or slices of toasted baguette. Makes about 2 cups.
Ingredients:
1 lb. fresh ricotta
3/4 cup finely grated Parmesan cheese
1 tsp lemon zest
3 Tbsp fresh lemon juice
1 clove garlic
1/4 cup fresh mixed herbs, such as parsley, chives, tarragon and/or mint
1/4 cup Sigona's Cilantro & Roasted Onion Infused Olive Oil, plus more for drizzling
Kosher salt and black pepper, to taste
Red pepper flakes – optional – for garnish
For serving:
Fresh chopped veggies or grilled veggies
Slices of lightly toasted baguette
Directions: In a food processor, puree the ricotta, Parmesan, lemon zest, lemon juice, garlic and herbs. Pulse to incorporate. Add the olive oil and process until smooth. Transfer to a serving bowl, drizzle with about 1 additional tablespoon of olive oil and sprinkle with red pepper flakes, if desired. Serve chilled or at room temperature.