Chopped Apple Salad with Gorgonzola and a Gravenstein Balsamic Vinaigrette
Tuck this recipe away for your Thanksgiving contribution! Crisp apples with greens and blue cheese is a delicious combination. You'll love the sweet-tart kick of the Gravenstein balsamic in our vinaigrette. Inspired by Food Network. Serves 4 to 6.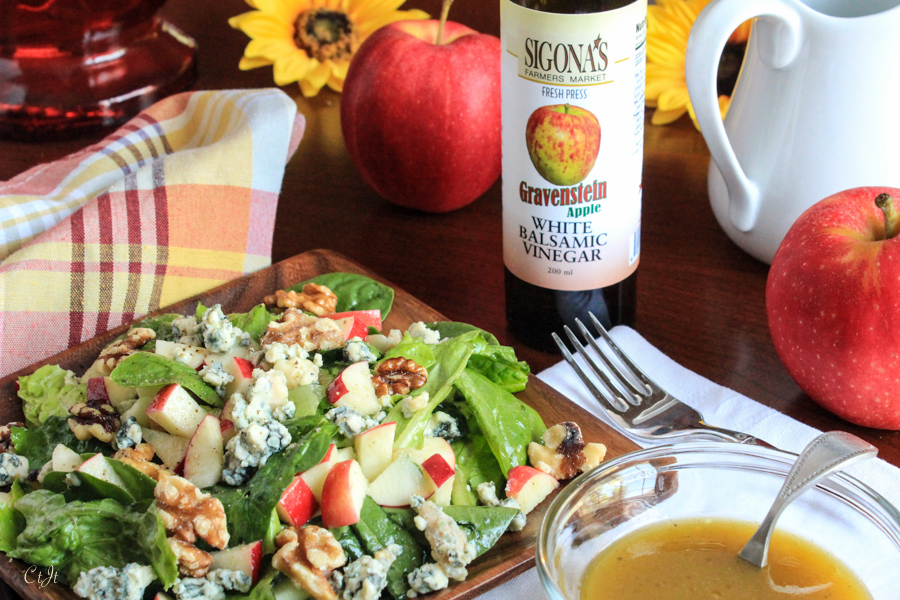 Salad Ingredients:
3 apples (Gala, Fuji or Gravenstein), core removed and cut into 1/4-inch dice
3 cups roughly chopped baby spinach
2 cups chopped romaine
1 cup, coarsely chopped walnuts (toasting optional)
About 1 cup crumbled Italian gorgonzola Dolce or blue cheese
Salt and freshly ground black pepper, to taste
Gravenstein Balsamic Vinaigrette
1/4 to 1/3 cup Sigona's Gravenstein Apple White Balsamic
About 2 Tbsp honey, such as Honey Hole Honey Co., raw, local, unfiltered honey, available only at Sigona's
1 Tbsp Dijon mustard
Salt and pepper, to taste
A pinch of allspice or nutmeg
Directions: Add the apples, spinach, romaine, walnuts and cheese together in a large bowl.
In a medium bowl, add the balsamic, honey and Dijon. While whisking, drizzle in the olive oil and whisk until emulsified. Season to taste with allspice or nutmeg, and salt and pepper, to taste.
Add 2 to 3 tablespoons of the vinaigrette to the bowl of greens. Toss well to incorporate. Divide among serving plates, season with pepper and serve with extra vinaigrette on the side.