Recipe Roundup: Sigona's Gravenstein Apple Balsamic
Our Gravenstein Apple white balsamic has a fresh, crisp taste that you will love. Use with Sigona's extra virgin olive oil for a great salad dressing. This white balsamic will also add a fruity and mild acid flavor and aroma to any dish.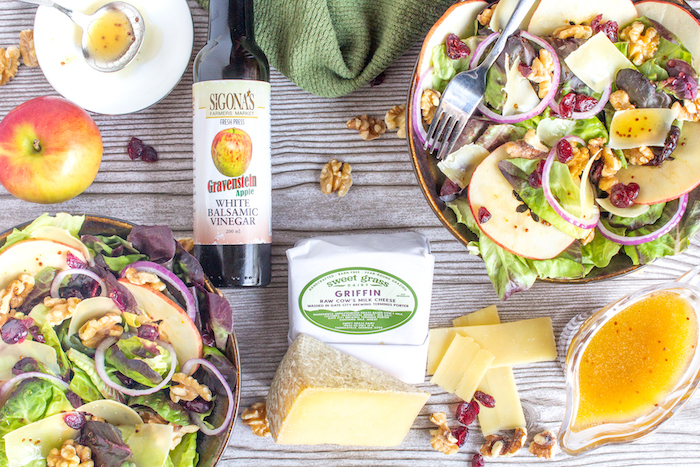 Apple & Walnut Harvest Salad with Sweet Grass Dairy Griffin and a Gravenstein Vinaigrette
Sweet Grass Dairy describes its porter-soaked Griffin cheese as having aromas of malt, earth, maple syrup and coffee beans – all of which can be considered flavors of fall – making this cheese an appetizingly appropriate addition to our apple & walnut harvest salad. The hints of porter in the Griffin perfectly compliment the Gravenstein apple balsamic vinaigrette. Makes about 2/3 cup vinaigrette; serves 4 to 6.
Gravenstein Apple Vinaigrette:
1/4 cup Sigona's Gravenstein Apple White Balsamic (up to 1 Tbsp more, if desired, to taste)
1 Tbsp honey, such as Honey Hole Honey Co., raw, local, unfiltered honey, available only at Sigona's (up to 2 tsp more, if desired, to taste)
1 Tbsp grainy mustard
Salt and pepper, to taste
A pinch of allspice or nutmeg
For the salad:
Red butter lettuce
Thinly sliced apple
Raw, shelled walnuts
Thinly sliced red onion*
Dried cranberries
Shaved Sweet Grass Dairy Griffin cheese
Directions: In a medium bowl, whisk together the vinaigrette ingredients until emulsified. Taste; adjust as desired (aim for a sweet-tart flavor that finishes with distinct, lingering notes of the Gravenstein apple balsamic).
Arrange the lettuce and remaining salad toppings on individual dishes. Allow guests to drizzle on the vinaigrette just before eating.
*Chef's note: to take some of the heat out of red onions, soak slices in ice water for at least 5 minutes. Drain and pat dry.
Gravenstein Balsamic Vinaigrette
1/4 to 1/3 cup Sigona's Gravenstein Apple White Balsamic
About 2 Tbsp honey, such as Honey Hole Honey Co., raw, local, unfiltered honey, available only at Sigona's
1 Tbsp Dijon mustard
Salt and pepper, to taste
A pinch of allspice or nutmeg
Directions: Add the apples, spinach, romaine, walnuts and cheese together in a large bowl.
In a medium bowl, add the balsamic, honey and Dijon. While whisking, drizzle in the olive oil and whisk until emulsified. Season to taste with allspice or nutmeg, and salt and pepper, to taste.
Add 2 to 3 tablespoons of the vinaigrette to the bowl of greens. Toss well to incorporate. Divide among serving plates, season with pepper and serve with extra vinaigrette on the side.
---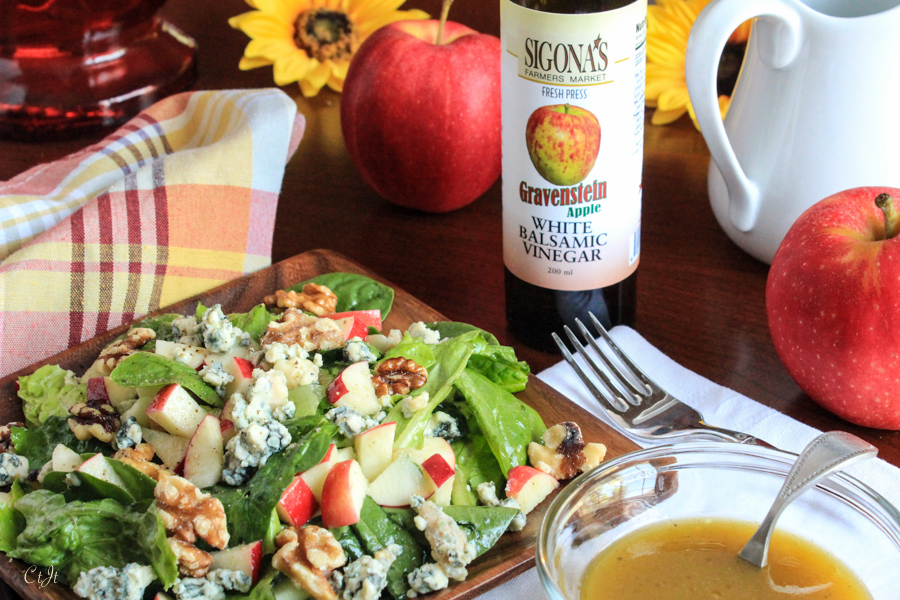 Chopped Apple Salad with Gorgonzola and a Gravenstein Balsamic Vinaigrette
Tuck this recipe away for your Thanksgiving contribution! Crisp apples with greens and blue cheese is a delicious combination. You'll love the sweet-tart kick of the Gravenstein balsamic in our vinaigrette. Inspired by Food Network. Serves 4 to 6.
Salad Ingredients:
3 apples (Gala, Fuji or Gravenstein), core removed and cut into 1/4-inch dice
3 cups roughly chopped baby spinach
2 cups chopped romaine
1 cup, coarsely chopped walnuts (toasting optional)
About 1 cup crumbled Italian gorgonzola Dolce or blue cheese
Salt and freshly ground black pepper, to taste
---
Pan-Seared Rosemary Pork Chops with a Savory Apple Chutney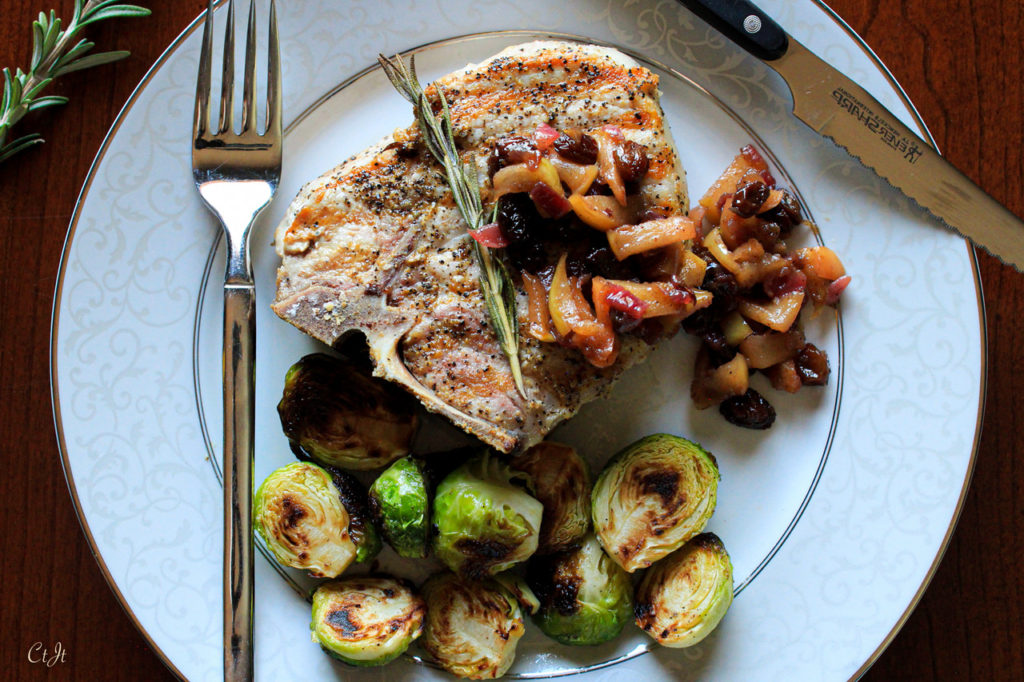 Once you've seared pork chops in our wild rosemary oil, you'll never want them any other way again! A well-seasoned, seared chop that's finished in the oven is a dish to celebrate. If you top it with the bonus recipe for balsamic-infused apple chutney, you might as well call it Christmas dinner. Serves 2.
Ingredients:
2 bone-in pork chops (thick cut or regular; adjust cooking times as needed)
Sigona's Wild Rosemary Olive Oil, at least 2 tablespoons
Kosher salt
Freshly ground black pepper
2 sprigs fresh rosemary
Directions: Preheat oven to 400°F. Set an oven-safe, indoor grill pan on the stovetop over medium-high/high heat to warm up.
Rub about 1 tablespoon of olive oil all over each pork chop, coating all sides. With a heavy hand, season the pork with salt (pork needs a lot of salt to bring out the flavor), followed by a bit of freshly ground pepper.
Sear the pork for 2 minutes per side, turning once. Place one sprig of rosemary on top of each pork chop, then pop the whole pan in the oven to finish cooking the pork chops (5 to 7 minutes for a regular chop, 10-15 for a thick-cut chop; a good rule of thumb is 5 minutes for each half-inch of meat). Remember to use an oven mitt when removing the pan from the oven. The pork chops are done when the internal temperature has reached at least 145°F.
Allow chops to rest for 5 minutes off the heat before slicing. Serve topped with a couple tablespoons of the savory apple chutney (recipe follows).
---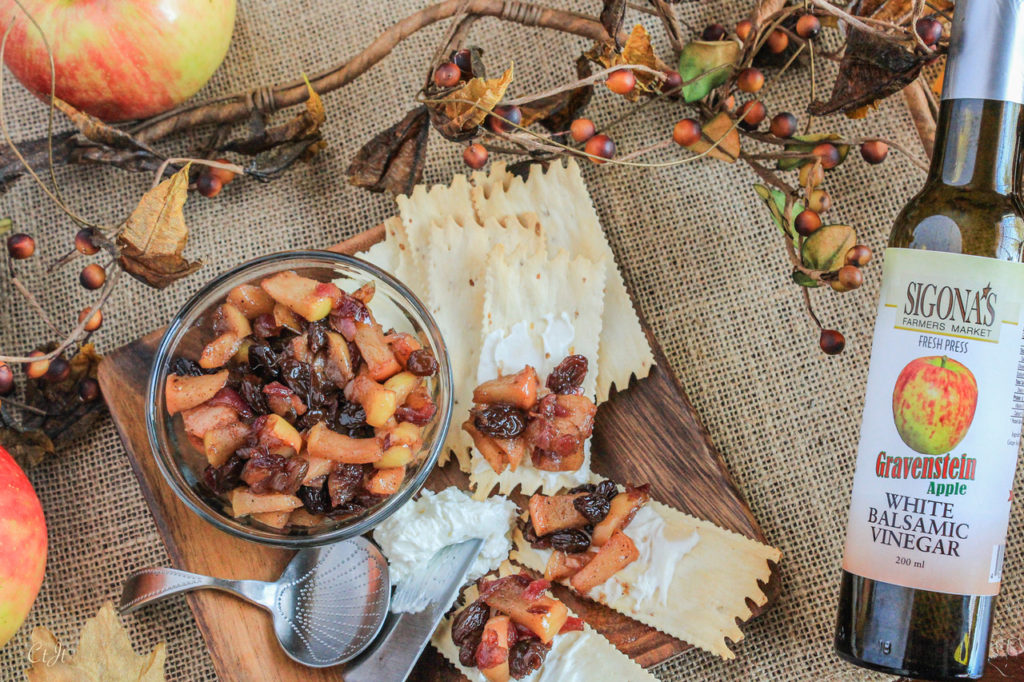 Savory Apple Chutney with Gravenstein Apple White Balsamic
Whether used as topping for grilled pork, to grace a cheese board or line the inside of a sandwich, this chutney is simply perfect. The savory notes from the warm spices and onion go well with the sweet tang of the apples and our Gravenstein white balsamic. If you're looking for something new, try it with a little mild, creamy cheese, such as brie or even cream cheese, on top of an Elegant & English baked apple & custard tea biscuit. Makes about 1 1/2 to 2 cups.
Ingredients:
Directions: In a medium, heavy-bottomed saucepan, combine the oil, onions, salt, allspice, nutmeg and cinnamon. Cook over medium-low heat, stirring frequently for 2 minutes, then add the ginger and continue to cook, stirring frequently, for about 7 to 10 minutes.
To the mixture add the apples, raisins and sugar. Stir until the sugar dissolves then add in the remaining oil and all the balsamic. Lower heat to low and simmer the mixture, stirring occasionally, for about 35 minutes or until the apples have softened and the mixture is thickened. Reduce the heat to low if necessary to keep the bottom from scorching while the apples soften.
Serve warm or at room temperature. Keeps in the fridge in a sealed container for 7 to 10 days.
---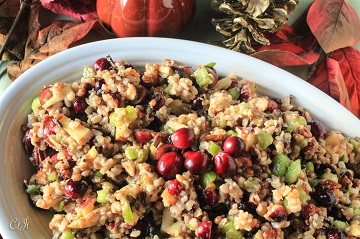 Wild Rice and Raw Cranberry Salad with Sweet Apples and a Blood Orange Vinaigrette
The fresh crunch of cranberries mixed with spices of the season is absolutely perfect for your Thanksgiving menu. It can be served warm or chilled, which is great for a buffet-style meal. Inspired by The Raw Happy Kitchen. Serves about 8.
Ingredients:
1 cup uncooked wild rice
Salt
4 tangerines, satsumas or other small orange-like citrus, 3 zested and segmented*, 1 juiced
2 cups fresh cranberries, chopped (at least quartered or smaller)
2 medium-sized sweet apples, such as Gala, Fuji or Honeycrisp, quartered, cored, sliced and diced
1/2 c. chopped pecans (look for them in the Sigona's dried fruit & nut section)
2 stalks celery, diced
2 to 3 green onions, sliced thin on the bias
2 Tbsp. honey, such as Tangerine Orange honey by Honey Hole Honey Co., available at Sigona's
1 tsp. ground cinnamon
1/4 tsp. ground allspice
1/4 tsp. ground ginger
1/8 tsp. ground nutmeg
A pinch ground cloves, optional
Salt, to taste
6 to 8 whole cranberries for garnish, optional
* Segmenting Citrus: It takes time and patience, but is well worth the effort! To do this, cut the top and bottom off of your citrus fruit. Slice the peel from the fruit, top to bottom, getting as close to the flesh as possible. Once the peel is removed, slice any remaining pieces of white pith from the fruit so no white remains. Then, slice closely along the sides of each membrane to neatly remove the citrus segments in between.
Directions: Cook the rice in salted water according to package directions. When cooked, remove from heat, stir in the citrus zest, cover and allow to sit and additional 5 minutes. Transfer to a large bowl and allow to cool about 10 to 15 minutes.
To the bowl, add the citrus segments and juice, chopped cranberries, diced apples, celery and green onion. Season with salt and stir to combine.
In a small bowl, whisk together the balsamic, honey, cinnamon, allspice, ginger, nutmeg and cloves, if using. While whisking, drizzle in the olive oil to emulsify the mixture.
Pour the vinaigrette over the salad and stir well to combine. Taste; season if needed with salt. Allow mixture sit at least 10 minutes for flavors to meld. Transfer to a serving dish, top with a few whole cranberries as garnish, if desired, and serve.