Salted Caramel Apple Tart
Salted Caramel Apple Tart
Simple, trendy and delicious! This apple tart is perfectly delightful for dinner guests. Best served with a scoop dollop of homemade whipped cream or a scoop of vanilla gelato and drizzle it with a Sigona's Red Apple Balsamic reduction. Makes two tarts. Serves about 8.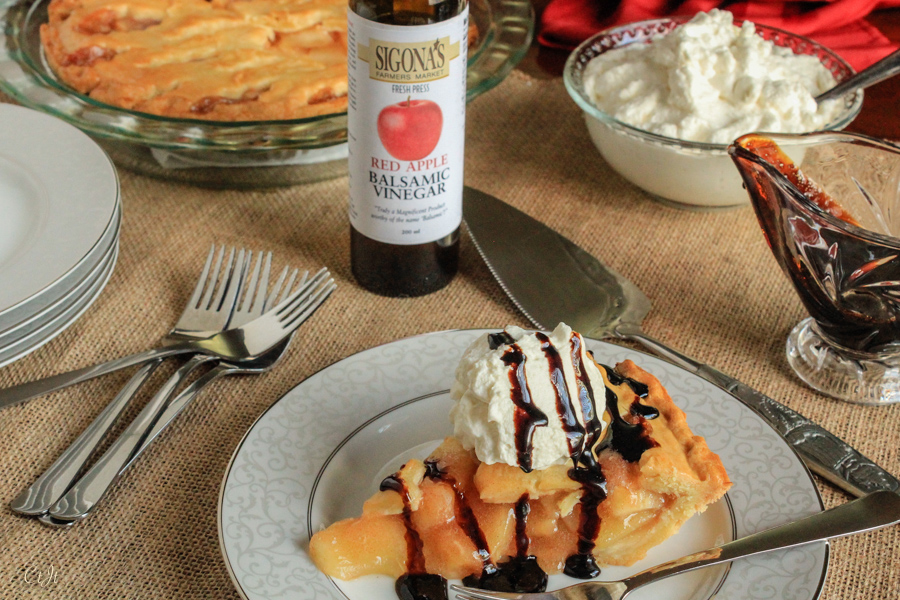 Ingredients:
2 local Gala apples, cored and very thinly sliced (a mandoline set to 3mm works well)
1 sheet puff pastry
Cinnamon, for sprinkling
3 Tbsp. brown sugar
About 2 Tbsp. butter, at room temperature, for dotting
Caramel sauce, for drizzling,
Sea Salt, for sprinkling
Directions: Preheat oven according to package directions or to 400°F.
Prepare a baking sheet with parchment paper or grease with a bit of oil. Lay the pastry halves on the baking sheet and lightly sprinkle a little cinnamon over both halves. Use a sharp knife to score a half-inch border around the pastry, being careful not to cut all the way through.
Lay the apple rings, overlapping, in a straight line down the center of both pieces of puff pastry; trim the apple slices if they go beyond the scored edges. Dot the apples with a little butter.
Bake the pastries for 18 to 22 minutes or until the edges are a nice golden brown.
Drizzle each tart with a couple tablespoons of caramel sauce and immediately sprinkle with a few pinches of ancient sea salt.
Slice and serve while warm. We like ours with a scoop of gelato.