In the Kitchen with Sigona's Featuring: Mini Heirloom Tomatoes
Harissa-Seared Halibut with an Heirloom Tomato, Basil & Wine Sauce
Tomato and basil is a classic combination, but we like to spice things up a bit with our red chili harissa oil. This oil has got a kick! See chef's note if you want to take the heat down a notch. Inspired by Baker by Nature. Serves 4.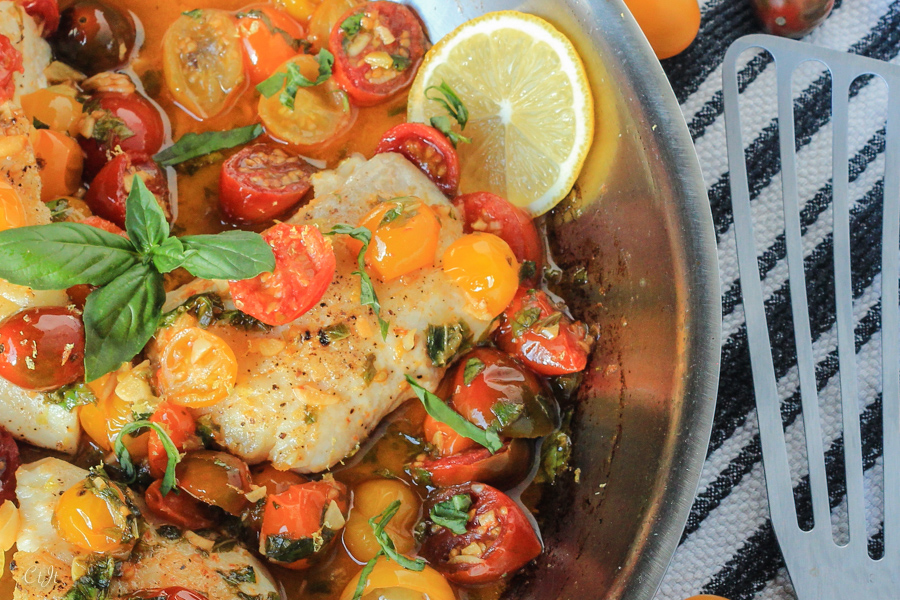 Ingredients:
1 large lemon
1/4 cup Sigona's Red Chili Harissa Oil, divided**
3 cloves garlic, minced
1 basket mini heirloom tomatoes, halved
1/3 cup white wine (or vegetable stock)
1/2 cup fresh basil, chopped, plus more for garnish
About 1 1/2 to 2 lbs. wild halibut, cut into 4 filets about 6 oz. each
Salt and pepper, to taste
**If you'd like to have just a hint of heat from the harissa oil, use 2 Tbsp harissa oil and 2 Tbsp regular Sigona's Extra Virgin Olive Oil.
Directions: Preheat oven to 400°F. (If you don't have an oven-proof sauté pan, omit this step and finish cooking the fish on the stovetop.)
Zest the lemon then cut lemon in half.
In a large, oven-proof sauté pan, heat 2 tablespoons of the oil over medium heat. Add the garlic and cook, stirring, for about 30 seconds. Add the tomatoes and cook, stirring occasionally, for 4 minutes. Add the wine, juice from half the lemon and chopped basil; allow mixture to come to a gentle boil then turn off the heat. Use a rubber spatula to remove the mixture to a plate or bowl, scraping the pan clean; set tomato mixture aside.
Place the sauté pan back on the stove. Heat the remaining oil over medium. Season both sides of the halibut filets with salt and pepper and place them in the sauté pan. Cook without flipping for 3 to 5 minutes or until the bottom side is golden brown. Carefully flip the filets and then place the sauté pan in the oven. Allow fish to cook in the oven for another 3 to 5 minutes or until cooked through. Remember the pan handle will be hot.
Use an oven mitt to remove the pan from the oven. Pour the tomato mixture over the filets, drizzling the liquid over all the pieces. Squeeze juice from remaining lemon half over filets, garnish the dish with the lemon zest and more basil, serve immediately.
Quinoa, Mini Heirloom Tomato and Grilled Asparagus Bowl with Egg, Avocado and Creamy Tahini Dressing
Totally satisfying and nutrient rich, and you get an extra boost of protein from the egg and hempseeds. Season or sweeten the tahini dressing as you like, and add in some extra grilled veggies as your heart desires. Serves 1.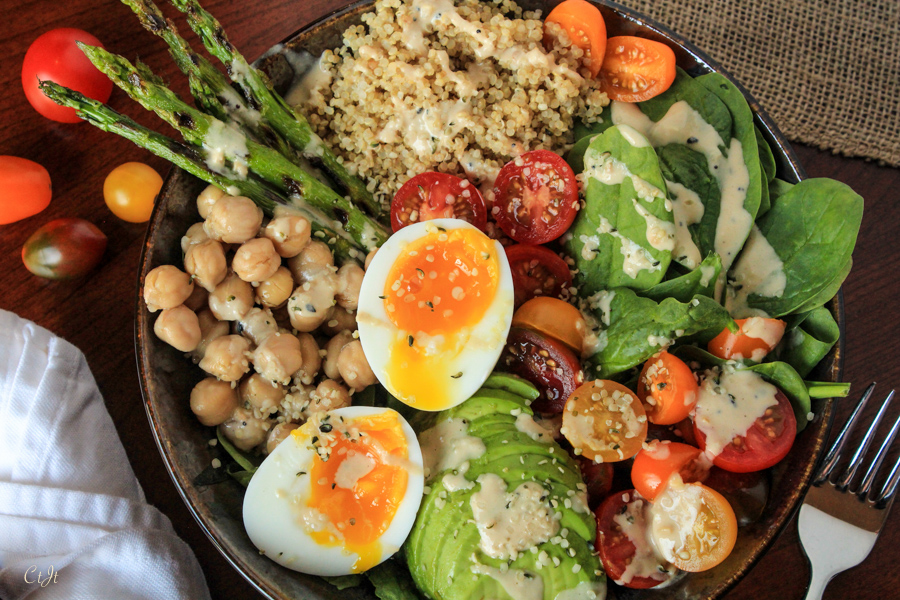 What you need:
1/2 cup uncooked quinoa or millet
1 egg
Sigona's Extra Virgin Olive Oil, for brushing
4 to 6 spears asparagus, ends trimmed
A handful or two baby spinach
1/3 to 1/2 cup local, mini heirloom tomatoes, halved
Half a medium avocado, skinned, seeded and sliced
1/4 cup drained chickpeas
hempseeds, for sprinkling
Creamy Tahini Dressing:
1/3 cup well-mixed tahini
2 Tbsp fresh lemon juice
1 Tbsp Sigona's Fresh Press Extra Virgin Olive Oil
1 clove garlic, grated on a microplane/zester
Room-temperature water, about 3 to 6 Tbsp
About 1/4 tsp salt, to taste
A couple pinches spice, as desired, such as chili powder, cayenne, cumin, a spice mix or even Dijon mustard
1 tsp honey or maple syrup, if desired (to help cut some of the bitter bite of tahini)
**You'll have a lot of tahini dressing remaining. It's fantastic as a sandwich spread, a veggie or meat dip.
Directions: Cook quinoa or millet according to package directions. Use vegetable or chicken stock in place of water for more flavor, if desired. When cooked, fluff with a fork and set aside to cool.
Meanwhile, bring a few inches of water to a boil in a small sauce pan. Reduce to a medium simmer then add an egg; cook for 7 minutes then remove egg to an ice bath and set aside to cool.
Heat an indoor or outdoor grill over high heat. Brush the asparagus with olive oil and season with salt and pepper. Add asparagus to the grill and cook about 3 minutes a side or until nice grill marks appear and spears have softened a bit. Set aside.
Prepare the dressing in a medium bowl. Whisk together the tahini with lemon juice, olive oil and garlic. Add water a tablespoon at a time while whisking until you reach a consistency that allows for drizzling but isn't too thin. Season to taste with spices, salt and, if desired, honey or maple syrup.
To a medium-sized, individual serving bowl, add a handful or two of spinach to the bottom and up one side.. Working around the bowl, add individual piles of the quinoa (most or all, as desired), asparagus, tomatoes, avocado, chickpeas and quinoa/millet. Peel the egg and carefully slice in half; add to the top of the bowl. Drizzle the dish with the tahini dressing and top with a sprinkling of hempseeds.