March 2022 Olive Oil & Balsamic Sale Recipes
We choose each month a handful of new infused balsamics and olive oils to put on sale so you can try them all! Here is what you can find on sale in our markets and online during March 2022:
Persian Lime Olive Oil
Blackberry-Ginger Balsamic
Milanese Gremolata Olive Oil
Pomegranate Balsamic
Check out our recipes below for some inspiration, or share in the comments your favorite way to use these infusions!
Persian Lime & Cardamom Olive Oil Cookies
These fragrant tea cookies are delicious and loved by grownups and children alike! Makes about 30 cookies.
Ingredients:
2 large eggs
1 cup granulated sugar
1/2 cups all-purpose flour
1 tsp baking powder
1 tsp freshly ground green cardamom seeds
1/2 tsp salt
Directions: Preheat oven to 350°F.
To a large bowl or in the bowl of a stand mixer fitted with the paddle attachment, add the sugar, oil, and eggs. Beat on medium speed until thick and creamy, about 3 minutes.
In a separate bowl whisk together the flour, baking powder, cardamom and salt. Add the dry ingredients to the wet ingredients in three additions, beating in between additions until no dry flour remains. The mixture will be thick and sticky.
Scoop rounded mounds of dough onto a greased or parchment-lined cookie sheet using approximately 3 teaspoons of dough per cookie and placing at least 1 1/2″ apart. Bake in the center of the oven for 12 to 15 minutes or until the bottom edges are just lightly browned (keep a close watch). Allow to rest on the tray for 2 minutes before removing to a cooling rack.
---
Blackberry-Ginger Bramble
The Bramble is a gin-based cocktail made famous in London in the 1980s. Instead of using simple syrup and crème de mure, a blackberry liqueur, we use our blackberry ginger balsamic, which has all the flavor and sweetness needed to create this drink. Serves 1.
Ingredients:
Directions: Fill an Old Fashioned glass with crushed ice. Stir together the gin and lemon (shake in a cocktail shaker, if you're so inclined) and then pour over the ice. Add the balsamic, garnish the glass and serve.
---
Sage & Walnut Pesto with Milanese Gremolata Infused Olive Oil
Allowing the pesto to sit for at least 30 minutes after it is made allows for all the flavors to activate and meld, creating a delicious flavor that's earthy, bright and savory. Try is on top of salmon, mixed with gnocchi or pasta, as a spread on sandwich bread or stirred into roasted veggies. Makes about 1 1/2 cups.
Ingredients:
1 cup, loosely packed, fresh sage (about one 0.5 oz. package), stems removed
1 cup, loosely packed, fresh parsley
1/2 cup raw walnuts
1/2 cup grated Parmigiano Reggiano
2 to 4 cloves garlic, roughly chopped
Juice of 1 large lemon, about 3 to 4 Tbsp
1/2 tsp freshly ground black pepper
A generous pinch of salt
Directions: In a large food processor or blender, pulse together the sage, parsley, walnuts, cheese, garlic, lemon juice, salt and pepper until mixtures resembles crumbs. With the blade running, pour in the olive oil and process until the mixture is smooth.
Allow the pesto to sit at least 30 minutes before serving. Store covered in the fridge for up to 5 days.
---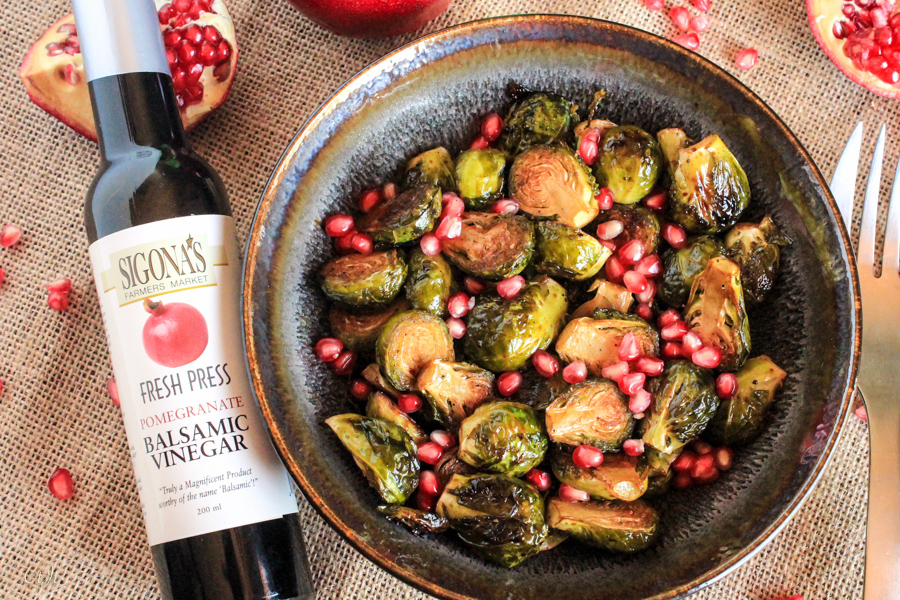 Pomegranate Balsamic Roasted Brussels Sprouts
A beautiful dish for fall that's great for your Thanksgiving menu. The sweetness of the pomegranate balsamic takes on an even sweeter, caramelized flavor as it roasts with the Brussels sprouts. This dish is dairy-free, gluten-free and vegan friendly. You'll love it! Serves about 4.
Ingredients:
1 lb. Brussels sprouts, dark outer leaves removed and ends trimmed
Salt and pepper, to taste
1/2 cup fresh pomegranate arils
Directions: Preheat oven to 400°F. Line a rimmed baking sheet with parchment paper or foil.
Slice Brussels sprouts in half lengthwise.
In a large bowl, whisk together the balsamic and olive oil. Add the Brussels sprouts and toss to coat well. Season with salt and pepper to taste.
Dump the Brussels sprouts onto the baking sheet and spread out in a single layer. Place in the oven to roast for 20 to 30 minutes, shaking pan at the 10 to 12 minute mark. Roast until Brussels sprouts are tender-crisp and nicely browned.
Transfer Brussels sprouts to a serving bowl and top with pomegranate arils. Serve warm.