Fall Recipes Featuring Fresh Press Olive Oil and Balsamic
Pomegranate Balsamic Roasted Brussels Sprouts
A beautiful dish for fall that's great for your Thanksgiving menu. The sweetness of the pomegranate balsamic takes on an even more sweeter, caramelized flavor as it roasts with the Brussels sprouts. This dish is dairy-free, gluten-free and vegan friendly. You'll love it! Serves about 4.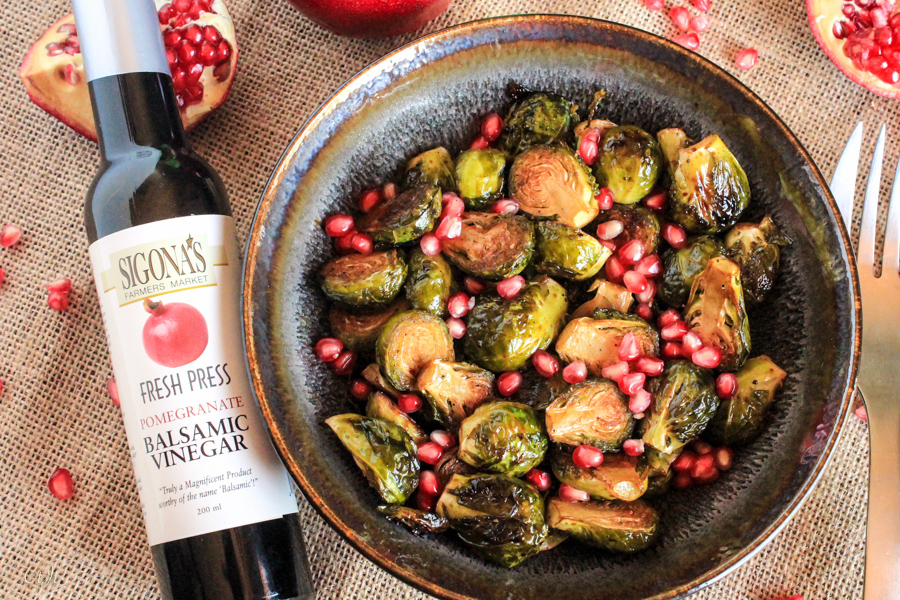 Ingredients:
Directions: Preheat oven to 400 F. Line a rimmed baking sheet with parchment paper or foil.
Slice Brussels sprouts in half lengthwise.
In a large bowl, whisk together the balsamic and olive oil. Add the Brussels sprouts and toss to coat well. Season with salt and pepper to taste.
Dump the Brussels sprouts onto the baking sheet and spread out in a single layer. Place in the oven to roast for 20 to 30 minutes, shaking pan at the 10 to 12 minute mark. Roast until Brussels sprouts are tender-crisp and nicely browned.
Transfer Brussels sprouts to a serving bowl and top with pomegranate arils. Serve warm.
Chèvre & Arugula on Tuscan Herb Toasts with a Fig Balsamic Reduction
If you're not a fan of goat cheese, we recommend a crème fraîche or just cream cheese. Either way, your taste buds will dance with delight at the combination of these simple ingredients. The arugula gives the bite a peppery punch that is lovely paired with our Tuscan herb olive oil and the sweetness of the fig balsamic reduction.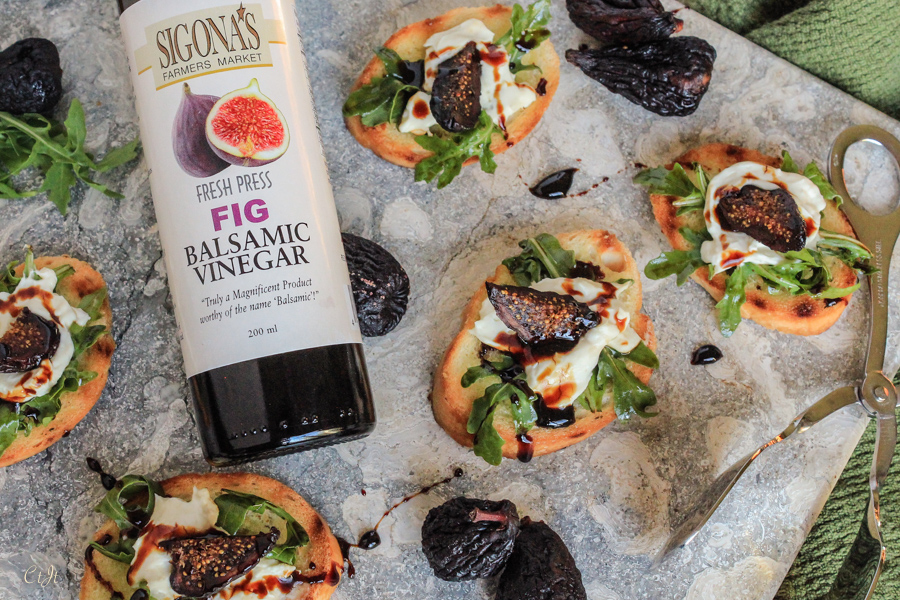 What you need:
Directions: Bring 1/2 cup of the balsamic to a boil over medium-high heat, stirring occasionally. Reduce heat to a low simmer and cook, stirring occasionally, for another 5 to 10 minutes or until reduced by half. Remove from heat and set aside to cool. Note: The balsamic will continue to thicken and reduce when removed from heat. A good consistency will resemble thick chocolate syrup.
Heat an indoor grill pan or griddle over high heat.
Cut slices off the baguette that are about 1/4-inch thick. Brush both sides of the slices with Tuscan herb oil and grill for about 1 minute per side, turning once, so the outside is just crisp-brown. Remove to a plate and set aside.
In a medium bowl, toss the arugula with a teaspoon or two of the fig balsamic (about 2 teaspoons per 1/4 cup of leaves — each leaf should have a light coating of balsamic, but be careful not to overdress).
Place 2 or 3 leaves of arugula on top of each toast. Gently spread about 1 teaspoon of the cheese on the arugula and place a piece of the cut fig on top.
Arrange the toasts on a serving dish. Use a spoon to drizzle some of the fig balsamic reduction on top of each toast. Serve.
Blood Orange & Cinnamon Pear Roasted Red Kuri Squash
An underlying citrus note from the blood orange oil, along with a sweet and savory flavor from the cinnamon pear balsamic gives this squash a wonderful, fall-spice flavor. Serves 4.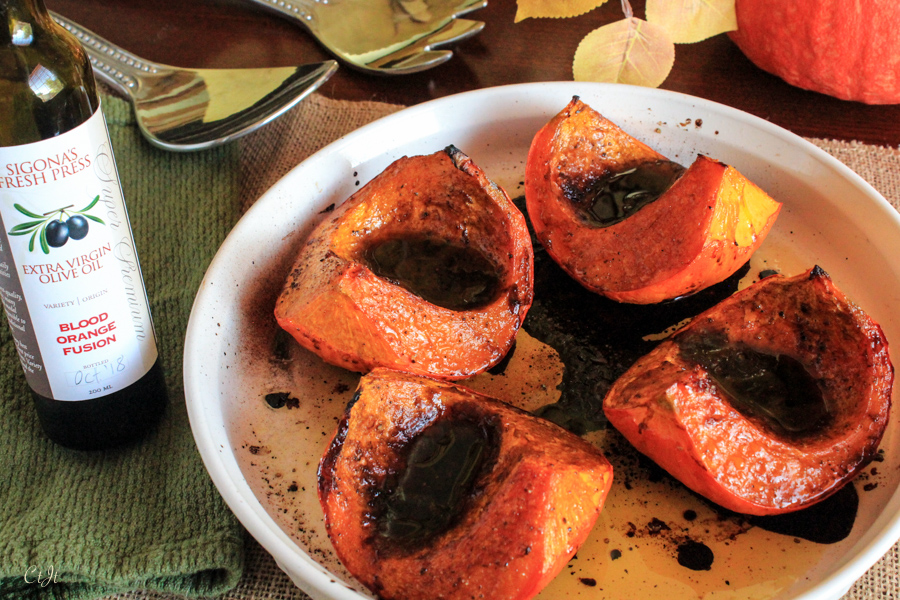 Ingredients:
1 red kuri squash about, 2 to 3 lbs.
Salt and pepper, to taste
Directions: Preheat oven to 400°F.
Cut squash in half vertically. Scoop out the seeds and membranes, discard or set aside for another use. Cut each half in half one more time to create 4 pieces. Place the squash cut-side down in an oven-safe dish or rimmed baking tray and roast for 30 minutes.
Meanwhile, in a medium bowl, whisk together the blood orange oil and balsamic until the mixture is emulsified (thickened).
Remove squash from oven; use tongs to flip the squash over so cut side is up. Season squash wedges with salt and pepper, then add 1 tablespoon of the oil and balsamic mixture to the well of each piece. Use a brush to coat all cut surfaces of the squash, leaving a bit of the mixture in the well of the squash slice.
Return squash to the oven to roast for another 20 to 30 minutes, or until the squash is fork-tender throughout. Remove from oven, allow to rest about 5 minutes. Brush any remaining oil and balsamic mix over the squash and serve warm.