In the Kitchen with Sigona's featuring Cherimoya
Most cherimoya enthusiasts have a favorite way of eating cherimoya, whether it be out of hand, in a fruit salsa, or frozen and added into a smoothie…it's such a unique and versatile fruit! My personal favorite is to simply split a cherimoya and share the other half with your sweetheart at the kitchen table or a picnic. Give some of these cherimoya recipes a try!
Cherimoya & Banana Smoothie
Cherimoyas are naturally creamy so mixing it with the rest of these ingredients makes for a lusciously delicious smoothie. Serves 2.
Ingredients:
2 cups frozen cherimoya pulp, seeds removed (from about 1 – 1 1/2 cherimoyas)
2 cups frozen banana chunks (about 2 large bananas – see cook's note)
1 cup skim milk
6 oz – 1 cup nonfat yogurt (any flavor you desire…we suggest strawberry or raspberry)
*Cook's note: to easily freeze bananas for using in the smoothie, peel yellow bananas and lay them out in a single layer on wax or parchment paper atop a baking sheet. Place it in the freezer until nearly frozen. Frozen bananas make for a creamy texture when blended.

Directions: Mix all ingredients in a blender until smooth. Drink immediately.
---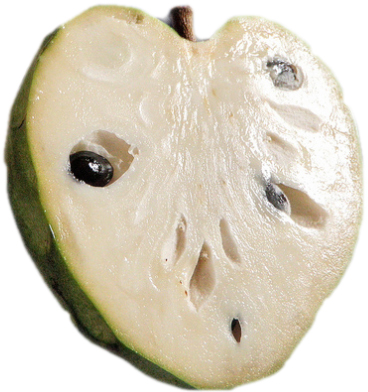 Cherimoya Split
Cherimoya are best served chilled. The easiest way to eat this seed-filled fruit is to spoon it from the shell after slicing it in half. If you get a seed in what you've scooped into your mouth, simply spit it out. This, of course, makes for a great opportunity to have a seed spitting contest!
---
Cherimoya Salsa with Papaya and Avocado
These three ingredients combined make a mouth-watering, fresh-tasting dip or salsa that's great over jicama salad or as a topping for a fresh-caught, local halibut or snapper. Enjoy!
Ingredients:
About 1/2 a papaya (total about 1 cup), peeled and diced
1-2 cherimoya, peeled, seeded and diced
1-2 mango, peeled and diced
1 cup pineapple chunks
1 large diced avocado (squirt some like juice on the diced avocado to help it from turning brown)
2 green onions, chopped
1 shallot, diced
3 limes, juice only
1/2 cup Sigona's Fresh Press olive oil
2 red Thai chilies, seeds removed, diced
1/2 cup cilantro, chopped
1/2 cup rice wine vinegar
1 TBL organic Agave nectar
Salt & Pepper
Directions: Cut, dice and juice ingredients as noted above. Mix everything together in a bowl and chill for 10-20 minutes to let flavors meld. Serve chilled.
Cook's Note: remember, salsa is one of those dishes with which you have all creative liberties. Add more or less of any ingredient you wish to make it your very own!
---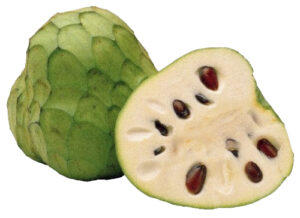 Cherimoya Cream Dessert
Blending the already custard-like cherimoya into a puree with a little fresh orange juice and either cream or plain Fage yogurt makes for more of a pudding that's light and delicate. Adapted from Uncommon Fruits & Vegetables by Elizabeth Schneider
Ingredients:
Fully ripe cherimoya, about 3/4 lb.
2 TBL fresh-squeezed orange juice (look for it in our produce section)
1/2 cup plain Fage yogurt or 1/2 cup chilled heavy (or whipping) cream *see cook's note
Directions: Halve the cherimoya and pick out all the seeds with a fork or spoon. Scoop out every bit of the pulp and combine with the juice in a processor or blender. Work to a fine puree. In a medium mixing bowl, whip the cream with a hand mixer to form peaks; fold in the puree with a rubber spatula. Cover and chill for a few hours. Serve in small bowls with an orange peel twist, if desired.
*Cook's note – you can leave out the cream or yogurt if desired. I've had it with just OJ and it's refreshing.
---
Citrus Chile Shrimp and Cherimoya Salad
This recipe, adapted from our friends at Sunset magazine, is a light and easy way to pair cherimoya with seafood – a great combination. Serves 4.
Ingredients:
1/2 cup fresh lime juice
1/2 cup fresh orange juice
2 TBL packed light brown sugar
1/2 tsp red chile flakes
1 1/2 TBL Sigona's Fresh Press olive oil, the California Arbequina is outstanding in this recipe
1/4 – 1/2 tsp salt
1 lb. peeled, cooked medium shrimp
1/2 firm-ripe Hawaiian papaya, seeded, peeled and cut into 1/4-in. dices
1 ripe cherimoya, peeled, and cut into 1-in. chunks (it's easier to remove the seeds after it's cut)
1 TBL chopped cilantro leaves
Directions:
1. Combine lime juice, orange juice, brown sugar, chile flakes, oil and salt in a small saucepan and boil over high heat, stirring often, until golden brown and reduced to 1/3 cup, about 5 minutes.
2. Divide shrimp and fruit between 4 plates. Drizzle with the juice reduction and sprinkle with cilantro.