Sweet Dumpling Squash Stuffed with Wild Rice and Walnuts, Topped with Dill Havarti
Your tastebuds will swoon over how all the flavors work together in this recipe. There is a sweet factor from the dark maple balsamic, an herbaceous note from the dill havarti, a meaty earthiness from the walnuts and a freshness from the parsley and spinach. Fall is a fantastic time for squash; we hope you enjoy this dish. Inspired by Half Baked Harvest. Serves 4.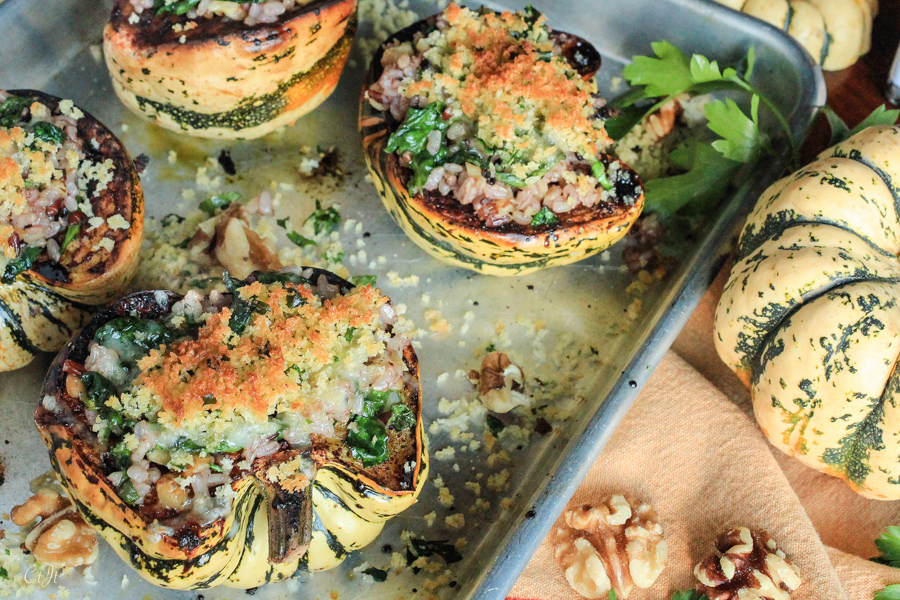 Ingredients:
• 2 sweet dumpling squash, halved vertically, seeds and membrane discarded
• 2 Tbsp, divided, Sigona's Fresh Press Extra Virgin Olive Oil
• 1 Tbsp Sigona's Dark Maple Balsamic
• 1/2 tsp ground cinnamon
• Salt and pepper, to taste
• 1/2 cup wild rice, such as Lundberg (you'll love the slight bite and crunch of this wild rice blend)
• 3 cups baby spinach, stems trimmed
• 2 Tbsp Sigona's Olive Oil Wood Smoked Olive Oil (If you want a bit of heat and smoky flavor, try our Sigona's Smokey Chipotle Oil)
• 1/2 cup heirloom walnut halves, chopped
• 1/2 tsp each Kosher salt and freshly ground black pepper
• 1/2 cup shredded dill havarti cheese
1/4 cup panko crumbs
• 2 Tbsp chopped fresh parsley, plus more for garnish
Directions: Preheat oven to 450°F.
Mix together 1 tablespoon olive oil with the maple balsamic and cinnamon. Brush all cut sides and the cavity of the squash with the mixture; season with salt and pepper. Roast for 40 minutes or until fork-tender. When done, set aside but leave oven on.
Meanwhile, cook rice according to package directions. After it's cooked, to the same pot as the rice, add the smoky olive oil, spinach, walnuts, salt and pepper. Stir to incorporate, replace the lid and allow the mixture to sit about 10 minutes while the spinach wilts.
Mix together in a small bowl the panko, remaining 1 tablespoon regular olive oil and parsley. Set aside.
Scoop rice mixture into the cavities of the roasted squash. Onto each squash half, sprinkle on about 2 tablespoons of the dill havarti and top with about 1 tablespoon of the panko mixture. Return the stuffed squash to the oven to cook another 3 to 5 minutes or until the panko is browned (watch so it doesn't burn) and the cheese is just melted. Serve immediately.
Cauliflower & Walnut "Meat" Tacos
These are perfect for Meatless Monday! They're vegan-friendly, dairy-free and are a totally satisfying part of a plant-based diet. Walnuts are nutritionally beneficial, being high in antioxidants, and they support weight control. You'll love the smoky heat from the chipotle peppers! Finish the tacos as you wish with toppings of your choice. You can skip the tortillas all together and use this "meat" as a salad topper too. Serves 4 (2 tacos each per serving).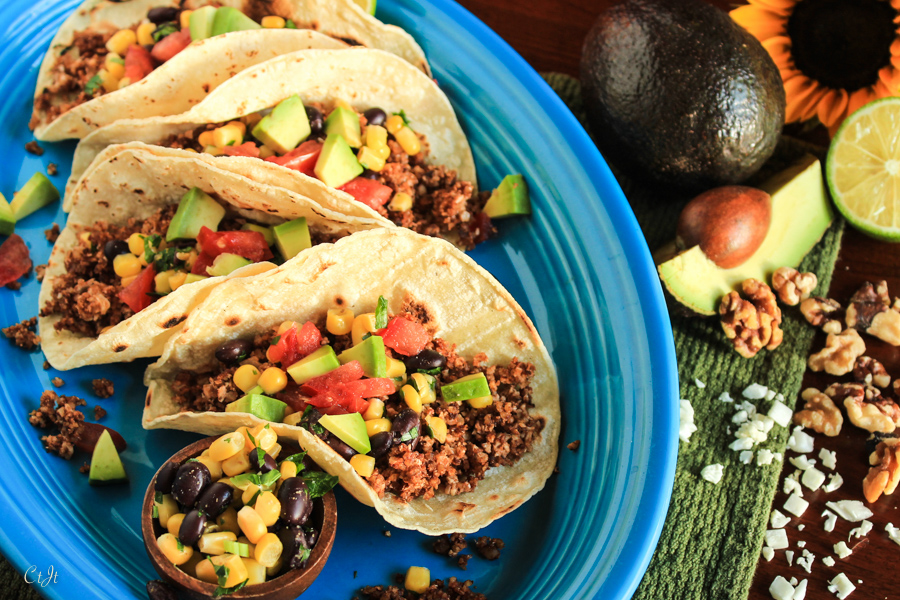 Ingredients:
• 2 cups heirloom walnut halves
• 3 cups cauliflower florets or 2 cups riced cauliflower, such as CeCe's Veggie Co. riced organic cauliflower
• 1 clove garlic
• 1 to 2 canned chipotle peppers in adobo sauce, to taste
• 2 tsp. of your favorite blend of taco seasoning (such as cumin, oregano, cumin, chili powder, garlic powder, salt)
• Corn or flour tortillas
Suggested taco toppings:
• Diced tomato
• Diced avocado or guacamole
• Sliced radish
• Shredded lettuce or greens
• Fresh lime juice
• Corn, black bean & cilantro salsa (recipe follows)
Corn, Black Bean & Cilantro Salsa:
In a medium bowl, mix together the following:
• 1/2 cup corn kernels (about half to one ear)
• 1/2 cup drained and rinsed black beans
• 2 green onions, sliced on the bias
• 2 Tbsp chopped cilantro
• Optional: 1 Tbsp minced jalapeño
• 1/4 to 1/2 tsp. cumin, to taste
• 1/2 tsp white vinegar
• Salt and pepper, to taste
Directions: Preheat oven to 375°F. Line a rimmed baking sheet with parchment paper.
Add the walnuts, cauliflower, garlic clove, chipotle pepper and taco seasoning to the bowl of a food processor. Pulse until the ingredients are evenly ground into small pieces (resembling ground meat), being careful not to process it into a mash.
Spread the mixture out on the baking sheet; place in the oven to bake for about 30 minutes, stirring once.
Meanwhile, prepare your favorite taco toppings; set aside.
In a hot skillet or directly on the grate of a gas grill, lightly toast the tortillas. Set aside and keep warm.
To serve: Spoon about 1/4 to 1/2 cup taco "meat" into each tortilla. Sprinkle desired toppings on the tacos and serve immediately.
Raw Walnut Butter with Natural Dried Apples & Cinnamon
Raw, heart-healthy, vegan-friendly, gluten- and soy-free — you'll love this simple walnut & apple butter. We love using a combination of our dried Fuji and Granny Smith apples for a sweet-tart depth of flavor. We were inspired by A Clean Bake for this recipe, where the author notes that the cinnamon can be replaced with pumpkin pie seasoning (it is fall, after all!). Makes about 1 1/2 cups.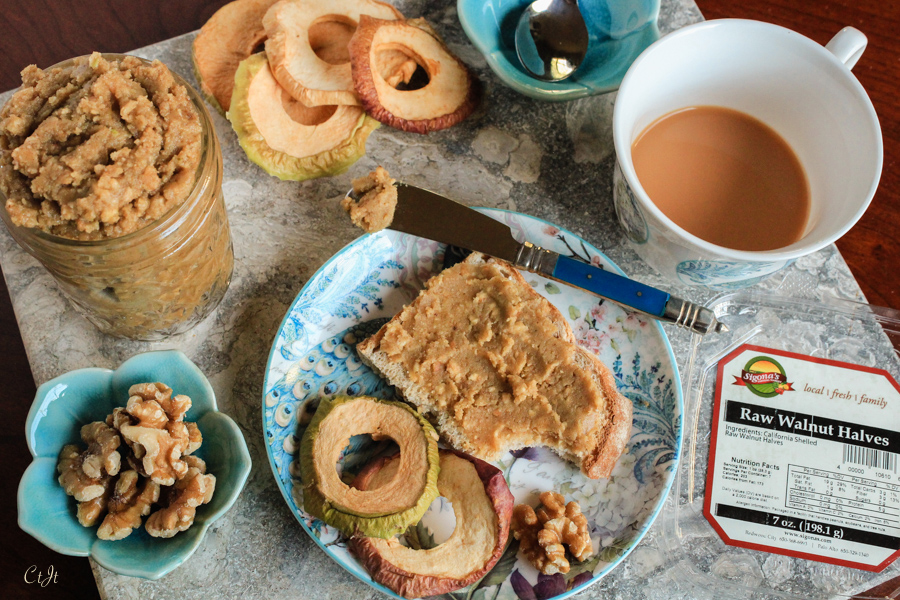 Ingredients:
2 cups raw walnuts halves (find them in the dried fruit & nut section, packaged or in bulk)
1/2 cup packed Sigona's Natural Granny Smith dried apples (find them in the dried fruit & nut section)
1/2 cup packed Sigona's Natural Fuji dried apples (find them in the dried fruit & nut section)
At least 1/2 cup mild oil, such as Sigona's Fresh Press Extra Virgin Arbequina Olive Oil or Sigona's Roasted French Walnut Oil (tip: don't use coconut oil as it solidifies easily)
1/2 to 1 tsp ground cinnamon, to taste
1/4 teaspoon salt
Directions: Add the walnuts and apples to a food processor fitted with a blade. Pulse to bring them together then process until it reaches a ball in a dough-like consistency.
With the blade running, drizzle in about 1/4 cup oil. Add more, a tablespoon at a time, until the mixture is mostly smooth. Note that the consistency will likely remain somewhat chunky, similar to fresh-ground almond butter. You may find you need more than 1/2 cup oil to reach a desired consistency.
Add in the cinnamon and salt, process to incorporate. Add more cinnamon as desired.
Mixture may be stored in an air-tight container for up to 2 weeks.