In the Kitchen from Sigona's Featuring: Lacinato Kale
Tuscan Herb Kale Chips
Making your own kale chips doesn't need to be intimidating. It's so easy! Use a different infused oil to give them a different flavor, or just use regular olive oil and a little sea salt to keep it simple. The key is to make sure the kale is as dry as possible before putting it in the oven. Makes quite a few snack servings.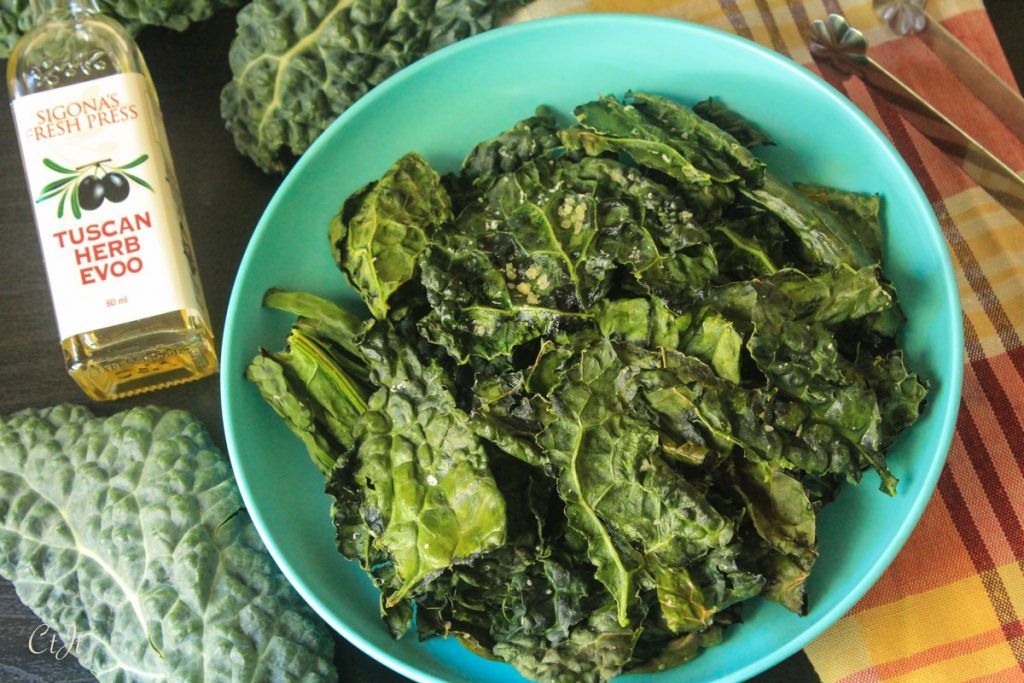 What you need:
Directions: Preheat oven to 300 degrees F. Wash and gently pat dry the kale, getting into all the crevices to ensure the leaves are as dry as possible. Consider using a salad spinner if you have one.
Use a knife to slice the ribs and stems and from the leaves, or strip the leaves off with your fingers. Tear the leaves into 3-inch pieces and place in a large bowl. Drizzle with about 2 teaspoons of the oil and toss, toss, toss to coat the leaves evenly. (You don't need much oil.) Season with salt and toss again, gently massaging the leaves to make sure they're all lightly oiled.
Spread the kale evenly among a couple rimmed baking sheets. Place in the oven and roast for 5 minutes. Shake the pan or gently stir with a spatula, spreading the kale back out into a single layer. Rotate the pan placements and roast for another 3 to 5 minutes, repeating the shaking/stirring. Watch them so they do not brown. They may need another 3 to 5 minutes of roasting, depending on the oven. If they're crisp they're done.
Allow the chips to cool in a single layer on the baking sheet. Enjoy once cooled or store for a day or two in a zip-top bag.
Lemony Pearl Barley Salad with Sautéed Blue Lacinato Kale and Pine Nuts
Hearty yet healthy, you'll love the layers of flavor in this dish. Adding on some reserved lacinato kale and lemon zest at the end brings it to the next level of light and refreshing. Adapted from Food and Wine. Serves 4 to 6 as a side.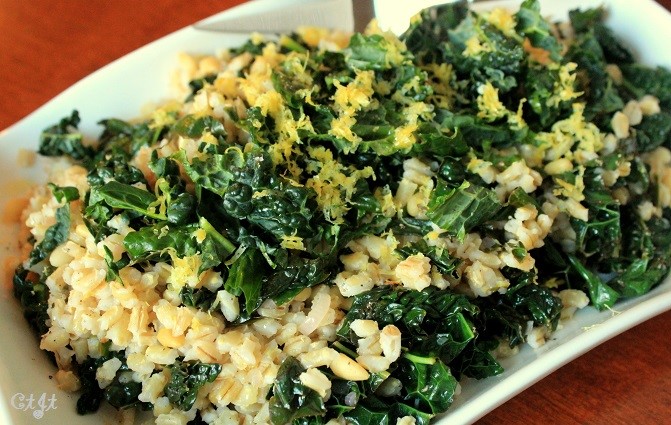 Ingredients:
1 cup pearled barley (about 8 ounces)
2 Tbsp pine nuts
2 Tbsp, plus more for drizzling, Sigona's Fresh Press Extra Virgin Olive Oil
1 Tbsp minced shallot
1/2 cup white wine, such as pinot grigio
1 bunch blue lacinato kale, leaves striped from stems, leaves chopped, stems discarded
1 Tbsp fresh lemon juice
Kosher salt and pepper, to taste
Zest from one lemon
Optional: grated Parmigiano Reggiano, for topping
Directions: In a medium saucepan, cook the barley in salted boiling water until al dente, according to package directions (usually about 30 to 40 minutes). Drain well and transfer to a large bowl. Let cool slightly.
Meanwhile, in a small skillet, toast the pine nuts over low heat, stirring, until lightly golden, 3 to 5 minutes.
In a small skillet, heat 1 tablespoon of the olive oil. Add the shallot, season with salt and pepper and cook over moderate heat, stirring, until the shallot is golden, about 3 minutes. Add wine and lemon juice to the pan and then add in all but about 1/2 to 2/3 cup of the chopped kale. Season with salt. Cook until wilted down, about 3 minutes. Add in the barley and pine nuts, toss to combine.
Transfer the barley mixture to a serving dish. Top with the reserved kale leaves, a drizzle of olive oil, a sprinkling of salt and the lemon zest. Finish with Parmigiano Reggiano, if desired.
Blue Lacinato Kale Pesto and Cannellini Bean Crostini
The kale pesto in this dish deliciously flavorful; it infuses the entire mixture to make the perfect topping. You can use any remaining topping as a sandwich spread or toss it with pasta. Adapted from Eating Well. Serves about 4 to 6.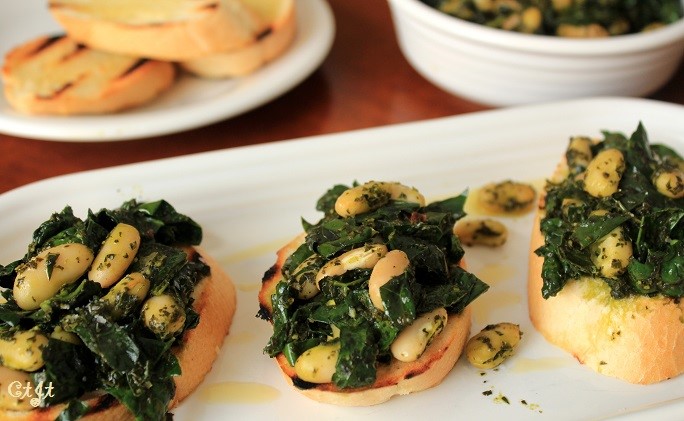 Ingredients:
1 bunch blue lacinato kale, leaves stripped from tough stems, stems discarded
2 cloves garlic
Salt, to taste
1 (15 oz.) can cannellini beans, drained and rinsed
2 Tbsp red wine vinegar
A pinch red pepper flakes
About 1/2 cup Sigona's Fresh Press Extra Virgin Olive Oil, divided
1 French or sweet baguette (use half or more as needed)
Directions: Chop the kale leaves. Place half of the chopped kale in a food processor along with garlic and salt. With the blade running, drizzle in 1/4 cup of the olive oil. Process until a paste is formed. Set aside.
In a medium bowl, toss together the beans with red wine vinegar, 1 tablespoon olive oil, red pepper flakes and salt to taste.
Heat 1 tablespoon olive oil over medium high in a large skillet. Add the kale pesto and cook, stirring, for about 1 minute. Add the bean mixture and cook, stirring gently, for 1 minute more. Add the remaining chopped kale leaves and stir to combine. Cook until the leaves have wilted a bit, about 3 to 4 minutes. Remove the mixture from the heat.
For the bread: Prepare at least 10 slices or more of the baguette, cut on the diagonal.
Brush both sides of the bread with olive oil. You can put these in the oven to broil but I recommend using a stovetop grill. Grill both sides just slightly on a medium high heat, just about 1 min per side. This makes the bread crispy on the outside and chewy on the inside…perfect for your crostini. Remove from the grill and season with a bit of salt.
To serve: Either transfer the bean and kale mixture to a bowl and serve with slices of the grilled baguette on the side, or place a heaping spoonful of the kale and bean mixture on each slice of grilled bread. Drizzle the crostini with olive oil and serve immediately.