Sweet Heat Gift Set Recipes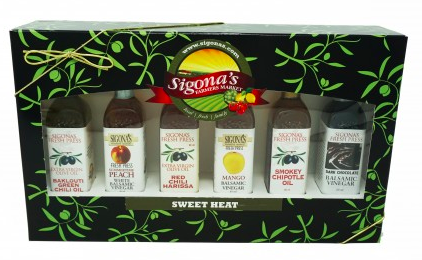 A little sweet, a little heat! These infused balsamic and olive oil combinations will give your dishes the fantastic flavor. Our favorite? The Red Chili Harissa Oil + Mango Balsamic used to prepare wild sea scallops. You can find this gift set for sale in our stores or buy it online!
60ml bottles included in this gift set:
Baklouti Green Chili Oil
Summertime Peach White Balsamic
Red Chili Harissa Oil
Mango Balsamic
Smoky Chipotle Oil
Dark Chocolate Balsamic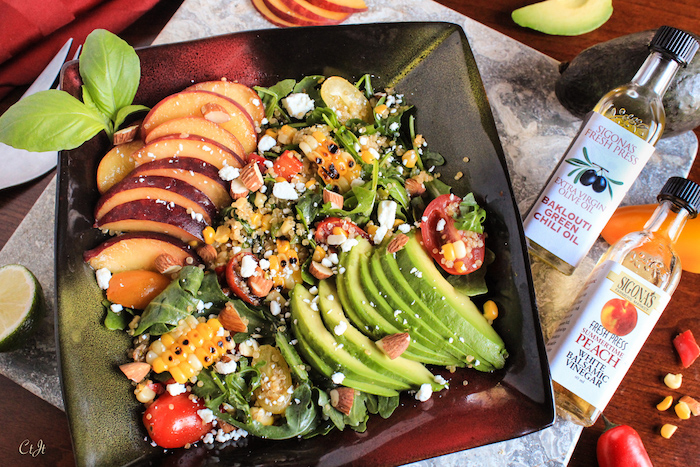 Fresh Peach, Grilled Corn and Arugula Quinoa Bowl with a Peach and Baklouti Green Chili Vinaigrette
Fresh sweet peaches, creamy avocado, smoky grilled corn and so much more. All the flavors in this salad play well together! Baklouti oil packs a punch…you've been warned! Using quinoa provides the protein part of this macro bowl, with the avocado and olive oil covering the healthy fats. The corn checks off the carbohydrates box. For more protein, add some beans, grilled chicken or even tempeh. Inspired by Half Baked Harvest. Serves 2 to 4.
Ingredients:
1/2 cup uncooked quinoa,
3 Tbsp. Sigona's Baklouti Green Chili Olive Oil (Baklouti oil is spicy! Try it first; to tame the heat, mix Baklouti oil with regular Sigona's olive oil)
2 Tbsp. Sigona's Summertime Peach White Balsamic
1 Tbsp. soy sauce, liquid aminos or coconut aminos
2 tsp. honey, such as local, raw honey from Honey Hole Honey Co., available only at Sigona's
Juice of half a lime
1 tsp. fresh ginger grated
2 ears grilled or roasted corn, kernels removed
About 1/2 cup fresh basil, roughly chopped, plus more leaves for garnish
Optional: 1/4 cup fresh mint, roughly chopped
2 green onions, sliced on the bias
2 Sweet mini peppers, seeded and diced
1/2 cup cherry tomatoes halved
About 2 big handfuls arugula
1 or 2 ripe yellow peaches, pitted and thinly sliced
Optional: A couple Tbsp. crumbled goat cheese or feta (leave it off for a dairy-free bowl)
1 avocado, peeled, pitted and thinly sliced
1/3 cup almonds, roughly chopped
Freshly ground black pepper
Directions: Cook quinoa according to package directions.
In a large bowl, whisk together the olive oil, balsamic, soy/aminos, honey, lime juice and ginger.
To the vinaigrette, add the quinoa, corn, basil, mint (if using), green onions, peppers and tomatoes; stir to combine. Add the arugula and toss until well incorporated.
Transfer mixture to a serving bowl or divide among 2 to 4 smaller bowls. Top the dish with the sliced peach and avocado, sprinkle on the almonds and feta, and finish with freshly ground black pepper. Serve immediately.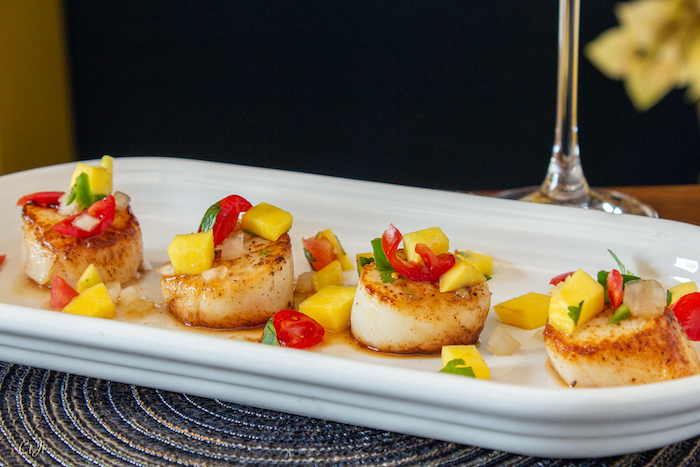 Harissa-Seared Scallops with a Mango Balsamic Salsa
This dish packs a sweet heat made from a combination of our spicy red chili oil and our mango white balsamic — a combination inspired by the mango con chili treat. This would also work with shrimp or prawns. Serves 4.
Ingredients:
1 large tomato, diced (about 3/4 cup diced)
Half an onion, diced
Half a jalapeño, seeded and diced
1 Tbsp Sigona's Red Chili Harissa Olive Oil (it's spicy!)
1 Tbsp butter
8 large dry-packed sea scallops
Salt and pepper, to taste
3 Tbsp Sigona's Mango Balsamic
1 large mango, such as a Keitts, peeled and diced (at least 1 cup)
2 tbsp chopped fresh cilantro
Directions: Stir together the tomatoes, onion and jalapeño in a bowl. Set aside.
Rinse and pat dry the scallops. Season both sides with salt and pepper. Set aside.
Add the harissa oil and butter to a large skillet over medium-high heat. When the butter has melted and the combination is just starting to smoke, add the scallops, being careful that they don't touch. Cook for just 1 minute 30 seconds each side, flipping once. Scallops should have a nice golden-brown sear that is about 1/4 inch deep on each side, and the middle should still be slightly translucent. Use tongs to transfer just the scallops to a plate; set aside, keeping warm.
Reduce heat to medium and add the balsamic to the skillet to deglaze. Use a wooden spoon or rubber spatula to scrape up the brown bits from the bottom of the pan as the balsamic reduces. After 2 minutes, add the tomato and onion mixture; cook, stirring, for another 2 minutes. Transfer mixture to a bowl and stir in the mango and cilantro.
Serve the scallops with the mango salsa, either on the side or spooned over the top.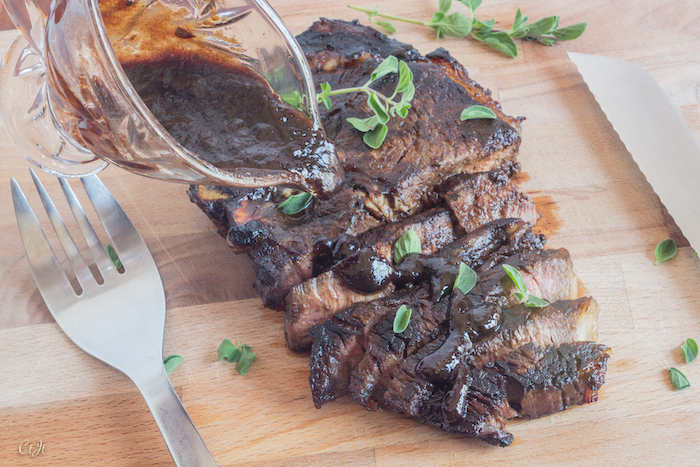 Grilled Steak with a Dark Chocolate Balsamic & Smoky Chipotle Marinade and Sauce
The combination of sweet, rich dark chocolate with the smoky, chipotle infused olive oil makes for a flavor not unlike a sweet barbecue sauce. At first you'll taste the grilled, caramelized richness from the balsamic, followed by a mellow heat from the chipotle. Reducing the marinade with red wine provides a nice sauce for finishing the steaks. Serves 2.
Ingredients:
About 1.5 lbs. ribeye steaks, about 1 to 2 steaks
1/2 cup red wine, divided
1/4 cup Smoky Chipotle Olive Oil
1/4 cup Sigona's Dark Chocolate Balsamic
1 Tbsp chopped fresh oregano, plus sprigs for optional garnish
1 tsp. salt
1/2 tsp. pepper
Directions: In a bowl, whisk together 1/4 cup of the wine with the oil, balsamic, oregano, salt and pepper.
Place the steaks in a large zip-top bag. Pour in the marinade. Place in the fridge to marinate for at least 8 hours or overnight.
Remove the marinating steak from the fridge, allowing it to sit at room temperature for at least 30 minutes before grill time. Preheat an outdoor grill over medium-high heat. Reserving the marinade, remove the steak from and place on the grill. Cook 4 to 6 minutes per side, flipping once, for medium-rare. Adjust cooking times for desired doneness. Remove from the grill and allow to rest 5 to 10 minutes before slicing and serving.
While the steaks rest, make the pan sauce. Add the reserved balsamic to a large skillet over medium-high heat. Add the reserved 1/4 cup of wine and cook, stirring occasionally, until it is reduced by half, about 5 to 10 minutes. Remove from heat and whisk well before serving.
Serve the steak sliced, against the grain, or whole, with the pan sauce drizzled over the tip. Garnish with a sprig of oregano, if desired.