Comice Pears & Warmed French Brie Drizzled with Raw Honey
Comice Pears & Warmed French Brie Drizzled with Raw Honey
Simple and elegant, pears and Brie are a lovely combination. Comice pears hold up when sliced as the variety tends to be more crisp than others, so they work well for dipping or spreading with a warmed Brie. Honey adds another sweet layer of flavor to this appetizer or after-dinner dish that will put a smile on the faces of your guests.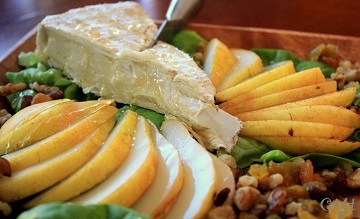 What you need:
A wedge of French brie, such as a double cream (or crème) found at Sigona's
Greens, such as butter lettuce, for garnish
2 Comice pears, halved, cored and cut into slices about 3/4" thick
Raw wildflower honey from Honey Hole Honey Co., available at Sigona's
Golden raisins
Walnuts or pecans
Directions: Preheat the oven to 350° F. Place the Brie on a parchment-lined baking sheet and bake for 5 to 7 minutes, or until it starts to ooze, but not melt.
Place the warmed Brie on top of some butter lettuce on a serving dish. Fan out the pear slices on the sides of the brie. Fill in empty areas with raisins and nuts. Drizzle the Brie with honey. Serve warm.