In the Kitchen Featuring: Best of Classic Summertime Recipes
Local, Sweet Strawberries over Gelato Drizzled with a Balsamic Reduction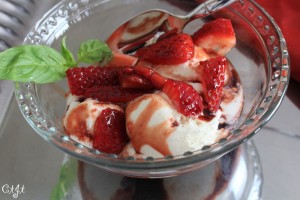 A good balsamic is already sweet due to the aging process, and our infused balsamics, such as the espresso, vanilla or strawberry balsamic, are the perfect combination of sweet & tangy. Serves 2. Ingredients:
1 cup strawberries, sliced
1 1/2 TBL Sigona's strawberry balsamic OR Sigona's espresso Balsamic
A generous scoop (or two!) of Massimo's vanilla bean gelato
Get fancy! Add a small sprig of mint as garnish.
Directions: Put the berries and vinegar into a saucepan, over medium heat. Bring it to a slow simmer; let reduce for only about a minute. The balsamic will continue to reduce from residual heat, so don't let it get too thick over direct heat. Scoop gelato into two bowls and evenly pour the reduction directly over the top of each serving. Garnish with a mint sprig and serve.
Heirloom Tuscan Melon with Prosciutto and Drizzle of Local Raw Blackberry Honey
Simple, easy and downright delicious. The drizzle of our local, raw blackberry honey helps it to just explode with flavor. Ingredients
Directions: Slice Tuscan melon into wedges, removing rind and seeds. Arrange on a plate into a circular configuration. Loosely arrange prosciutto between slices of melon. Drizzle honey over entire plate sprinkle mint over dish and garnish.
Carmelo's Local Organic Dry Farmed Tomato Bruschetta

I love the complex flavor of the local, organic, dry farmed tomatoes – they're great this year, so flavorful! All the layers of flavor in this dish, from our new fresh-pressed Leccino olive oil to the salt & pepper and the tomatoes, along with the chewy texture of a grilled baguette, really make for killer bruschetta. The trick is to get the toast just right – see my tips below – and don't prep way ahead of time as that makes for soggy bread. Ingredients:
4-5 local, organic, dry farmed tomatoes, chopped
Half of 1 Sweet baguette, cut on diagonal into 1 inch thick slices
3 TBL Sigona's Fresh Press Leccino extra virgin olive oil
1 clove of garlic
Sea salt & pepper
6 basil leaves, cut into strips with scissors
Start with the tomatoes: Chop the tomatoes in half and place in a bowl. Toss with a little sea salt to draw out the juices and flavor. Let it sit for at least 10 minutes. Meanwhile, in small sauté pan over medium heat, warm 1 clove of minced garlic just slightly. Do not allow it to brown. Simply warming it will take a little heat out of the garlic. Remove garlic from heat and add to tomatoes with the olive oil, salt and pepper. Scoop into a serving bowl and garnish with scissor-sliced basil leaves. Set aside.
Prepare the bread: Preheat the flat side of a stovetop grill/griddle pan** to medium high heat. Brush both sides of the bread with olive oil. Dust one side with salt and pepper. Grill both sides just slightly, about 45 seconds per side. This makes the bread crispy on the outside and chewy on the inside. Remove from heat and place on a serving platter. If serving right away, top the toasted slices with the tomato mix or allow guests to top themselves. **You can use a toaster if you don't have a grill/griddle pan, but be sure to get a light toast. The best bruschetta is enjoyed on bread with a light outer toasting and a warmed, chewy middle. Find grill/griddle pans stores that sell specialty kitchen supplies, such as Crate & Barrel or Bed, Bath & Beyond.
Summer Melon Ice Parfait with Berries and White Port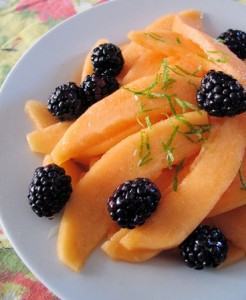 A Muscat-based wine, such as Moscato, works well here as the white port for this parfait. Serves 6. Prep and freeze time: 3 hours. Total time: about 3 hrs., 30 mins. Ingredients:
1 medium (4-5 lb.) melon, such as a Sharlyn or Crenshaw
3-4 TBL sugar or 2 TBL Agave nectar
1 pint blackberries, boysenberries, blueberries or raspberries, your choice
2 TBL white port
Directions: Cut melon in half and remove the seeds. Scoop out chunks of the flesh and place in a food processor. You'll get about 1 ½ lbs of melon chunks. Puree the melon and stir in 2 TBL sugar (or 1 TBL agave). Taste and add more if needed, but note that too much sugar will mask the melon's delicate, floral flavor, however, because chilling reduces the flavor, the mixture should be very sweet. Pour puree into a large, shallow metal pan that will hold a depth of 3/4 to 1 inch. Freeze for 30 minutes. Remove pan from freezer and stir puree with a fork, breaking up large chunks of ice. Repeat 4-5 times over 2-3 hours. Each time the ice will be a little less liquid and will stick together more. When firm enough to hold its shape, it is done. Try not to let the melon ice freeze solid. If it does, chop it into small pieces in the pan and grind it in the food processor. However, the result will be lighter and fluffier, and the flavor will not be as dense and luscious. Stir together the berries, 1 TBL sugar (1/2 TBL agave) and the port. Spoon the ice into six glasses (martini glasses or short wine glasses) and spoon some of the berries with their juice over the top. Serve.
Fresh Corn Salad with Black Beans, Tomato and Cilantro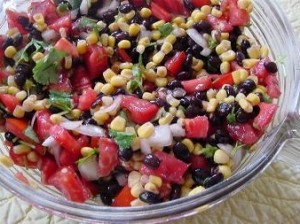 Delicious with tortilla chips or as a salsa to top grilled local snapper, local halibut or white seabass. This salad is always a hit. Courtesy of Laura H., a Sigona's fan. Serves about 4. Ingredients:
Juice from 2 limes, about 4 TBLs
2 clove garlic
Salt and pepper
A 15-ounce can black beans, rinsed and drained
Kernels cut from 1-2 ears of white corn (about 1 cup)
1 1/2 cups tomatoes (use an assortment of halved cherry tomatoes or use 3 Roma tomatoes, seeded and chopped)
1 red onion, minced
Half a bell pepper, seeded and diced (look for an orange one to add color to the dish)
3 TBLs minced fresh cilantro leaves
1 jalapeno pepper, seeded and diced (add more to taste)
1/2 tsp cumin (or to taste)
Optional: top with diced or sliced avocado when ready to serve.
Directions: In a bowl whisk together lime juice, oil, garlic and salt to taste. Stir in remaining ingredients and season with salt and pepper, to taste. Let salad stand at room temperature for at least 30 minutes, stirring occasionally, to let flavors develop. Laura recommends making it the night before. Herb Grilled King Salmon
3 TBL chopped fresh parsley
1 1/2 tsp. dill weed, minced
Juice of 1 lemon
1 lemon, sliced in 4 rounds
4 wild king salmon steaks, 1 inch thick
Directions: Combine parsley, dill weed and lemon juice. Rub evenly on both sides of salmon. Grease 4 sheets of foil large enough to wrap fish. Place 1 lemon slice on top of each steak and wrap fish in foil. Cook in covered grill over medium high, direct heat 15 minutes or until fish flakes easily.
Sautéed Corn with Cherry Tomatoes and Basil
A summer staple in my house that is incredibly easy to throw together and a great side dish to grilled meat or fish. Serves 4. Adapted from "Joy of Cooking." Ingredients:
2 ears of corn, shucked
1 pint cherry tomatoes, halved (use a variety of tomatoes for added color)
A few leaves of basil, sliced thin (use scissors to snip)
Salt, pepper
1 TBL butter
1 TBL cream, optional
Directions: Cut the corn from the cob. Melt the butter in a sauce pan over medium heat. Add the corn kernels and cook for 1 min. Add the cherry tomatoes and cook for another minutes until juices start to run. Stir in salt, pepper, basil, and cream. Serve.