February Olive Oil and Balsamic Featured Recipes

Kale Panzanella Salad with Fresh Berries and Meyer Lemon Olive Oil
The light, bright and fresh flavor of this is salad is a welcome way to use fresh kale, especially as we begin to dream of spring. Don't skip massaging the kale — this helps break down the fibrous leaves, which can be tough to chew, making them velvety smooth. To keep this more on the healthier side, we prefer to keep the kale at a higher ratio than the bread, and for more protein, add grilled chicken or salmon. Adapted from Olive Oil & Vinegar. Serves 2 to 4.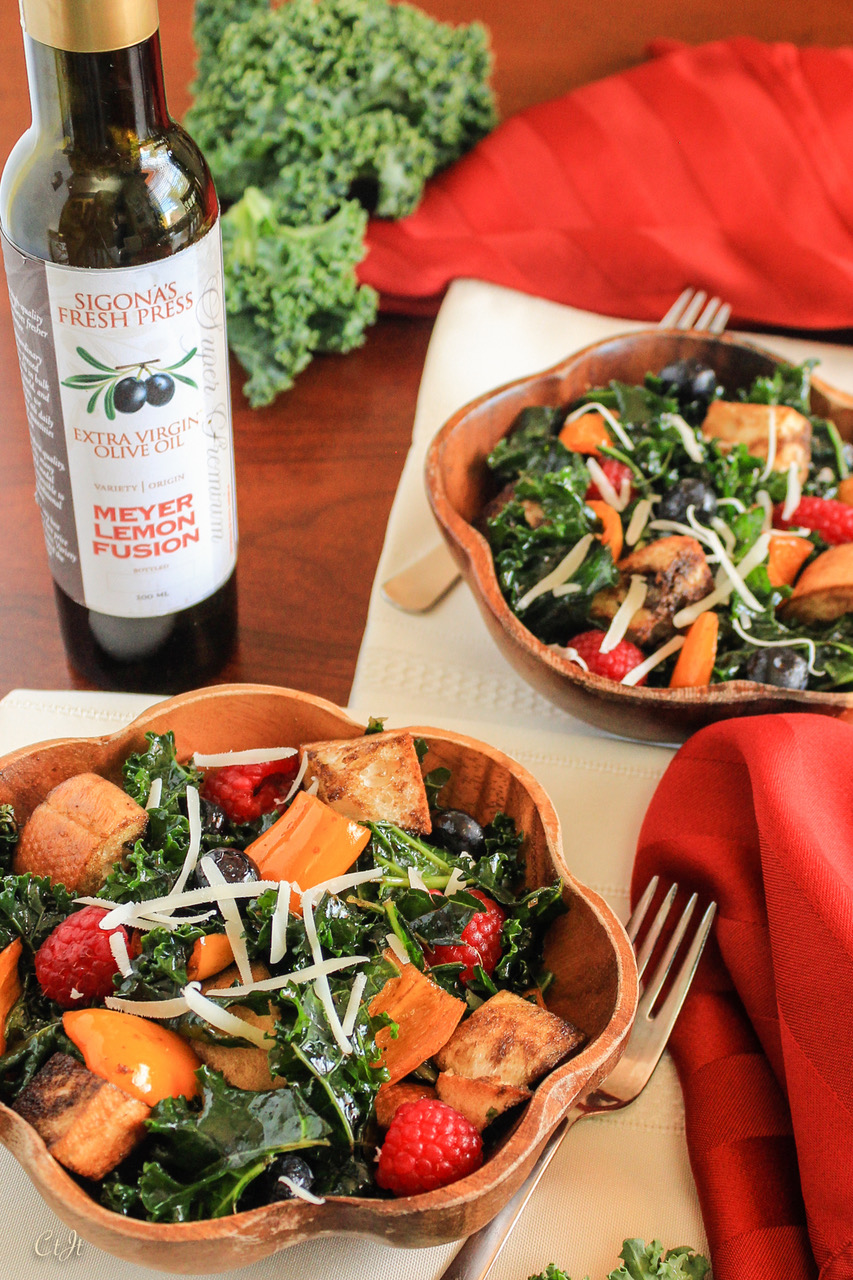 Ingredients:
2 cups cubed sourdough bread (1-inch cubes)
Half a large yellow or orange bell pepper, seeded and diced into 1-inch cubes
3 Tbsp Sigona's Meyer Lemon Oil, divided
2 Tbsp Sigona's Blueberry, Raspberry or Strawberry Balsamic, divided
Salt and black pepper, to taste
About half a bunch fresh curly kale, stripped from the stems, leaves torn into bite-size pieces (you'll need 4 cups semi-packed kale)
1/2 cup fresh raspberries or sliced strawberries
1/2 cup fresh blueberries
2 Tbsp julienned fresh basil
Optional: 2 Tbsp grated or crumbled cheese of choice, such as goat, feta or Parmigiano Reggiano (leave off for Paleo or other dietary preferences)
Directions: Preheat the oven to 400℉. Line a rimmed baking sheet with parchment paper.
Toss the bread cubes and bell pepper with 2 tablespoons of the olive oil and 1 tablespoon of balsamic. Spread the mixture out in a single layer on the baking sheet. Roast until the outside of the bread cubes are toasty-crisp but the inside is still soft and chewy, about 10 minutes, shaking the pan once and flipping the bread to make sure all sides are toasted. Set aside and allow to cool a bit while you prepare the kale.
Place the kale in a large bowl with remaining olive oil and balsamic; season with salt and pepper. Using your hands, massage and rub the kale to break down the fibers and soften the texture.
Add the croutons and peppers to the kale mixture, including any liquid from the baking sheet.  Stir to combine, adding in the berries and basil. Top the salad with cheese, if using, and serve.
Tangerine Balsamic Braised Beef Short Ribs
(For Instant Pot or Slow Cooker || Paleo-friendly)
What would normally take about 3 or 4 hours in the oven, might take you just one hour from start to finish in the Instant Pot! Braising the meat makes for tender ribs that are infused with flavor, and using our tangerine balsamic adds a sweet, slightly citrusy note. Inspired by Eating Well. Pair this dish with roasted sweet potato wedges or a cauliflower mashed "potatoes." Serves 2 to 4.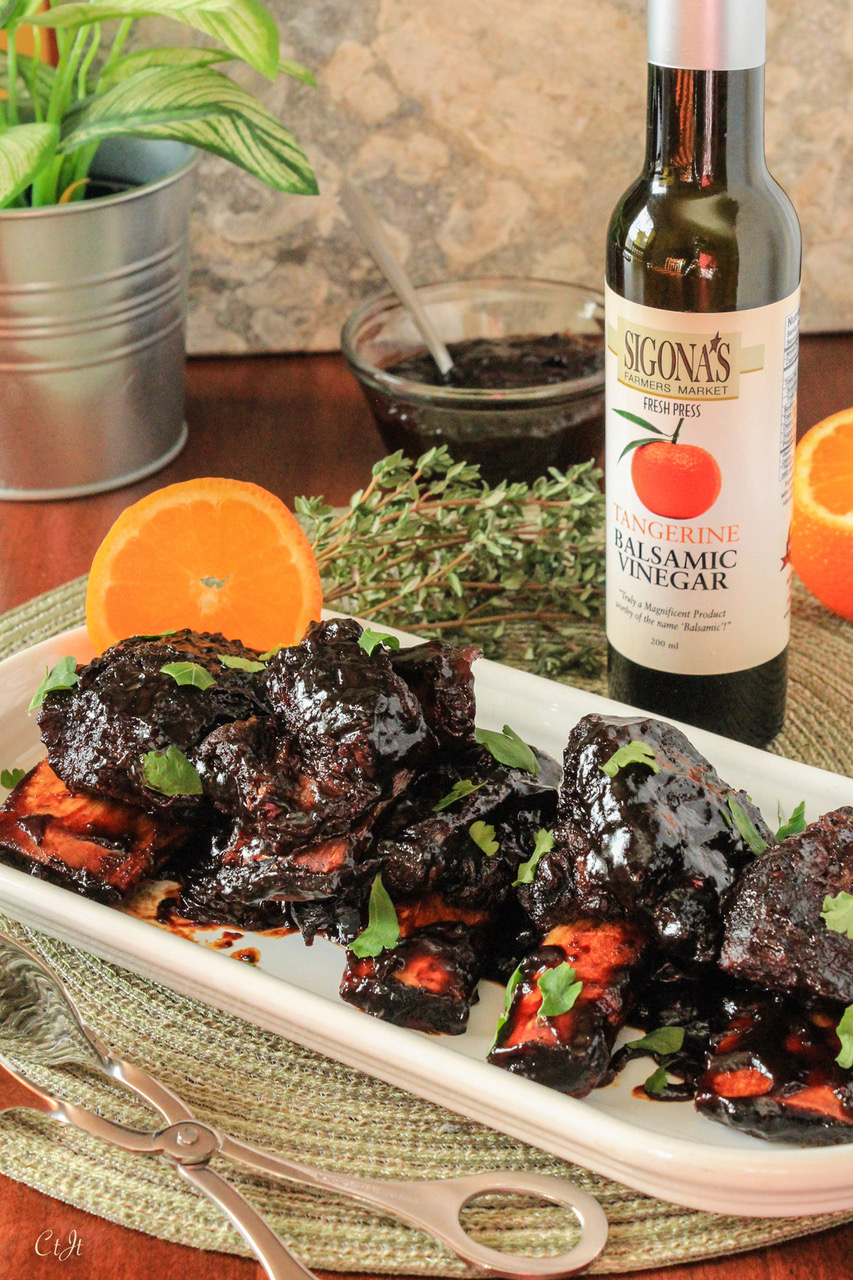 Ingredients:
6 bone-in short ribs
Salt and black pepper, to taste
1 onion, sliced into rings
2 Tbsp tomato paste
2 sprigs fresh thyme or 1 sprig fresh rosemary
One 200 ml bottle Sigona's Tangerine Balsamic (just shy of 1 cup)
1/2 cup beef bone broth (make your own if you're feeling wild)
1 Tbsp arrowroot powder
1 Tbsp cold water
Using an Instant Pot (Pressure Cooker):
1). Season both sides of the ribs with salt and pepper. Set the Instant Pot to sauté and add in 1 tablespoon olive oil. When hot, add the ribs and cook for about 3 minutes per side to get them nice and browned. Remove ribs and set aside.
2). Reserve 1 tablespoon of oil from the bottom of the pot and carefully discard the rest. Add the tablespoon of oil back to the pot on sauté.
3). Add the onions, stirring occasionally. Cook until soft, about 4 to 6 minutes. Stir in the tomato paste, garlic and herbs and cook for 1 minute. Add the balsamic to deglaze the pot, scraping up any brown bits on the bottom. Cook 3 to 5 minutes more, until the balsamic has reduced a bit, then switch off sauté.
4). Add the ribs and the broth to the Instant Pot. Close the lid, making sure the release valve is in the correct position. Set Instant Pot to pressure cook for 40 minutes and hit start. Allow the pot to do a natural release for at least 10 to 15 minutes before doing a quick release. Open the lid and use tongs to remove the ribs to a serving dish, keeping warm.
5). Remove the herb sprigs and spoon off the fat from the liquid left in the pot. To do this, you can transfer the liquid to another container that's easier to spoon from, or, if you're doing them ahead of time, refrigerate the liquid for a few hours or overnight, then remove the layer of solidified fat. Reheat the ribs and sauce together on sauté and follow the rest of the directions when ready to eat.
6). If removed, add the liquid back to the Instant Pot and set to sauté. In a small bowl, mix together the arrowroot powder and water to create a slurry; whisk the slurry into the liquid in the Instant Pot and stir until combined and sauce has thickened. Turn off pot and remove sauce from heat.
7). To serve, spoon some of the sauce over the ribs and serve the rest on the side. Sprinkle the dish with fresh parsley and serve immediately.
Using a slow cooker:
1). Follow steps 1-3 above, but use a sauté pan over medium-high heat on the stove top.
2). Add the browned ribs to a slow cooker. Pour the balsamic mixture over the ribs and add the broth. Cover and cook on high for 4 hours or low for 8 hours. Use tongs to remove ribs; set aside and keep warm.
3). Follow steps 5-7 above, using a skillet to thicken the sauce and/or reheat when it's time to eat.
Wild Salmon with a Savory-Sweet Savory Blueberry Balsamic Glaze
Simple, elegant and delicious! The fruity, rich blueberry balsamic combines well with the rest of the reduction ingredients to create a perfectly sweet & savory topping for pan-seared wild salmon. Serve with a side of green beans or kale panzanella salad. Serves 4.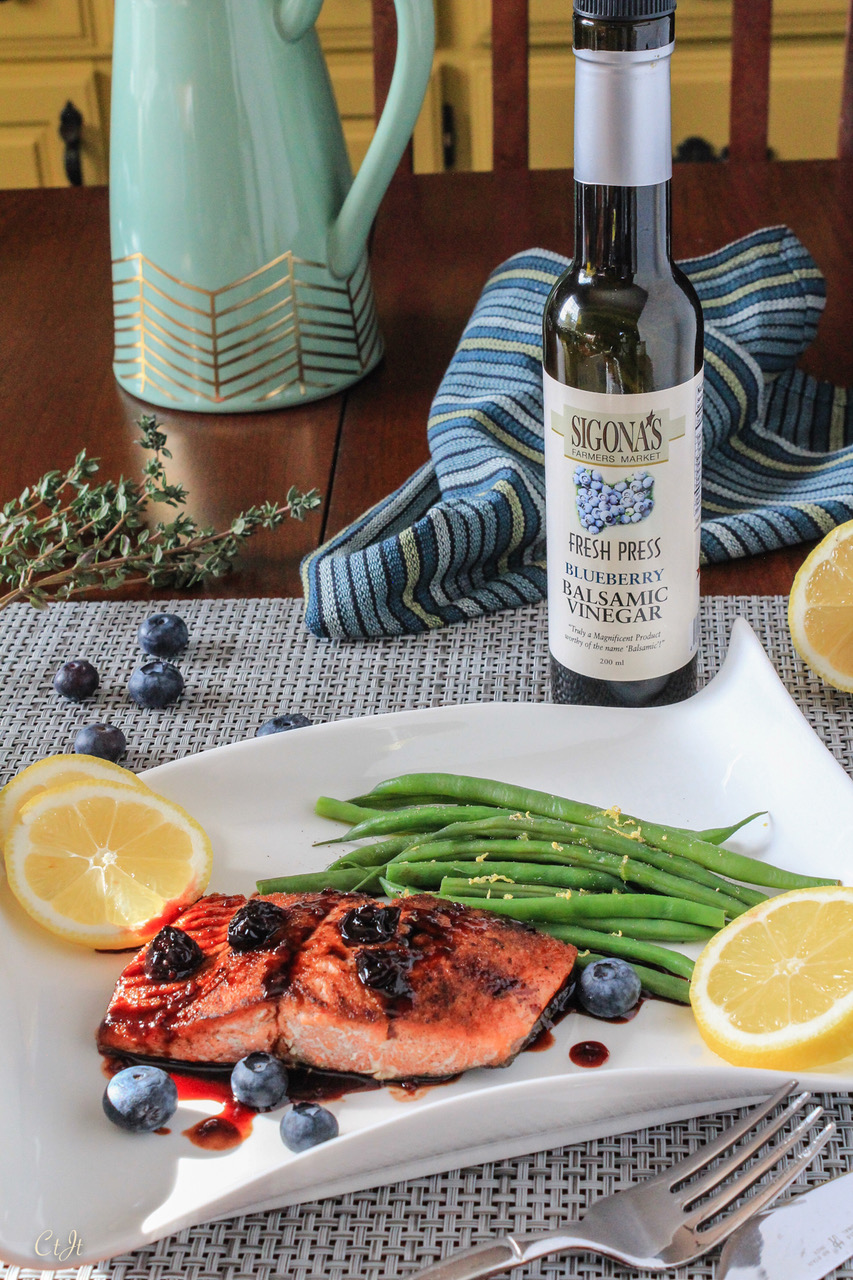 Blueberry Balsamic Glaze:
1/2 cup Sigona's Blueberry Balsamic
1/2 cup fresh blueberries
1/4 cup white wine, such as sauvignon blanc
2 Tbsp honey, such as raw, local, unfiltered Honey Hole Honey Co honey, available only at Sigona's
2 tsp Dijon mustard
2 cloves garlic, minced
2 sprigs fresh thyme, plus more for garnish
Salmon:
Grape seed oil or butter, about 1 to 2 tablespoons
4 salmon fillets, about 3 to 5 oz. each
Salt and black pepper, to taste
Lemon slices, for garnish
Directions: In a small saucepan, stir together the balsamic, blueberries, wine, honey, Dijon, garlic and sprigs of thyme. Bring to a boil over medium-high heat, stirring occasionally. Reduce to a simmer and allow mixture to cook, stirring occasionally, until it has thickened and reduced by at least half, about 15 minutes. Remove from heat, remove thyme sprigs and set mixture aside; it will continue to thicken off the heat.
Meanwhile, heat the cooking oil or butter in a nonstick skillet over medium-high heat. If using butter, heat it until the foam subsides and it turns a deep golden brown, about 3 minutes.
Season both sides of the salmon with salt and pepper. When skillet is ready, add salmon to the skillet skin-side up. Cook without flipping for 3 to 5 minutes or until the fish turns a nice deep crispy brown. Flip the fish and allow it to cook to desired doneness, about 3 minutes more depending on thickness.
To serve, drizzle a little of the reduction, a teaspoon or two, on each of four individual serving plates. Place the salmon on top of the drizzle then top each fillet with more of the reduction, being sure to include a few of the blueberries. Finish the presentation with fresh thyme and lemon slices. Serve immediately.