Winter Chop Salad with Roasted Butternut Squash, Diced Apple and Laura Chenel's Cranberry Cinnamon Goat Cheese
You'll want to invite guests over just to share this salad! The natural sugars in both the squash and the onion begin to caramelize when roasted, creating a sweetness which is intensified by the addition of maple syrup. The cranberry cinnamon goat cheese adds just the right amount of creamy, savory zing. Serves about 4.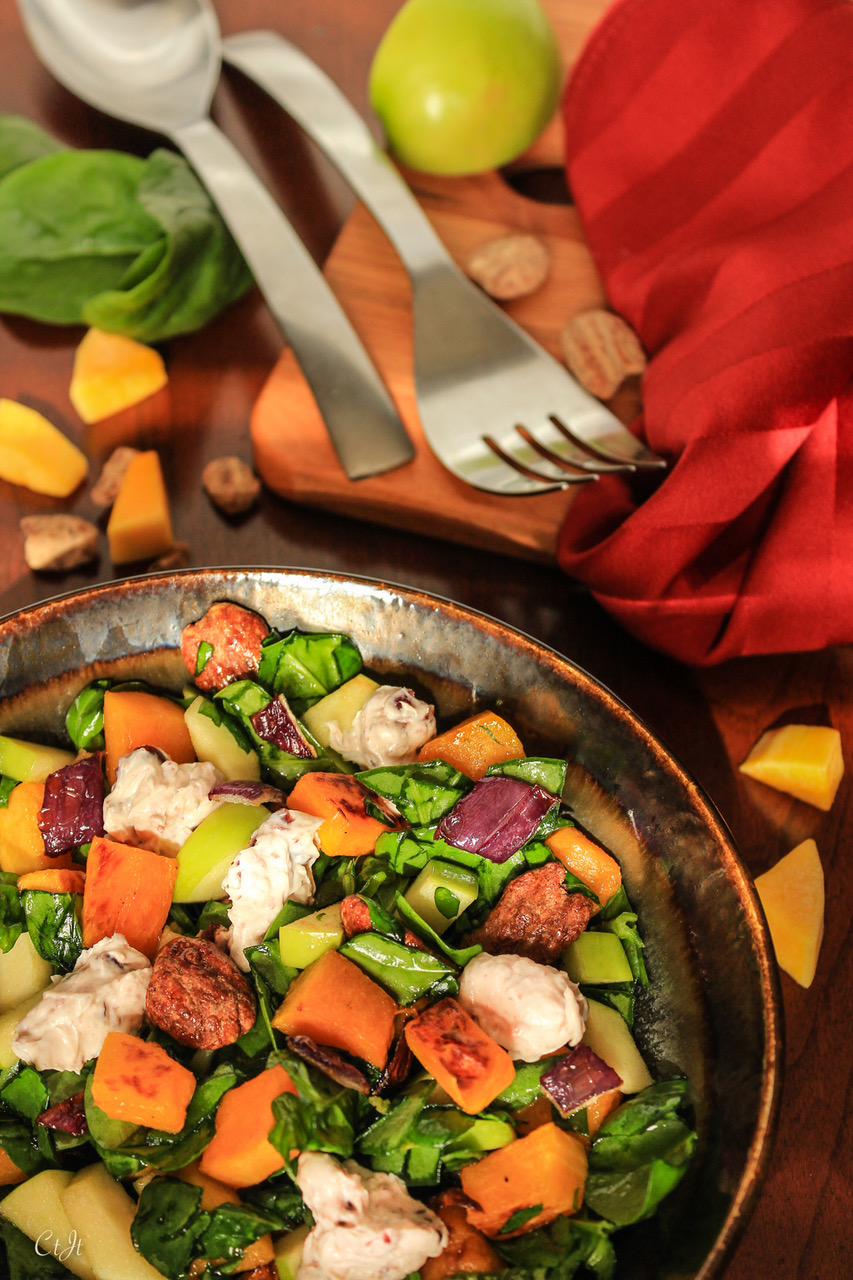 Ingredients:
2 cups 1-inch diced butternut squash
1/4 a red onion, cut into 2 wedges
3 Tbsp Sigona's Fresh Press Extra Virgin Olive Oil, divided
2 Tbsp pure maple syrup, divided (Mix it up! For a more tangy salad, try Sigona's Maple Balsamic)
Salt and black pepper, to taste
About 4 cups semi-packed spinach, chopped
Half a Granny Smith apple, halved, cored and diced
1 cup glazed pecans (look for them in Sigona's dried fruit & nut section)
One medallion Laura Chenel's cranberry cinnamon goat cheese (use all or half, as desired)
Directions: Preheat oven to 425°F. Lightly grease a rimmed baking sheet.
In a large bowl, toss the squash and onion wedges with 2 tablespoons olive oil and 1 tablespoon maple syrup; season with salt and pepper. Dump the contents onto a prepared baking sheet and spread out in a single layer. Set the bowl aside to use again; no need to clean it out.
Roast the veggies, shaking the pan twice while cooking, for about 15 to 20 minutes or until squash is fork tender. Remove from oven; allow the onions to cool just a bit then dice them. Add the squash and onion back to the large bowl.
To the same bowl add the chopped spinach, diced apple and pecans. Drizzle on remaining tablespoon of oil and syrup, season with salt and pepper and toss well to incorporate and coat all ingredients.
To serve, with transfer salad to a serving dish or divide among individual salad plates. Top with several teaspoon-sized dollops of the cranberry cinnamon goat cheese, as much as your heart desires!