Recipe Roundup: Sigona's Garlic Olive Oil
Sigona's Garlic Oil is a top-seller, as you might have guessed. Using the oil to cook, or simply to finish a dish, adds an incredible amount of delicious, herbaceous flavor. Here are a few recipes suggestions: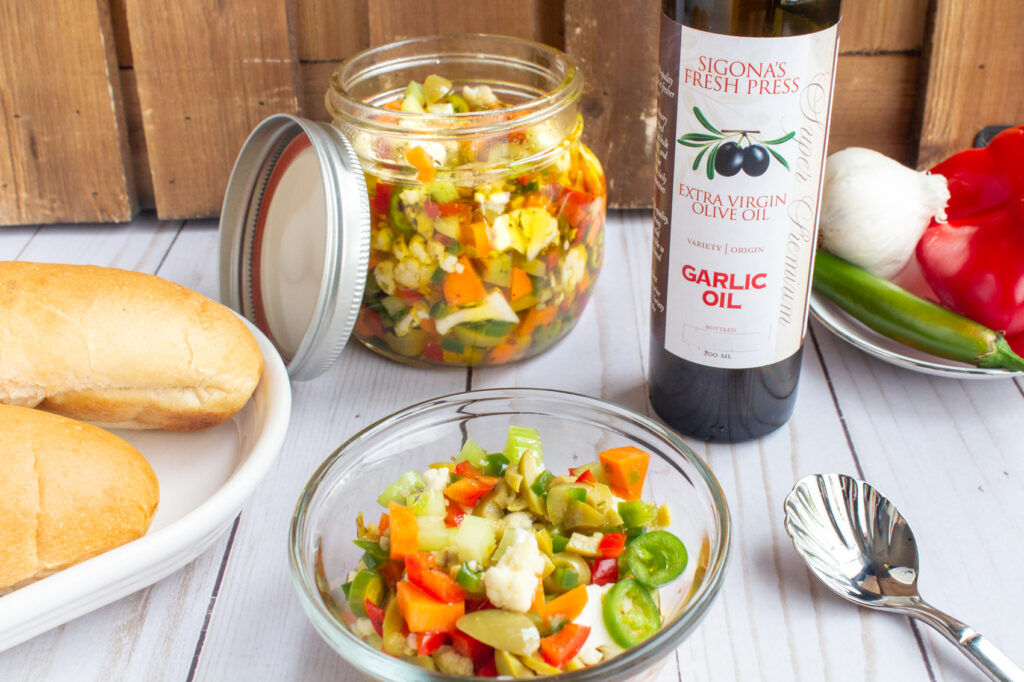 Chicago-Style Giardiniera with Sigona's Garlic Oil
This spicy, crunchy, flavorful, marinated condiment is a favorite among those from Chicago and Italy alike. Use it to top your Italian beef sandwiches, a hot dog, burgers…the list goes on and on! The biggest difference between Chicago-style and Italian giardiniera is the brine and marinade; Chicago-style is made with a mix of oil and vinegar, while Italian uses vinegar only. We love using our Garlic Olive Oil to add an extra layer of flavor – just note that olive oil congeals (becomes firm) when refrigerated, so allow the giardiniera to come to room temperature for about 30 minutes before serving so the oil becomes a liquid again. Makes about 3 to 4 cups.
Ingredients:
1 cup diced cauliflower
1 cup diced, peeled carrots
1 cup diced celery
1/2 a red bell pepper, seeded and diced
1 jalapeño, diced
2 to 4 serrano peppers, diced
1 garlic clove
3 Tbsp salt
2 cups water
1/2 cup rough chopped green olives
2 cups Sigona's Garlic Olive Oil
1 tbsp. dried oregano
Directions: Place the prepared cauliflower, carrots, celery, peppers and garlic in a medium bowl. In a separate bowl, whisk together the salt and water until salt is dissolved. Pour over the veggies; cover and allow to sit in the fridge for at least 24 hours.
Drain the vegetable mixture and return to the bowl; stir in the chopped olives. Transfer the mixture, if desired, to a quart jar. In a separate bowl or measuring cup, stir together the garlic oil and oregano. Pour the veggies; cover and refrigerate.
Allow the mixture to marinate at least 24 hours before enjoying. Remember, olive oil congeals when refrigerated, so allow the giardiniera to sit at room temperature for 30 minutes before serving.
---
Romano Beans with Burrata, Roasted Eggplant, Fresh Basil and Sigona's Garlic Oil
The flavors of the roasted eggplant with the crunch of the peppers and bright Romanos, combined with the briny burst of the capers, all paired with the creamy burrata — a semi-soft Italian cheese made from fresh mozzarella and cream — is almost too amazing to detail. This is fantastic when paired with toasted naan bread or as a side to roasted meat. Adapted from The New York Times. Serves 4 to 6.
Ingredients:
One large eggplant, about 1 ¼pounds, diced into 1-inch pieces
Kosher salt, to taste, plus more for cooking beans
2/3cup Sigona's Fresh Press Garlic Oil, more as needed for drizzling
About 3/4 cup cherry tomatoes, halved
3/4 cup sweet mini peppers, about 5 or 6 peppers, halved, seeded and chopped
1pound Romano beans, sliced on the bias into 1- to 2-inch pieces; ends discarded
1Tbsp capers, drained
1/4cup torn fresh basil
2 red wine vinegar
Sea salt, to taste
Black pepper, to taste
8 ball of burrata, such as Belgioioso
Warmed or toasted naan bread, for serving
Directions: Preheat oven to 450°F.
Place the diced eggplant in a colander and set in the sink. Sprinkle with about 1/2 teaspoon salt and let stand for 20 minutes, tossing occasionally.
Dump eggplant out onto a clean kitchen towel. Pat the pieces dry; if quite damp, wrap the eggplant in the towel and squeeze out as much liquid as possible.
On a rimmed baking sheet, two if necessary, toss eggplant with 1/3 cup garlic olive oil and spread out in a single layer so no pieces are touching. Place in the oven to roast, flipping twice, until pieces are golden brown and skin has crisped slightly, about 20 minutes.
Meanwhile, bring a large pot of salted water to a boil; add the Romano beans and cook for 3 to 6 minutes until just tender. Drain well and immediately pop into an ice bath. Once cooled to the touch, slice the beans at an angle into 1-inch pieces and place in a large bowl with the tomatoes, peppers and 3 tablespoons garlic olive oil.
Add roasted eggplant and 2 more tablespoons garlic oil to the bowl; stir to combine. Add the capers, basil and vinegar. Season with salt and pepper, to taste.
When ready to serve, set the ball of burrata in the center of a large serving dish. Scoop the salad into a ring around the cheese and drizzle the whole dish with a little more garlic olive oil. Slice open the burrata and serve the dish with warm or toasted naan bread. Spread some of the burrata on the naan and top with the vegetables. Pair with a pinot noir, Syrah or Chianti.
---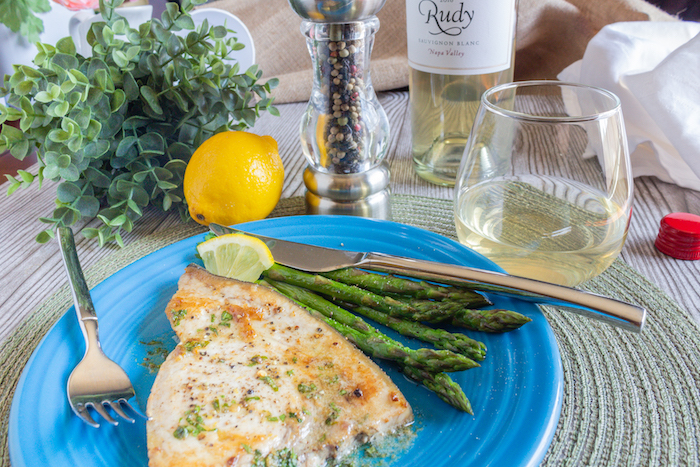 Pan-Seared Swordfish with a Peppercorn & Lemon-Herb Butter Sauce
Swordfish is sometimes said to be the steak of the sea, so why not cook it like one? Giving the swordfish a good sear and allowing it to finish in the oven allows for even cooking and leaves the skillet with a fantastic base with which to make a quick finishing sauce. Inspired by Bon Appetit. Serves 2.
Ingredients:
2 Tbsp butter, at room temperature
1 scant Tbsp chopped fresh parsley
About 1/2 tsp coarsely ground mixed peppercorns, plus more for seasoning
Zest from half a lemon
Salt, to taste
2 Tbsp Sigona's Garlic Oil
2 Swordfish steaks
Lemon wedges, for serving
Directions: Allow the fish to sit out at room temperature for at least 25 minutes before cooking.
Preheat oven to 400°F.
In a small bowl, mix together the butter, parsley ground peppercorns and lemon zest. Set aside.
Heat oil in a cast iron or heavy-bottomed, oven-proof skillet over medium-high heat. Lightly season the swordfish with salt and pepper, then add to the skillet. Sear on one side for 3 minutes then flip and immediately place in the oven (careful of the hot handle). Roast for about 7 to 9 minutes or until cooked through (internal temp should be at least 130-135°F).
Transfer swordfish individual serving plates and set aside. To the same skillet, add the peppercorn butter mixture. Scrape up any brown bits from the bottom of the skillet as the butter melts (add low heat if necessary, but pan should still be hot).
To serve, drizzle the butter over the swordfish and serve immediately. Offer a lemon wedge on the side.
---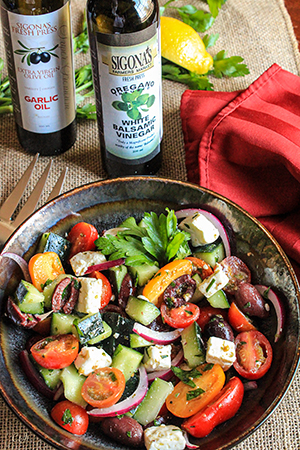 Greek Salad with Baby Heirloom Tomatoes and an Oregano Balsamic Vinaigrette
If you're looking for a way to make this dish vegan friendly or simply to cut out the dairy, try adding cubed tofu. The tofu adds the same richness that feta lends this dish, and also adds extra protein. Adapted from Bobby Flay Fit. Serves 4 to 6.
Ingredients:
4 to 6 oz. block feta, cubed, or firm tofu, drained and pressed (**see notes below)
1 cucumber, seeded and diced
1 pint locally grown, organic, baby heirloom tomatoes, halved
1/4 to 1/2 red onion, thinly sliced
1/3 cup halved kalamata olives
2 Tbsp fresh lemon juice
2 Tbsp Sigona's Garlic Oil
2 Tbsp chopped fresh parsley, plus more for garnish
Salt and pepper, to taste
**Tofu has a high water content so it needs to be drained well. Firm tofu benefits from being placed on an absorbent surface to release more of its moisture for a minimum of 10 minutes before being used, particularly if being cooked. For this recipe, because it is not being cooked, we recommend draining the water from the package then placing the tofu on an absorbent surface, such as layered paper towels or a dish towel, and placing another plate on top, weighing it down with heavy cans. This adds pressure and assists with draining. Allow to drain this way in the refrigerator for at least 2 hours before slicing.
Directions: In a large bowl toss together cucumber, tomatoes, onion and olives.
In another large bowl, whisk together the lemon juice, garlic oil, oregano balsamic, parsley, salt and pepper. Cube the feta or tofu. Add the pieces to the vinaigrette and gently toss to coat. Allow the cubes to marinate about 5 minutes.
Add the vinaigrette mixture to the large bowl and gently mix all ingredients together. Allow the salad to sit at room temperature for at least 20 minutes before serving, gently stirring up juices from the bottom at least every 5 minutes.
Top with remaining parsley just before serving.
---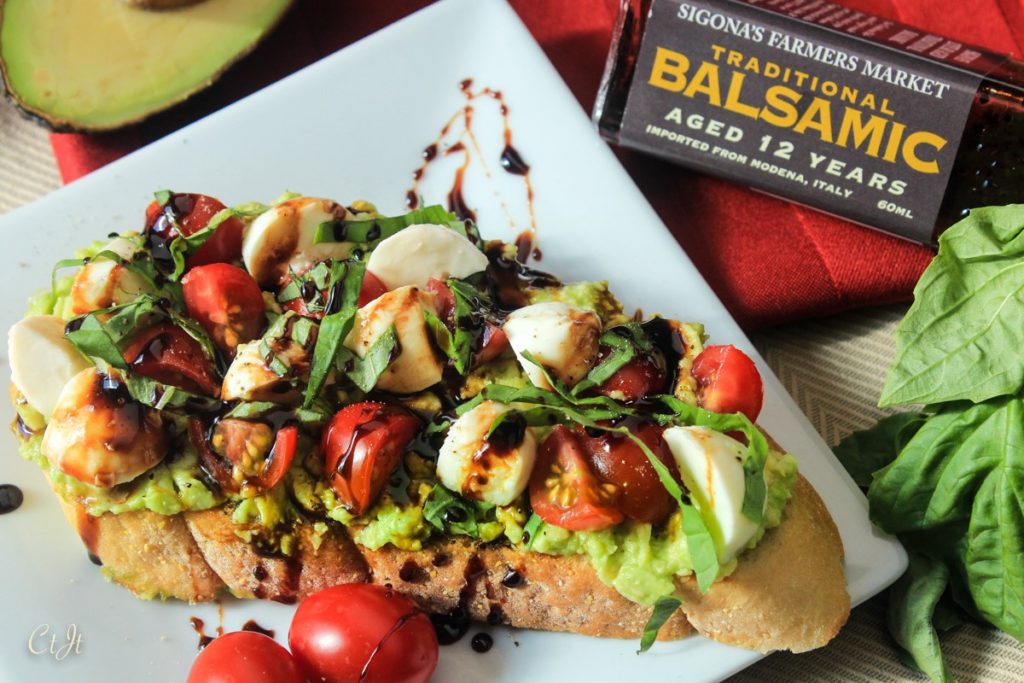 Avocado Toast a la Caprese with a Balsamic Reduction
It may seem basic, but it remains best. Creamy avocado, fresh mozzarella, bright tomatoes and herbaceous basil drizzled with a sticky-sweet balsamic reduction. Heaven on toast. Serves 1.
What you need per serving:
1 slice of bread, your choice
Sigona's Garlic Oil, for brushing (Mix it up! Try Sigona's Basil Oil or Sigona's Tuscan Herb Oil.)
1/2 to 1 Pee Wee avocado
About 1 tsp. fresh lemon juice
Salt and black pepper, to taste
2 to 3 balls of Buf Creamery Mozzarella di Bufala Ciliegine
2 to 3 cherry or grape tomatoes, quartered
2 large basil leaves, thinly sliced or torn
Variations: Add crumbled bacon, use slices of large tomatoes and fresh mozzarella, incorporate slices of roasted beets, top with microgreens, use heirloom tomatoes
Directions: Add the balsamic to a small saucepan and bring to a boil over medium-high heat. Once boiling, reduce heat to a simmer and cook, stirring occasionally, for about 5 to 10 minutes or until the balsamic has reduced by about half. Remove from heat and allow to cool for about 7 to 10 minutes.
Depending on the bread you use, either toast the slice in a toaster or on the stove top using a grill pan. If using a grill pan, preheat the pan over high heat. Lightly brush both sides of your bread with olive oil; toast the bread for one minute per side. Set aside.
Slice open an avocado and scoop out the fruit into a bowl, discarding the pit and skin. Add lemon juice and a pinch of salt and pepper. Mash the mixture with a fork, leaving it as chunky or as smooth as desired. Set aside.
When ready to serve, spread the avocado mix on one side of the slice of toast. Top the avocado toast with the quartered mozzarella and tomatoes, season with salt and pepper and then top with the sliced basil.
Drizzle the entire toast with the balsamic reduction. Serve immediately.
---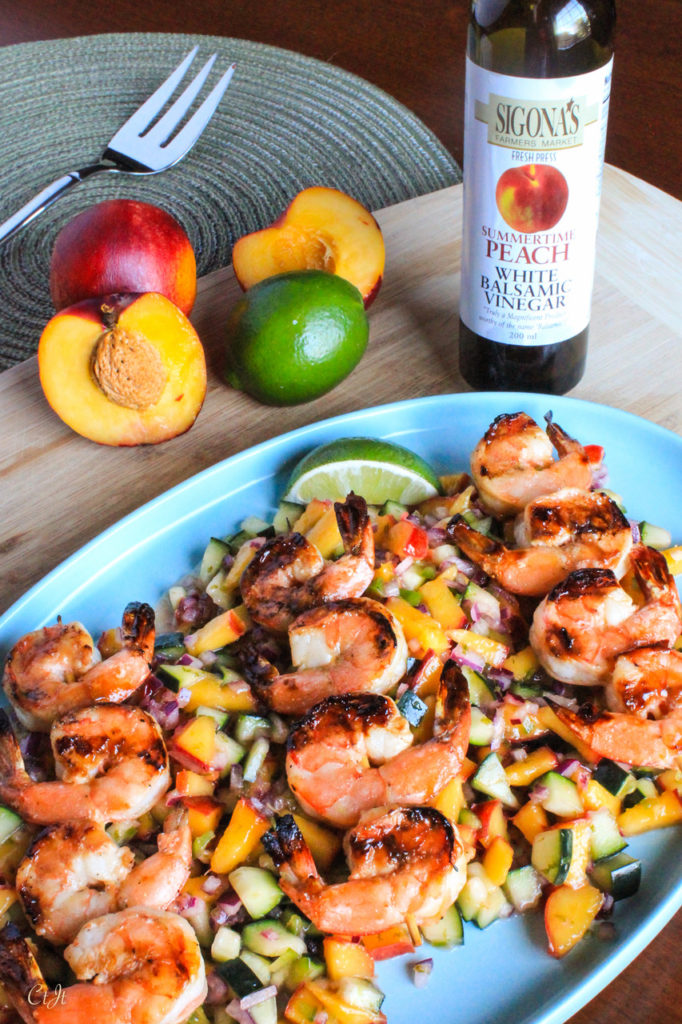 Summertime Peach & Garlic Grilled Shrimp with Nectarine, Cucumber & Lime Chop Salad
Fresh, fruits, grilled shrimp and Sigona's Summertime Peach White Balsamic just scream summer. The shrimp take on fantastic flavor from the marinade and pair delightfully with the fresh flavors of the chop salad. Serves 2 to 4.
Chop Salad:
2 nectarines, diced
Half an English cucumber, halved, seeded and diced
1/4 cup diced red onion
1 to 2 Tbsp minced jalapeno, to taste
Zest and juice of 1 lime, about 1 to 2 Tbsp juice, or to taste
1 1/2 tsp. Sigona's Garlic Oil
Salt, to taste
Shrimp:
16 jumbo/extra jumbo raw shrimp, 16-20 ct. (about 6 to 8 oz. total), deveined and shelled
3 Tbsp Sigona's Garlic Oil
Salt and pepper, to taste
Special Equipment:
4 skewers (if wooden, soak in water for at least 10 minutes before use)
Directions: Begin by preparing the salad to give it time to sit and allow the flavors to meld. In a medium bowl, gently stir together all the ingredients, starting with just a pinch or two of salt. Stir occasionally, while preparing and marinating shrimp; adjust seasoning as needed.
In a medium zip-top bag, mix together the balsamic and oil. Season lightly with salt and pepper then add the shrimp. Allow to marinate in the fridge, flipping the bag every now and then, for no more than 30 minutes or the balsamic will begin to cook the shrimp.
Remove shrimp from marinade and thread onto the skewers. Grill the shrimp skewers on an indoor grill pan or outdoor grill over medium-high heat for 1 to 2 minutes a side, flipping once, until the exterior is pink, tails are reddened and the flesh is slightly opaque. Remove from grill and set aside.
Stir the salad and transfer to a serving platter. Place grilled shrimp skewers atop the salad and serve.
---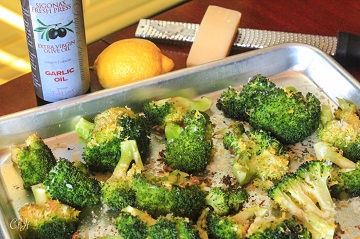 Garlic Roasted Broccoli with Parmigiano Reggiano and Lemon Zest
Looking for an alternative to steamed broccoli? Try this simple, flavorful oven-roasted version that comes together in just about the same amount of time as steaming. Serves about 6 as a side.
Ingredients:
1 head organic broccoli, cut into florets (leave some of the stem length, it's just as edible as the top)
3 Tbsp. Sigona's Garlic Oil
2 Tbsp. freshly grated Parmigiano Reggiano
Zest of 1 lemon
Kosher salt and pepper, to taste
Directions: Preheat oven to 400°F.
On a rimmed baking sheet, toss the broccoli with the garlic oil. Spread broccoli out in a single layer and bake for 15 to 20 minutes total, shaking the pan about half way through.
Immediately after removing the broccoli from the oven, sprinkle on the cheese, lemon zest, salt and pepper; toss well to coat. Serve warm.
---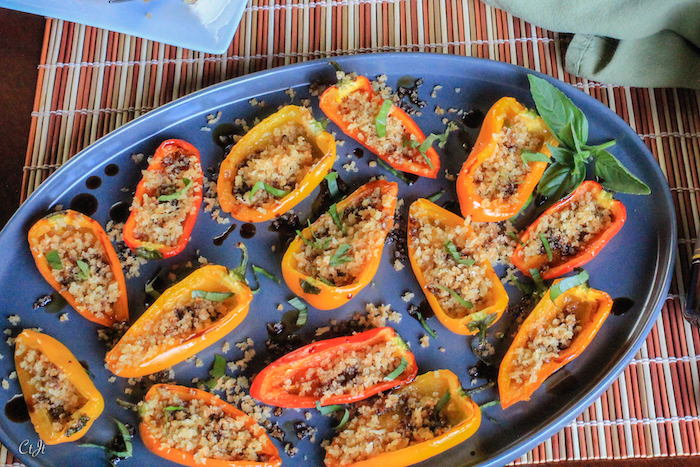 Garlic Roasted Mini Peppers with Toasted Panko and 12-Year-Aged Balsamic
This appetizer will satisfy your desire for something with crunch in a healthier way than chips! Roasting the peppers in oil helps infuse them with flavor as they soften, and the seasoned, toasted panko is simply perfection. Drizzled with our sweet, syrupy 12-year-aged balsamic, this appetizer is sure to impress. Inspired by Bobby Flay Fit. Serves 8 to 10.
Peppers:
About 10 to 12 mini sweet peppers, halved lengthwise and seeded
1 Tbsp Sigona's Garlic Oil
Panko:
2 Tbsp Sigona's Garlic Oil
1 tsp dried basil or other mixed herbed pasta sprinkle
1/2 cup panko, gluten-free or regular
Salt and pepper, to taste
Topping:
Sigona's 12-Year-Aged Traditional Balsamic
Chopped fresh basil
Directions: Preheat oven to 425ºF.
Toss the prepared peppers in a bowl with one tablespoon olive oil then spread out in an even layer, cut-side up, on a foil-lined baking sheet. Roast for 7 to 10 mins or until they're softened yet maintain their shape. The bottom sides will have browned a bit. Transfer to a serving tray, cut-side up, and set aside.
Heat 2 tablespoons olive oil in a medium skillet over medium to medium-high heat. Add the panko, salt and pepper. Toast, stirring constantly, until golden brown, about 2 to 3 minutes, being careful that it doesn't burn. Check seasoning, adjust as necessary. Transfer to a bowl or plate and set aside.
Add a spoonful of the toasted panko to the bowl of each pepper half on the serving tray. Just before serving, drizzle the dish with a couple tablespoons of balsamic and sprinkle with chopped basil.
---
Grilled Artichokes with Garlic Aioli || Whole30 & Paleo
Who says you can't indulge a bit when eating Paleo or doing Whole30? Making your own aioli is a snap and it's absolutely delicious. Basting and grilling artichokes imparts a flavor you simply can't get by boiling or steaming. These are great for an appetizer or side. Use what remains to dress up other foods and add a little more flavor. Serves 2 to 4.
Basting Mixture:
1/4 cup Sigona's Meyer Lemon Fusion Olive Oil
1 tsp fresh lemon juice
1 to 2 cloves garlic, minced
Salt and pepper, to taste
Artichokes:
2 artichokes
Juice of half a lemon
Garlic Aioli:
1 egg
1 Tbsp fresh lemon juice
1 to 2 cloves garlic, to taste
1/2 tsp Dijon
1/2 cup Sigona's Garlic Oil
Salt, to taste
For the baste: Whisk together the oil, lemon juice, garlic, salt and pepper. Set aside.
For the artichokes: Fill a large pot about half way with water. Add the lemon juice and set over high heat to bring to a boil.
Peel off at least two layers of the outermost leaves from the artichoke and trim the stem. Slice off the top inch, then use scissors to cut the sharp tips off the remaining leaves. Slice the artichokes in half then quickly add them to the boiling water to keep them from browning. Cover and boil for 10 – 15 minutes.
Meanwhile, heat an outdoor grill to medium-high.
Use tongs to remove the artichokes from the water. With a spoon or melon baller, scoop out the fuzzy choke. Brush the artichokes with the basting mixture. Place the artichokes cut-side down on the grill and cook for 10 minutes or until the artichoke halves have nice, slightly charred grill marks.
For the aioli: Add the egg, lemon juice, 1 clove garlic and Dijon to the bowl of a food processor or the pitcher of a blender. Run for about 30 seconds to combine the ingredients.
With the blade running, slowly (very, very slowly), drizzle in the olive oil so the mixture emulsifies and becomes thick and creamy. Taste; add in additional garlic clove, if desired. Season with salt and pepper to taste. Transfer to a small bowl and chill until ready to serve.
---
Creamy Garlic-Balsamic Dipping Sauce for Artichokes
Our Sigona's garlic oil gives this dip a nice subtle garlic flavor without adding bits of garlic to the dip. Enjoy!
Ingredients:
2 tsp Dijon mustard
1 Tbsp water
Salt and pepper, to taste
Directions: Whisk together balsamic, garlic oil, Dijon mustard and 1 tablespoon water in a small bowl. Season with salt and pepper to taste. Serve vinaigrette with steamed artichokes.
---
Baby Bok Choy and Spicy Shrimp with Garlic Oil
To make this a heartier meal, serve the baby bok choy and shrimp over pasta or alongside steamed rice. Inspired by Every Day Rachael Ray. Serves 2 to 4.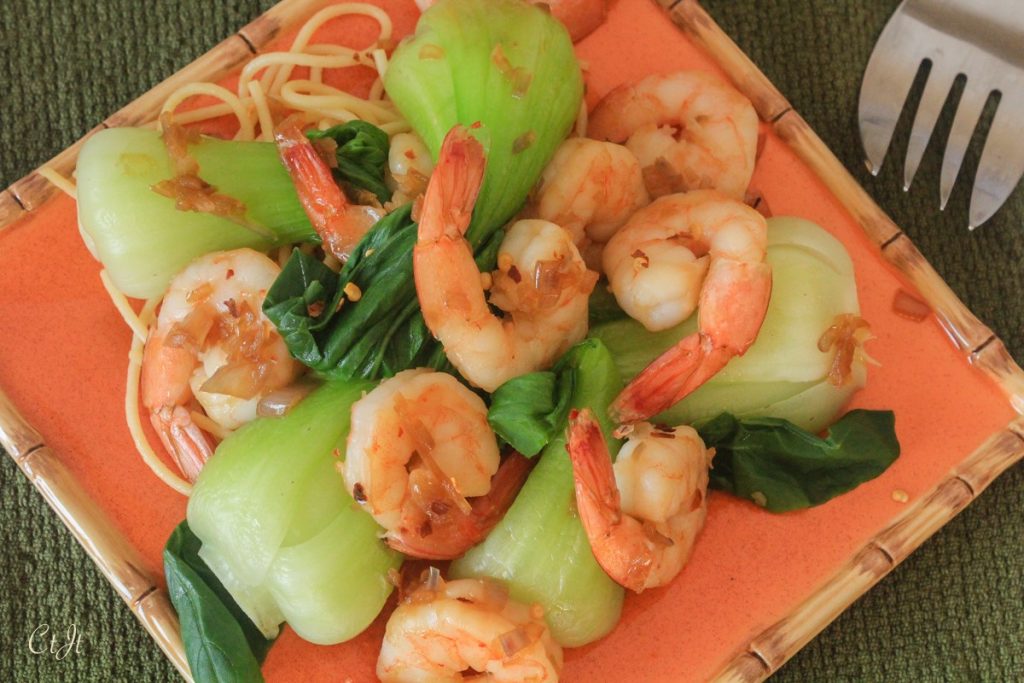 Ingredients:
3 baby bok choy, rinsed and sliced lengthwise
3 Tbsp. Sigona's Garlic Oil
1 shallot, diced
A pinch or two red pepper flakes
Salt and pepper, to taste
3 Tbsp. soy sauce
About 15 to 20 raw, large shrimp, deveined, tail on
Directions: Bring about 2 inches of water to a boil in a large pot. Add the sliced baby bok choy and cook for 1 minute. Drain and rinse with cold water. Lay bok choy sliced-side-down on paper towels; set aside.
Heat garlic oil in a large skillet over medium-high. Add the shallot and red pepper flakes; season with salt and pepper. Cook, stirring, until shallot has softened, about 2 minutes.
Add the soy sauce and shrimp to the skillet. Cook, stirring frequently, until shrimp are opaque, about 2 minutes. Add the bok choy and gently stir to incorporate. Cook about 2 minutes or until bok choy is heated through.
Transfer to a serving dish and serve immediately.