Last of the Season: Local Heirloom Artichokes
Grilled Artichokes with Garlic Aioli || Whole30 & Paleo
Who says you can't indulge a bit when eating Paleo or doing Whole30? Making your own aioli is a snap and it's absolutely delicious. Basting and grilling artichokes imparts a flavor you simply can't get by boiling or steaming. These are great for an appetizer or side. Use what remains to dress up other foods and add a little more flavor. Serves 2 to 4.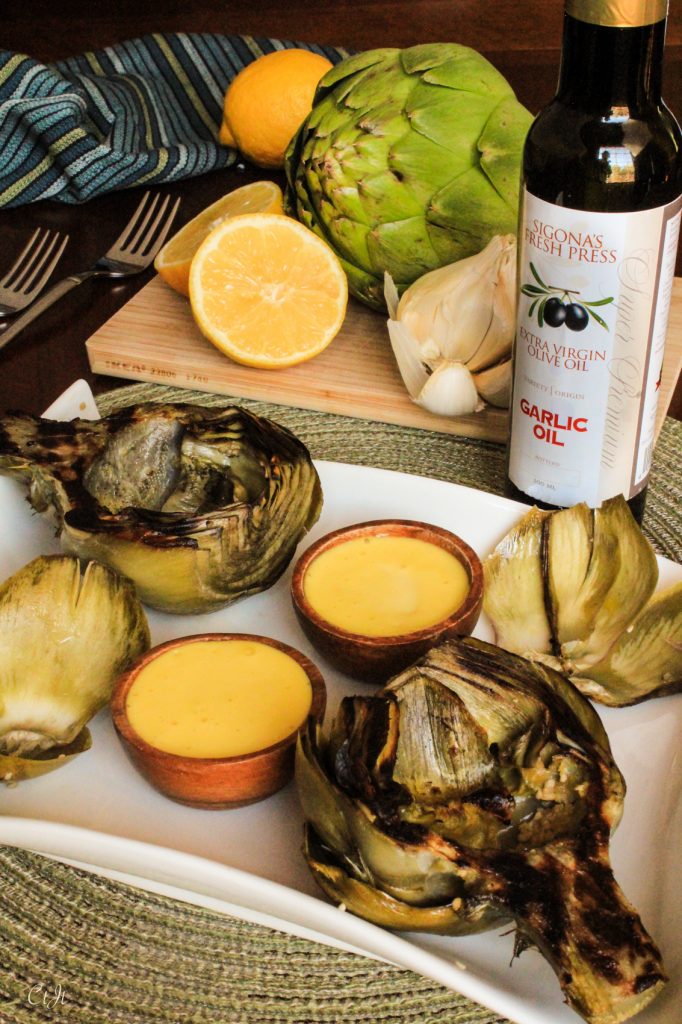 Basting Mixture:
1/4 cup Sigona's Meyer Lemon Fusion Olive Oil
1 tsp fresh lemon juice
1 to 2 cloves garlic, minced
Salt and pepper, to taste
Artichokes:
2 artichokes
Juice of half a lemon
Garlic Aioli:
1 egg
1 Tbsp fresh lemon juice
1 to 2 cloves garlic, to taste
1/2 tsp Dijon
1/2 cup Sigona's Garlic Oil
Salt, to taste
For the baste: Whisk together the oil, lemon juice, garlic, salt and pepper. Set aside.
For the artichokes: Fill a large pot about half way with water. Add the lemon juice and set over high heat to bring to a boil.
Peel off at least two layers of the outermost leaves from the artichoke and trim the stem. Slice off the top inch, then use scissors to cut the sharp tips off the remaining leaves. Slice the artichokes in half then quickly add them to the boiling water to keep them from browning. Cover and boil for 10 – 15 minutes.
Meanwhile, heat an outdoor grill to medium-high.
Use tongs to remove the artichokes from the water. With a spoon or melon baller, scoop out the fuzzy choke. Brush the artichokes with the basting mixture. Place the artichokes cut-side down on the grill and cook for 10 minutes or until the artichoke halves have nice, slightly charred grill marks.
For the aioli: Add the egg, lemon juice, 1 clove garlic and Dijon to the bowl of a food processor or the pitcher of a blender. Run for about 30 seconds to combine the ingredients.
With the blade running, slowly (very, very slowly), drizzle in the olive oil so the mixture emulsifies and becomes thick and creamy. Taste; add in additional garlic clove, if desired. Season with salt and pepper to taste. Transfer to a small bowl and chill until ready to serve.