Roasted, Balsamic-Glazed Bosc Pears with Rosemary and Burrata
Roasted, Balsamic-Glazed Bosc Pears with Rosemary and Burrata
When fruit cooks, its natural sugars become caramelized, creating a rich, almost brown-sugar like flavor. The delicate flavor of pears, combined with their caramelized sugars, the savory rosemary and the sweet tang of the balsamic is absolutely delicious served with creamy, slightly salty burrata. This dish is nice as an appetizer or dessert. Serves 4.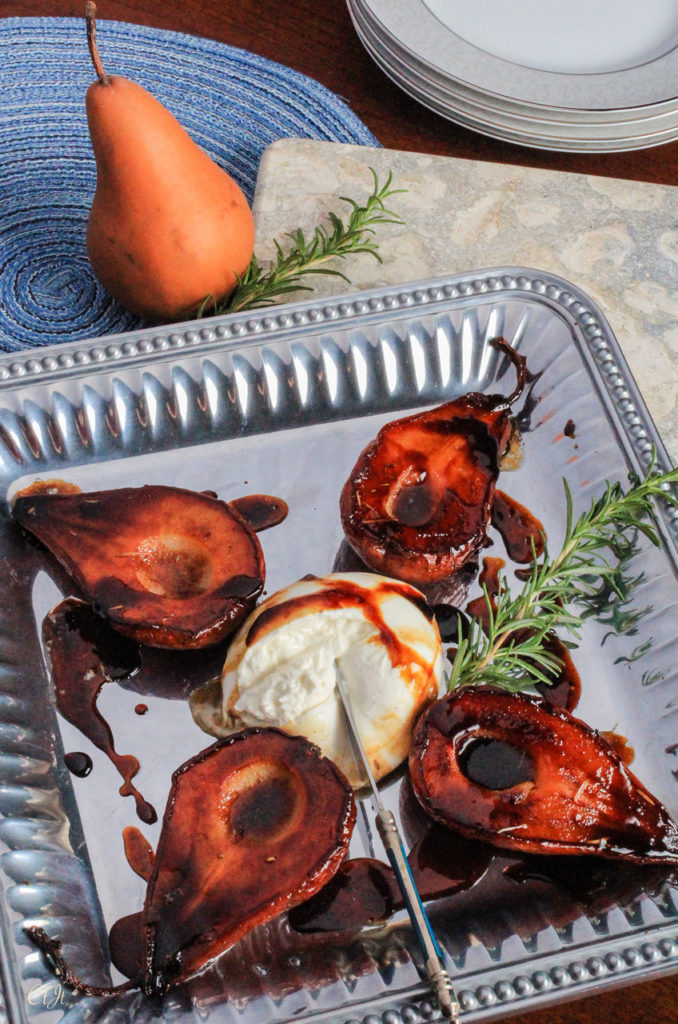 Ingredients:
2 firm Bosc pears, halved and cored
2 tsp butter or cooking oil of preference
1 tsp dried rosemary or 1 sprig fresh rosemary, plus more for garnish (you can use other herbs here, such as thyme)
1 (4oz) ball burrata

Directions: Preheat oven to 400 F. Melt butter or preferred cooking oil in a heavy-bottomed, oven-safe sauté pan or cast-iron skillet over medium-high heat. Once hot, add the pears, cut-side down; sauté for about 2 minutes or until they begin to brown and caramelize. Add the rosemary to the pan then place the pan in the oven.
Roast for 20 minutes. Use an oven mitt to remove the pan from the oven. Drizzle the balsamic over the pears and return to the oven to roast another 5 minutes. Carefully remove the pan, use tongs to flip the pears over and place on a serving dish. Use a spoon to drizzle the balsamic, which will have reduced a little, over the pears. Plate the ball of burrata amongst the pears, drizzle with a little of the balsamic, if desired, and serve warm.