Recipe Roundup: Sigona's 12-year aged Condimento Tradizionale Balsamic
Sigona's 12-year aged Condimento Tradizionale Balsamic is produced and aged according to standards of the traditional methods. Our balsamic comes from the cooked grape must of the Trebbiano grape grown around the hills of Modena, Italy. It has been aged for 12 years  in a series of wooden barrels. The result is a rich, dark-brown liquid that has a sweet, multi-layered taste and a syrup-like consistency.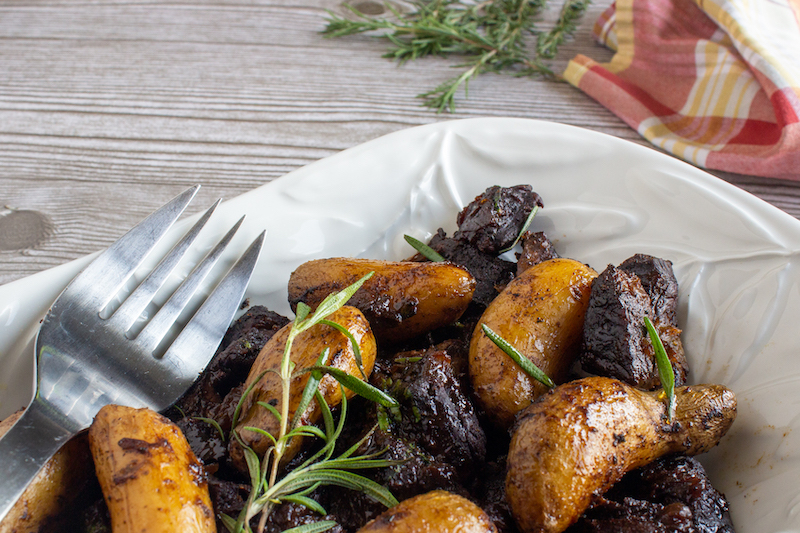 Braised Lamb with Fingerling Potatoes
The key here is low and slow – you'll have it in the oven for about 3 hours – so the lamb is tender and has absorbed all the flavor from the liquid, which includes fresh herbs and our very own balsamic, giving the dish a deep, rich flavor. Serve this with a glass of hearty red wine for a delicious meal. Serves about 6.
Ingredients:
2 lb. lamb stew meat
1 Tbsp kosher salt
1 tsp freshly ground black pepper
1 tsp paprika
2 Tbsp Sigona's Extra Virgin Olive Oil, divided
1 onion, chopped
1 1/2 cup chicken stock
2 tsp minced fresh rosemary, plus more for garnish
1/4 tsp cinnamon
At least 12 fingerling potatoes
Optional: 1 Tbsp fresh mint finely sliced (chiffonade)
1 Tbsp cold butter
Directions: Pat dry the stew meat. In a small bowl, mix together the salt, pepper and paprika. Toss the meat with the seasonings until well coated.
Heat 1 tablespoon olive oil in a large skillet or Dutch oven over high heat. Working in batches, if necessary, brown the meat on all sides, for about 2 minutes a side. Remove to a plate and keep warm.
Preheat oven to 275°F.
Reduce skillet heat to medium/medium-low. If necessary, add another tablespoon of olive oil, then add the onion. Cook, stirring frequently, until the onion is soft and slightly browned, about 5 to 7 minutes. Add the stock and the balsamic to deglaze the pan, scraping up any brown bits from the bottom. Increase heat to medium high and bring to a boil for 2 minutes. Remove from heat, stir in the rosemary and cinnamon, then add in the meat and place the potatoes on top.
Cover the dish with a lid or foil and place in the oven to braise for 1.5 hours. Remove from oven and use tongs to flip over the pieces of lamb. Recover the pan and return to oven to cook for another 1.5 hours. Remove lid and increase oven temp to 425°F; cook for 10 minutes or until the meat has a nice browned appearance on the top.
Leaving braising liquid in the skillet, remove lamb and potatoes to a serving dish and keep warm. Heat liquid over high until it has reduced by about half and has thickened a bit; spoon off any pools of fat, if desired. Reduce heat to low, add the optional mint and 1 Tbsp of cold butter. Turn off the heat and stir continuously until the butter is melted. Drizzle the sauce over the meat and potatoes, garnish with fresh rosemary and serve immediately.
---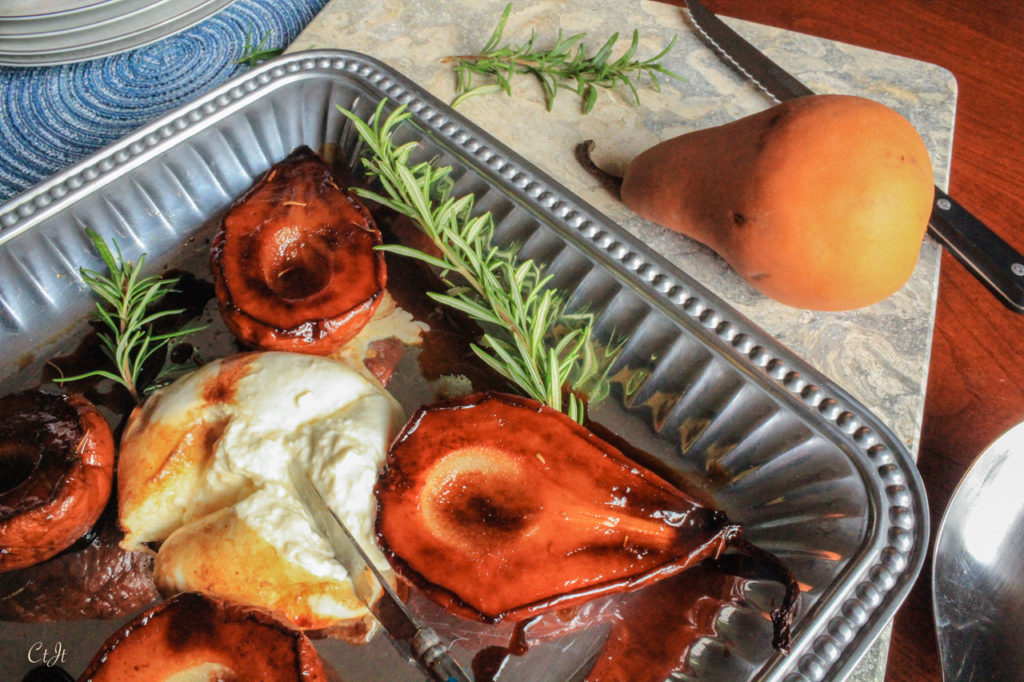 Roasted, Balsamic-Glazed Bosc Pears with Rosemary and Burrata
When fruit cooks, its natural sugars become caramelized, creating a rich, almost brown-sugar like flavor. The delicate flavor of pears, combined with their caramelized sugars, the savory rosemary and the sweet tang of the balsamic is absolutely delicious served with creamy, slightly salty burrata. This dish is nice as an appetizer or dessert. Serves 4.

Ingredients:
2 firm Bosc pears, halved and cored
2 tsp cooking oil of preference, such as butter or Sigona's Fresh Press extra virgin olive oil
1 tsp dried rosemary or 1 sprig fresh rosemary, plus more for garnish (you can use other herbs here, such as thyme)
1 (4oz) ball burrata

Directions: Preheat oven to 400 F. Melt butter or preferred cooking oil in a heavy-bottomed, oven-safe sauté pan or cast-iron skillet over medium-high heat. Once hot, add the pears, cut-side down; sauté for about 2 minutes or until they begin to brown and caramelize. Add the rosemary to the pan then place the pan in the oven.
Roast for 20 minutes. Use an oven mitt to remove the pan from the oven. Drizzle the balsamic over the pears and return to the oven to roast another 5 minutes. Carefully remove the pan, use tongs to flip the pears over and place on a serving dish. Use a spoon to drizzle the balsamic, which will have reduced a little, over the pears. Plate the ball of burrata amongst the pears, drizzle with a little of the balsamic, if desired, and serve warm.
---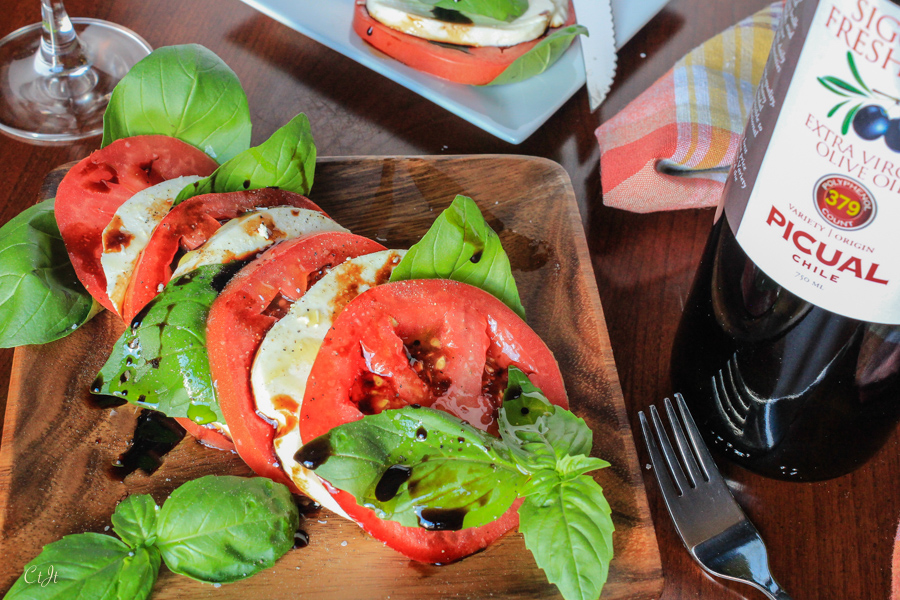 Traditional Caprese
Simple and delicious. You can't beat a traditional caprese. If you want to add more layers of flavor, experiment with our infused balsamics and olive oils. Serves 2 to 4.
What you need:
Directions: Working in a pattern, lay out the slices of tomato, basil and mozzarella in a way which suits your serving dish. Drizzle the ingredients with about 1 to 2 tablespoons olive oil and a couple teaspoons balsamic, to taste, if using. Sprinkle the dish with salt and pepper. Serve immediately.
---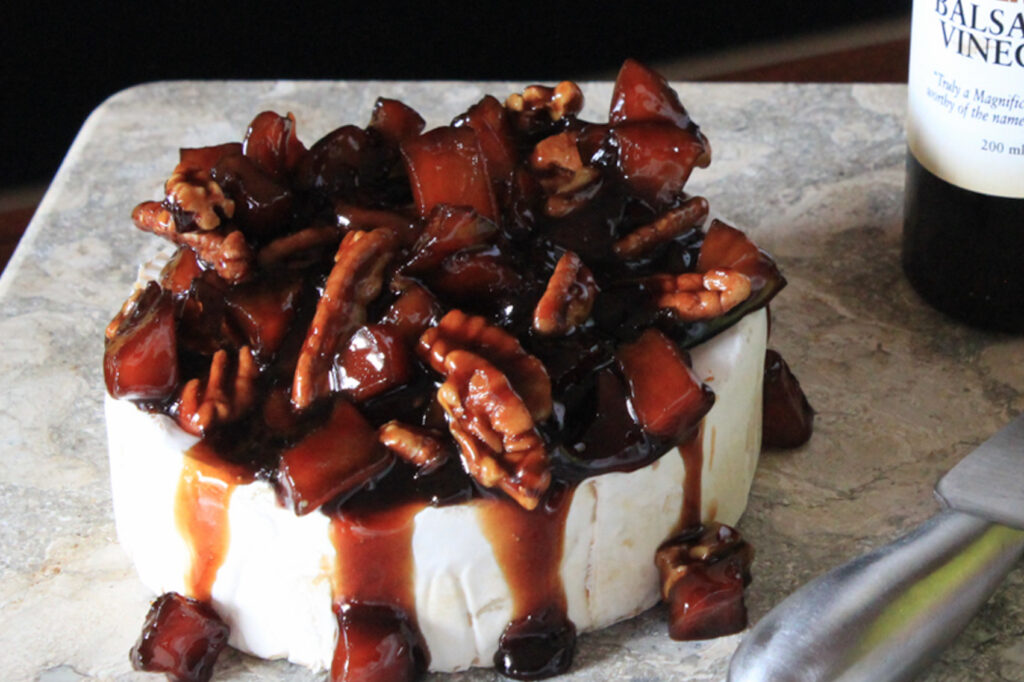 Warmed Brie with Caramelized Balsamic, Pear & Pecan Compote
Win over your holiday guests with this delicious Brie topper! It comes together in just minutes and is packed with sweet-spiced flavor. Double recipe for a larger round of Brie. Serves 4 to 6.
Ingredients:
2 green onions, white parts only, chopped
2 Tbsp Sigona's Fresh Press extra virgin olive oil
1 pear, peeled, cored and cut into 1/2-inch cubes
1/4 cup brown sugar, packed
1/2 cup apple juice or cider, such as Local heirloom apple juice from from Gizdich Ranch
1 round (8 oz.) Sigona's French double cream Brie
1/4 cup chopped pecans
Directions: Preheat oven to 350°F.
In a small saucepan, heat the olive oil over medium-high heat. Add the onions and cook, stirring, for 1 minute. Add the pear, sugar, juice and balsamic; stir as it comes to a boil. Reduce heat to medium and cook, stirring occasionally, until liquid is reduced to just a couple tablespoons and it has a thick, syrupy consistency, about 12 to 15 minutes. Transfer to a bowl to cool a bit while you warm the Brie.
Place Brie round on an oven-safe serving dish or tray and place in the oven to warm for about 8 minutes – the goal is not to melt the cheese, it's to simply soften it a bit so it's easier to slice and spread.
Meanwhile, stir the pecans into the caramelized sauce.
Once Brie is warmed, remove from oven and spoon the sauce over the Brie round. Serve immediately.
Suggested serving companions: Sliced, lightly toasted baguette, crackers, apple or crisp pear slices.
---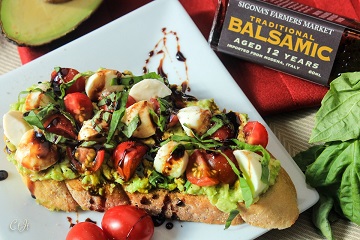 Avocado Toast a la Caprese with a Balsamic Reduction
It may seem basic, but it remains best. Creamy avocado, fresh mozzarella, bright tomatoes and herbaceous basil drizzled with a sticky-sweet balsamic reduction. Heaven on toast. Serves 1.
What you need per serving:
1 slice of bread, your choice
Sigona's Fresh Press extra virgin olive oil (Mix it up! Try our garlic, basil or Tuscan herb olive oils)
1/2 to 1 Hass avocado
About 1 tsp. fresh lemon juice
Salt and black pepper, to taste
2 to 3 balls of cherry-sized fresh mozzarella, such as Galbani Ciliegine, quartered
2 to 3 cherry or grape tomatoes, quartered
2 large basil leaves, thinly sliced or torn
Variations: Add crumbled bacon, use slices of large tomatoes and fresh mozzarella, incorporate slices of roasted beets, top with microgreens, use heirloom tomatoes
Directions: Add the balsamic to a small saucepan and bring to a boil over medium-high heat. Once boiling, reduce heat to a simmer and cook, stirring occasionally, for about 5 to 10 minutes or until the balsamic has reduced by about half. Remove from heat and allow to cool for about 7 to 10 minutes.
Depending on the bread you use, either toast the slice in a toaster or on the stove top using a grill pan. If using a grill pan, preheat the pan over high heat. Lightly brush both sides of your bread with olive oil; toast the bread for one minute per side. Set aside.
Slice open an avocado and scoop out the fruit into a bowl, discarding the pit and skin. Add lemon juice and a pinch of salt and pepper. Mash the mixture with a fork, leaving it as chunky or as smooth as desired. Set aside.
When ready to serve, spread the avocado mix on one side of the slice of toast. Top the avocado toast with the quartered mozzarella and tomatoes, season with salt and pepper and then top with the sliced basil.
Drizzle the entire toast with the balsamic reduction. Serve immediately.
---
Local Asparagus Tossed with a Sigona's Oil & Balsamic Vinaigrette
Simple, easy and, if I may, elegant. Asparagus cooks in a flash, so prepare this dish just as dinner is about ready. Even going back to Rome, the Emperor Augustus is said to have dispatched orders "to be done in less time than it takes to cook asparagus."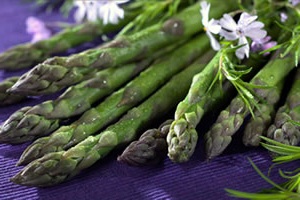 Ingredients:
1 bunch locally grown asparagus, ends trimmed and discarded
2 TBL Sigona's Fresh Press extra virgin olive oil (Mix it up: try our Herbes de Provence olive oil)
1 tsp Dijon mustard
Salt and pepper, to taste
Cook the asparagus one of two ways:
1). Place the asparagus in a steamer basket over boiling water. Cover and steam about 3 minutes or until the spears are bright green and tender, yet crisp.
2). In a large skillet, bring about 2 inches of salted water to a boil. Add asparagus to the pot in one layer and cook until tender-crisp, about 5 minutes. Drain.
Meanwhile, in a large bowl whisk together the balsamic, mustard, salt and pepper. Drizzle in the oil and whisk until the mixture is emulsified (thicker).
Toss the asparagus with the vinaigrette, transfer to a serving platter. This dish is good served warm or chilled.
---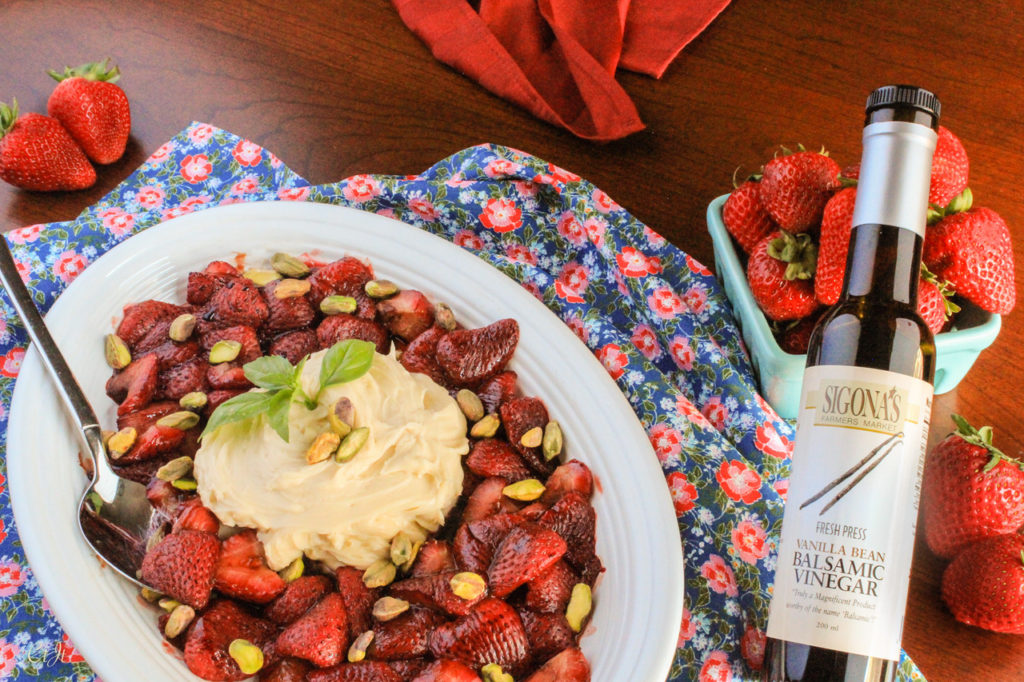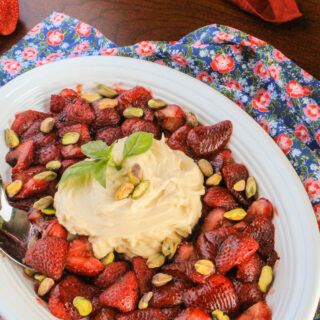 Balsamic-Roasted Strawberries with Pistachios and Honeyed Mascarpone
Roasted strawberries soften a little as their natural sugars caramelize, creating a flavor that is matched well by our balsamic, whose flavor also intensifies as it reduces in the oven. A scoop of honeyed mascarpone served with a spoonful of these balsamic-roasted strawberries makes for a lovely, easy dessert. Serves about 4 to 6.
Ingredients
Honeyed Mascarpone:
1

cup

mascarpone

1/4

cup

honey

such as local, raw & unfiltered orange blossom honey from Honey Hole Honey Co., available only at Sigona's

1/2

tsp

vanilla extract

optional
Optional garnishes:
1/2

cup

shelled

raw pistachios

Fresh basil or mint

julienned, depending on flavor preferences
Instructions
Preheat oven to 400°F. Line a rimmed baking sheet with parchment paper.

In a large bowl, toss the strawberries with the balsamic until well coated. Dump out the berries and balsamic onto the prepared baking sheet and spread out in a single layer. Roast for 12 to 15 minutes, shaking pan once.

Meanwhile, in a medium bowl, whip together the mascarpone and honey until well combined.

Serving options:

A). Scoop the mascarpone onto the center of a serving tray. Surround the mascarpone with the berries, top with pistachios and/or other desired garnish and serve.

B). Scoop a couple tablespoons of the mascarpone into individual serving dishes. Top each serving with some of the strawberries, finishing with desired garnish. Serve & enjoy!
Notes
Sigona's infused olive oils and balsamics are available in our markets and online at www.sigonas.com.
---
Creamy Garlic-Balsamic Dipping Sauce for Artichokes
Our Sigona's garlic oil gives this dip a nice subtle garlic flavor without adding bits of garlic to the dip. Enjoy!
Ingredients:
2 Tbsp Sigona's Fresh Press extra virgin olive oil (Mix it up! Try our garlic olive oil)
2 tsp Dijon mustard
1 Tbsp water
Salt and pepper, to taste
Directions: Whisk together balsamic, garlic oil, Dijon mustard and 1 tablespoon water in a small bowl. Season with salt and pepper to taste. Serve vinaigrette with steamed artichokes.
---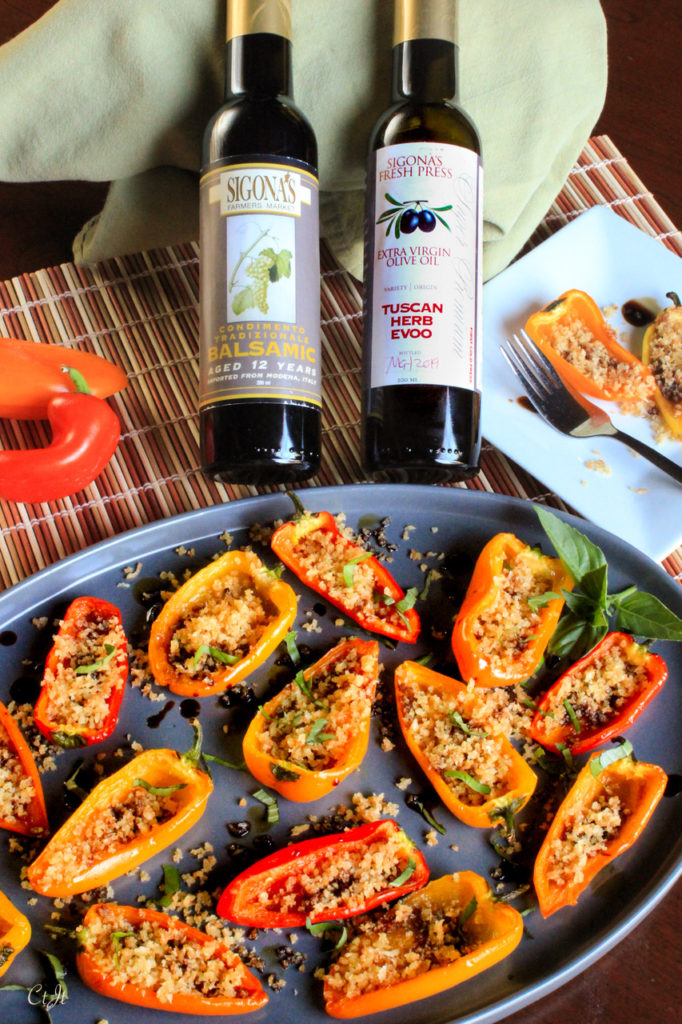 Roasted Mini Peppers with Tuscan Herb Toasted Panko and 12-Year-Aged Balsamic
This appetizer will satisfy your desire for something with crunch in a healthier way than chips! Roasting the peppers in Tuscan herb oil gives helps infuse them with flavor as they soften, and the seasoned, toasted panic is simply perfection. Drizzled with our sweet, syrupy 12-year-aged balsamic, this appetizer is sure to impress. Inspired by Bobby Flay Fit. Serves 8 to 10.
Peppers:
About 10 to 12 mini sweet peppers, halved lengthwise and seeded
1 Tbsp Sigona's Tuscan Herb olive oil
Panko:
2 Tbsp Sigona's Tuscan Herb olive oil
1 to 2 cloves garlic, minced
1/2 cup panko, gluten-free or regular
Salt and pepper, to taste
Topping:
Directions: Preheat oven to 425ºF.
Toss the prepared peppers in a bowl with one tablespoon olive oil then spread out in an even layer, cut-side up, on a foil-lined baking sheet. Roast for 7 to 10 mins or until they're softened yet maintain their shape. The bottom sides will have browned a bit. Transfer to a serving tray, cut-side up, and set aside.
Heat 2 tablespoons olive oil in a medium skillet over medium to medium-high heat. Add the garlic and cook until fragrant, about 30 seconds, then add the panko, salt and pepper. Toast, stirring constantly, until golden brown, about 2 to 3 minutes, being careful that it doesn't burn. Check seasoning, adjust as necessary. Transfer to a bowl or plate and set aside.
Add a spoonful of the toasted panko to the bowl of each pepper half on the serving tray. Just before serving, drizzle the dish with a couple tablespoons of balsamic and sprinkle with chopped basil.
---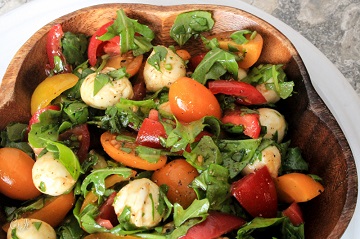 Chopped Caprese Salad with Arugula
Caprese is common in summer, and while we love a traditional caprese with basil, we thought we'd mix it up a bit by using arugula, small tomatoes and pearl mozzarella to make a chopped version of the classic. Serves about 4 as a side.
Ingredients:
1 1/2 cup roughly chopped arugula
About 2 cups halved grape tomatoes, such as a mixed medley for a variety of color
8 oz. Galbani fresh mozzarella, drained
Optional: 1/4 cup cooked, crumbled bacon
2 Tbsp. Sigona's Fresh Press extra virgin olive oil
Salt and pepper, to taste
Directions: In a large mixing bowl, toss together the chopped arugula, tomatoes, mozzarella and bacon, if using. Set aside.
In a small bowl, whisk together the olive oil, balsamic, salt and pepper. Drizzle nearly all of the oil mixture over the salad and toss to incorporate. Add the remaining vinaigrette if necessary. Serve immediately.
---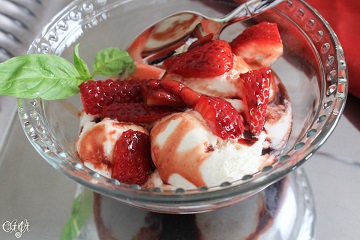 Sicilian-Style Local Strawberries in a Balsamic Reduction over Vanilla Bean Gelato
A good balsamic is already sweet due to the aging process, and our infused balsamics, such as the espresso, vanilla or strawberry balsamic, are the perfect combination of sweet & tangy. Serves 2.
Ingredients:
1 cup strawberries, stem removed, sliced
1 1/2 Tbsp. Sigona's 12-year aged Condimento Tradizionale Balsamic (Mix it up! Try our strawberry or espresso balsamic)
A generous scoop (or two!) of Massimo's Vanilla Bean Gelato (it's locally made in Watsonville)
Get fancy! Add a small sprig of mint or basil as garnish
Directions: Place the berries and balsamic into a saucepan and warm over medium heat. Bring it to a slow simmer; let reduce for only about a minute. The balsamic will continue to reduce from residual heat, so don't let it get too thick over direct heat.
Scoop gelato into two bowls and evenly pour the reduction directly over the top of each serving. Garnish with a mint sprig and serve.
---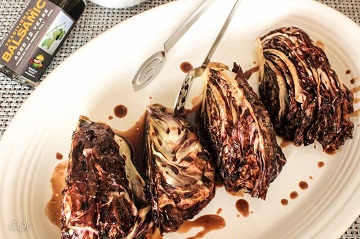 Roasted Radicchio Drizzled with Balsamic and Honey
When served raw, radicchio is quite bitter. Though it retains the majority of its bitter bite when cooked, the flavor of radicchio mellows when roasted as the process brings out some of its natural, subtle sweetness while the sugars caramelize in the oven. We've combined our 12-year aged balsamic condimento tradizionale with local, raw honey to give this side an even sweeter presentation, while leaving enough of radicchio's natural bitter flavor for those who seek it. Roasted radicchio goes well with any roasted meat. Serves 4 as a side.
Ingredients:
1 head radicchio
About 2 Tbsp. Sigona's Fresh Press extra virgin olive oil
Kosher salt, for sprinkling
1 Tbsp. honey, such as wild sage honey from Honey Hole Honey Co., available only at Sigona's
Directions: Preheat oven to 400°F.
Quarter the head of radicchio so each quarter retains a piece of the core at the bottom; this will help keep the quarters intact.
Brush a sheet pan with a little olive oil, then brush each side of the radicchio quarters with oil, placing them on the sheet pan. Sprinkle radicchio with salt.
Roast radicchio for 15 to 20 minutes; the leaves will wilt a bit, the color will darken and the edges will brown. It's done when the core has become tender.
Meanwhile, whisk together the balsamic and honey in a small bowl. Set aside.
Using tongs, transfer the radicchio to a serving platter. Give the balsamic-honey mixture a final stir and then drizzle over the radicchio. Sprinkle with additional salt, if desired. Serve immediately.
---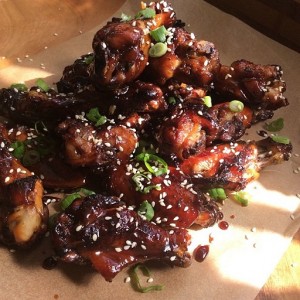 Balsamic Teriyaki Chicken Drumsticks
Photo courtesy of Luisa Ormonde Hancock
of Luisa's Catering in San Carlos
This recipe, from Luisa Ormonde Hancock of Luisa's Catering in San Carlos, is absolutely amazing. Marinating overnight gets the flavor deep into the drumsticks. You'll love them! The recipe is easy to double, if needed.
Marinade:
Chicken:
About 5-6 fresh chicken drumsticks
Balsamic Teriyaki Glaze:
5 TBL + 1 tsp. soy sauce
5 TBL + 1 tsp. Sigona's 12-year aged balsamic
1/4 cup brown sugar, firmly packed
1 TBL honey, such as our Honey Hole Honey Co.
1 garlic clove, grated or finely minced
1/2 tsp. grated fresh ginger
Garnish:
1-2 green onions, thinly sliced
2-3 tsp. toasted sesame seeds (see *note below)
For the Marinade: Combine all marinade ingredients in a large bowl. Add chicken and toss to coat. Keep in bowl and cover with plastic wrap or transfer to large zip-top freezer bag, squeeze out the air and seal. Refrigerate 8 hours or overnight.
Preheat oven to 375 degrees F. Remove chicken from marinade and shake off excess sauce. Place chicken pieces on lined baking sheet (parchment or lightly greased foil). Bake 20 minutes, flip and bake 15-20 more minutes to crisp the skin.
Meanwhile, make the Balsamic Teriyaki Glaze as the wings bake.
For the Balsamic Teriyaki Glaze: Combine soy sauce, balsamic, brown sugar and honey in a small saucepan. Gently boil, stirring occasionally, for 3 minutes, until it gets syrupy. Watch carefully, so it does not boil over or get too thick. Remove from heat, stir in garlic and ginger.
To Serve: Place baked chicken in large bowl, pour just enough glaze over to lightly coat and toss. Transfer to serving platter and garnish with green onions and toasted sesame seeds.
*Note: Use a dry saucepan or frying pan to toast the sesame seeds, stirring constantly over medium heat until golden. Any extra Balsamic Teriyaki Glaze may also be used as a finishing glaze for baked salmon, chicken or shrimp.