July Oil & Balsamic Sale: Must Try Recipes!
On sale this month we are featuring two summer stone fruit flavors of balsamic and one deliciously herbaceous olive oil:
Get in on these deals while you can! They're available in the store or online. Prices good through July 31, 2019.
---
Broiled Stone Fruit with Blenheim Apricot White Balsamic and Thyme over Vanilla Gelato with a Crumbled Cookie Topping
While stone fruits are perfect raw and out of hand, grilling or broiling them caramelizes their natural sugars, giving them a depth of flavor only heat and Mother Nature can create. Adding our Blenheim Apricot White Balsamic enhances the fruits syrupy-sweetness and will definitely please your summer dinner guests. Use any stone fruits you like; we think the color contrast of apricots and cherries is gorgeous. Plan for one apricot and 2 or three cherries per guest. Serves about 6.
What you need: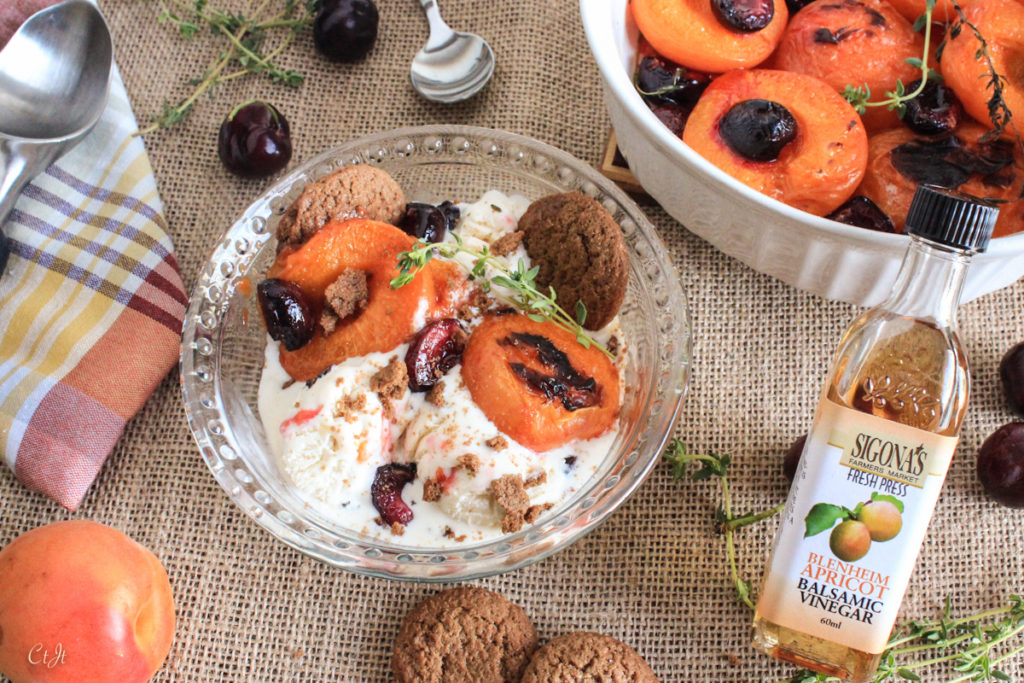 6 locally grown Blenheim apricots, halved and pitted
At least 12 to 18 cherries, halved and pitted
1/4 tsp. kosher salt
A few sprigs fresh thyme
About 12 gingersnap or amaretti cookies, half of them roughly crumbled or chopped
Vanilla bean gelato or ice cream
Directions: Preheat oven to 350°F.
In a large bowl whisk together the olive oil, balsamic and salt. Add the stone fruit and thyme, toss to coat. Transfer to a rimmed baking dish and bake for 15 to 20 minutes or until the juices are bubbling and the fruit has started to soften a little.
Place the fruit under a low broiler for about 5 to 7 minutes or until the fruit takes on a little brown color.
Scoop gelato or ice cream into six individual serving bowls. Add two apricot halves and a few cherry halves to each bowl. Finish each serving with one whole cookie and some cookie crumbles.
---
Summertime Peach & Garlic Grilled Shrimp with Nectarine, Cucumber & Lime Chop Salad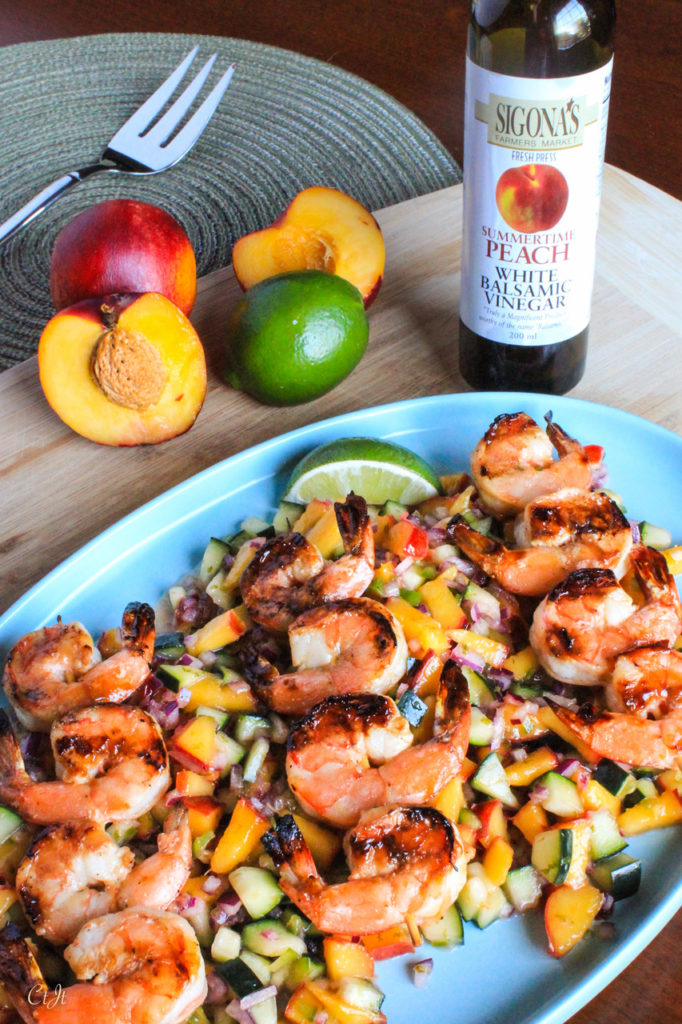 Fresh, fruits, grilled shrimp and Sigona's Summertime Peach White Balsamic just scream summer. The shrimp take on fantastic flavor from the marinade and pair delightfully with the fresh flavors of the chop salad. Serves 2 to 4.
2 nectarines, diced
Half an English cucumber, halved, seeded and diced
1/4 cup diced red onion
1 to 2 Tbsp minced jalapeno, to taste
Zest and juice of 1 lime, about 1 to 2 Tbsp juice, or to taste
1 1/2 tsp. Sigona's Garlic Oil
Salt, to taste
Chop Salad:
Shrimp:
16 jumbo/extra jumbo raw shrimp, 16-20 ct. (about 6 to 8 oz. total), deveined and shelled
3 Tbsp Sigona's Garlic Oil
Salt and pepper, to taste
Special Equipment:
4 skewers (if wooden, soak in water for at least 10 minutes before use)
Directions: Begin by preparing the salad to give it time to sit and allow the flavors to meld. In a medium bowl, gently stir together all the ingredients, starting with just a pinch or two of salt. Stir occasionally, while preparing and marinating shrimp; adjust seasoning as needed.
In a medium zip-top bag, mix together the balsamic and oil. Season lightly with salt and pepper then add the shrimp. Allow to marinate in the fridge, flipping the bag every now and then, for no more than 30 minutes or the balsamic will begin to cook the shrimp.
Remove shrimp from marinade and thread onto the skewers. Grill the shrimp skewers on an indoor grill pan or outdoor grill over medium-high heat for 1 to 2 minutes a side, flipping once, until the exterior is pink, tails are reddened and the flesh is slightly opaque. Remove from grill and set aside.
Stir the salad and transfer to a serving platter. Place grilled shrimp skewers atop the salad and serve.
---
Roasted Mini Peppers with Tuscan Herb Toasted Panko and 12-Year-Aged Balsamic
This appetizer will satisfy your desire for something with crunch in a healthier way than chips! Roasting the peppers in Tuscan herb oil gives helps infuse them with flavor as they soften, and the seasoned, toasted panic is simply perfection. Drizzled with our sweet, syrupy 12-year-aged balsamic, this appetizer is sure to impress. Inspired by Bobby Flay Fit. Serves 8 to 10.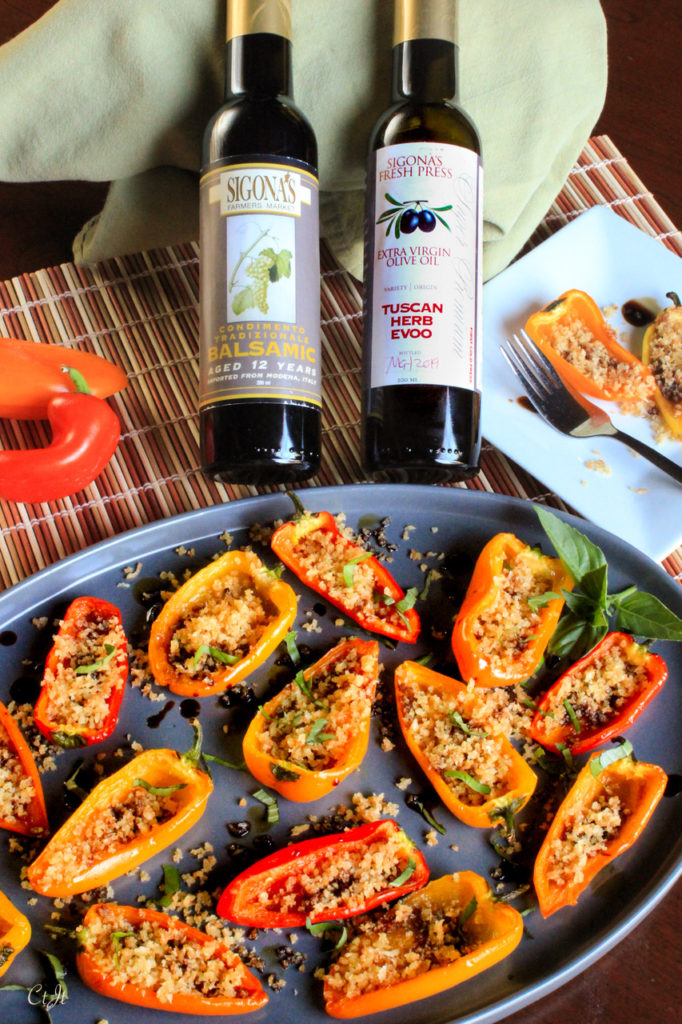 Peppers:
About 10 to 12 mini sweet peppers, halved lengthwise and seeded
Panko:
1 to 2 cloves garlic, minced
1/2 cup panko, gluten-free or regular
Salt and pepper, to taste
Topping:
Directions: Preheat oven to 425ºF.
Toss the prepared peppers in a bowl with one tablespoon olive oil then spread out in an even layer, cut-side up, on a foil-lined baking sheet. Roast for 7 to 10 mins or until they're softened yet maintain their shape. The bottom sides will have browned a bit. Transfer to a serving tray, cut-side up, and set aside.
Heat 2 tablespoons olive oil in a medium skillet over medium to medium-high heat. Add the garlic and cook until fragrant, about 30 seconds, then add the panko, salt and pepper. Toast, stirring constantly, until golden brown, about 2 to 3 minutes, being careful that it doesn't burn. Check seasoning, adjust as necessary. Transfer to a bowl or plate and set aside.
Add a spoonful of the toasted panko to the bowl of each pepper half on the serving tray. Just before serving, drizzle the dish with a couple tablespoons of balsamic and sprinkle with chopped basil.