Warmed Brie with Caramelized Balsamic, Pear & Pecan Compote
Warmed Brie with Caramelized Balsamic, Pear & Pecan Compote
Win over your holiday guests with this delicious Brie topper! It comes together in just minutes and is packed with sweet-spiced flavor. Double recipe for a larger round of Brie. Serves 4 to 6.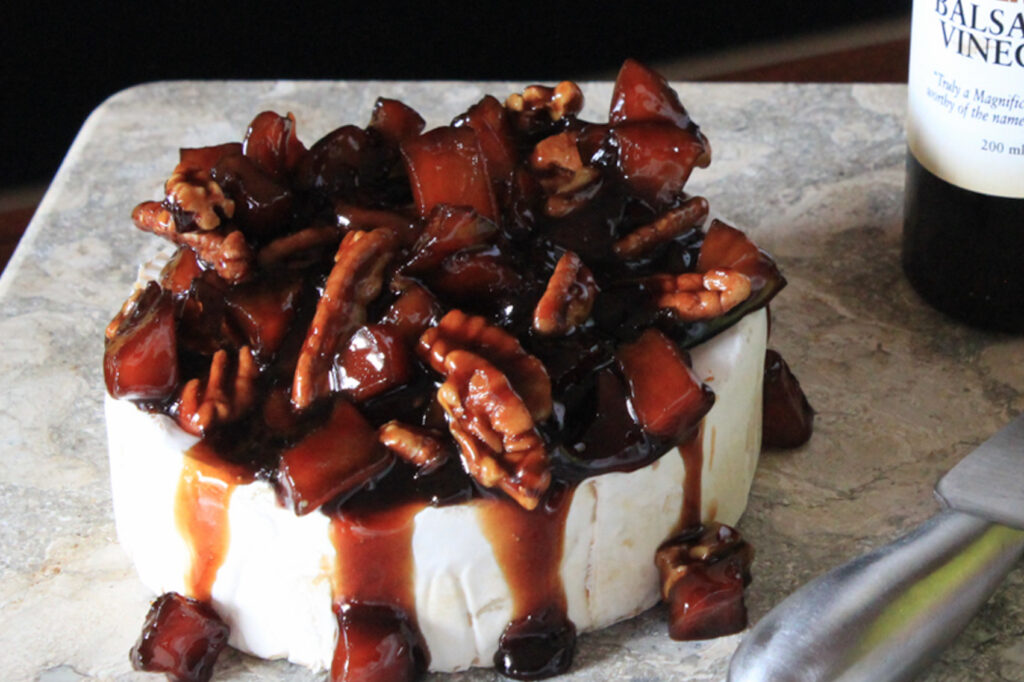 Ingredients:
2 green onions, white parts only, chopped
2 Tbsp Sigona's Fresh Press Extra Virgin Olive Oil
1 pear, peeled, cored and cut into 1/2-inch cubes
1/4 cup brown sugar, packed
1/2 cup apple juice or cider, such as Local heirloom apple juice from from Gizdich Ranch
2 Tbsp Sigona's 12-year aged Balsamic
1 round (8 oz.) Sigona's French double cream Brie
1/4 cup chopped pecans
Directions: Preheat oven to 350°F.
In a small saucepan, heat the olive oil over medium-high heat. Add the onions and cook, stirring, for 1 minute. Add the pear, sugar, juice and balsamic; stir as it comes to a boil. Reduce heat to medium and cook, stirring occasionally, until liquid is reduced to just a couple tablespoons and it has a thick, syrupy consistency, about 12 to 15 minutes. Transfer to a bowl to cool a bit while you warm the Brie.
Place Brie round on an oven-safe serving dish or tray and place in the oven to warm for about 8 minutes – the goal is not to melt the cheese, it's to simply soften it a bit so it's easier to slice and spread.
Meanwhile, stir the pecans into the caramelized sauce.
Once Brie is warmed, remove from oven and spoon the sauce over the Brie round. Serve immediately.
Suggested serving companions: Sliced, lightly toasted baguette, crackers, apple or crisp pear slices.